Manhattan Clam Chowder
If you're looking for a hearty bowl of comfort, you've come to the right place!
This tomato based chowder is the perfect dish to warm you and your crew on a chilly Winter day.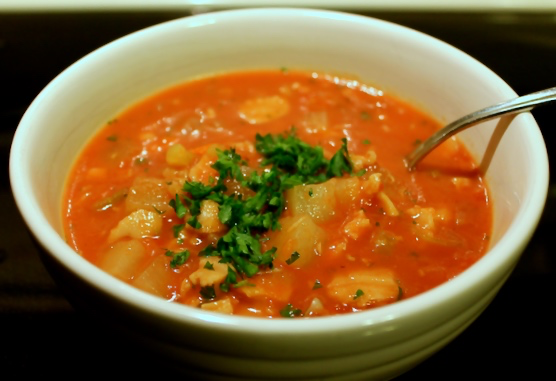 If you've never tried Manhattan clam chowder, you're in for a real treat with this recipe because it's packed full of fresh flavors, it's got a nice hearty bite and it's simple to make.
I'm a huge fan of soups, stews and chowders. Unlike the baking arena, there's lots of wiggle room for getting the taste just right. That's because you build these type of dishes in layers, adding ingredients a few at a time.
For the base in this recipe, we're going to use anchovy paste. Now, I know that Manhattan clam chowder traditionally has salt pork as the base but I like cutting the fat content down a bit when possible. The paste works perfectly for that salty factor.
A little dab will do ya in a large pot heated over med/hi with a few tablespoons of olive oil.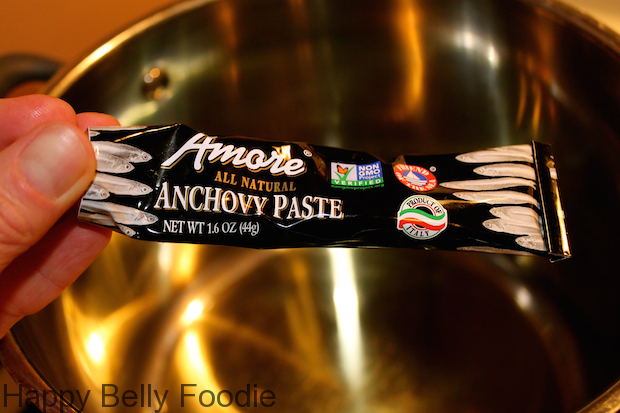 Some fresh chopped peppers, onions, celery and carrots are the next layer.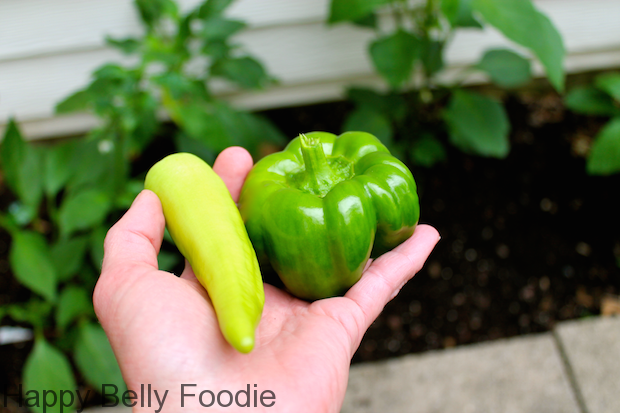 The veggies are sauteed until soft and then a few cloves of minced garlic are stirred in.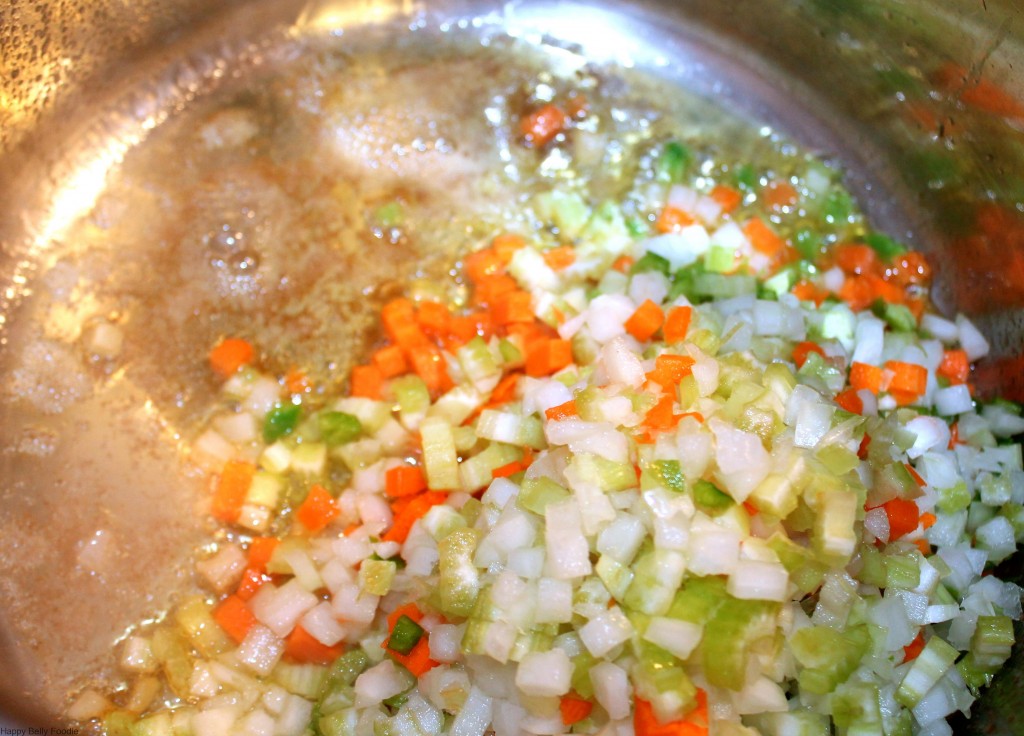 Next, the clams are strained, set aside and the juice is poured into the pot.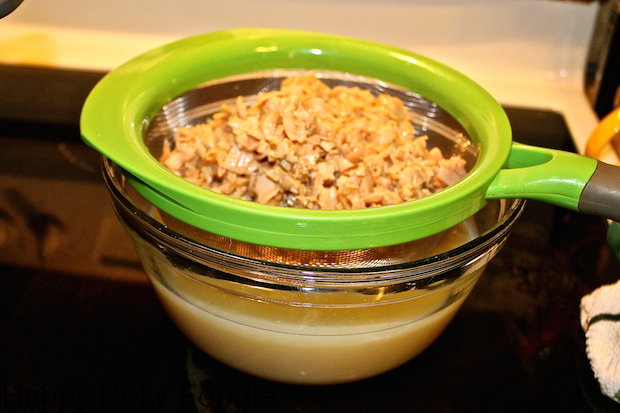 While the mixture is heating up to simmer, add diced potatoes and fresh herbs. I like using a herb infuser
for soups and stews but some butcher's twine will hold the herbs together for easy removal just as well.
When the potatoes are soft the chowder is ready for the clams, tomatoes, tomato sauce and fresh parsley. These will simply be heated through.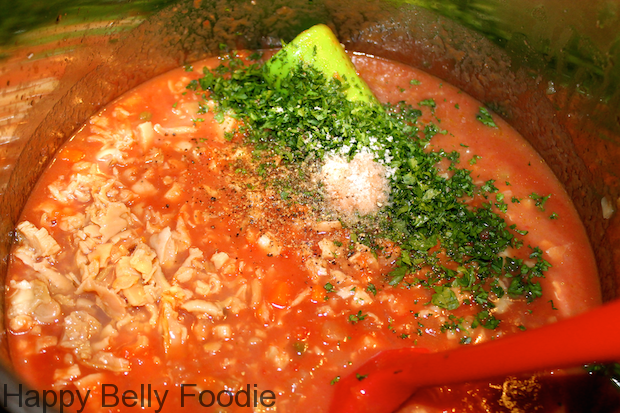 Leaving the parsley out until the very end of cooking gives the dish a nice herby last layer along with your seasonings to taste and suits the chowder as a pretty garnish.
Tip: To keep fresh parsley longer, chop the tops off and put them in a baggie in the fridge. They won't get all mushy as fast if you don't use them all up right away. Save the stems separately in the freezer for making stock and other dishes.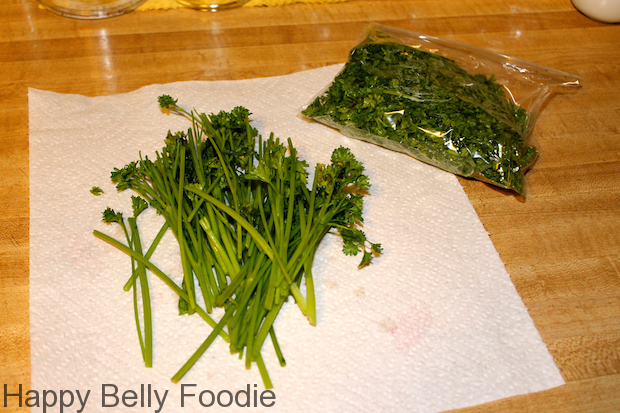 The last thing to do is serve you and your crew a heaping helping of your freshly made chowder and enjoy.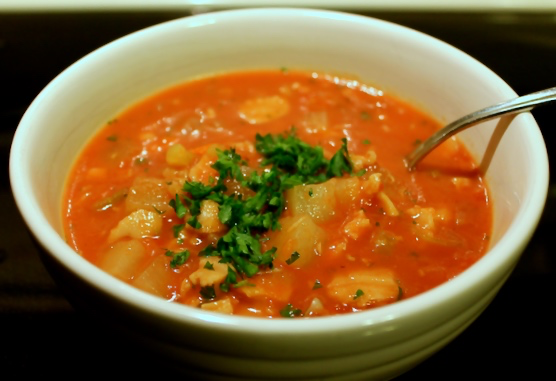 I do hope you'll enjoy this recipe and more from Happy Belly Foodie, friends. Be sure to check back often. We're always cookin' up something scrumptious in the kitchen.
Have a beautiful day and as always, keep it delicious!
Till next time ~ much love, Connie
Manhattan Clam Chowder ~ Red, White and Who?
Ingredients
2

tbsp

olive oil

1

tbsp

anchovy paste

2

green bell peppers

diced (can use hotter peppers for extra heat if desired)

1

lg onion

diced

2

lg celery stalks

diced

2

lg carrots

diced

2

garlic cloves

minced

3

C

diced baker potatoes

may replace with gold or red potatoes for less starch

2

bay leaves

1

bunch of thyme

1 51

oz

can of clams in juice

drained with liquid reserved

1 28

oz

can of crushed tomatoes

1 15

oz

can of tomato sauce

Salt and freshly ground black Pepper to taste

A pinch of ground cayenne pepper

1

bunch chopped parsley

save some for garnish
Instructions
Heat a large soup pot over med/hi heat. Add the olive oil and allow it to get hot. Add the anchovy paste and cook for 30 seconds.

Add all the diced veggies except the potatoes and saute until soft.

Add the garlic and cook for one minute.

Add the potatoes, bay leaves, thyme and clam juice.

Simmer until the potatoes are soft.

Add the clams and any remaining juice along with the tomatoes and tomato sauce to the pot.

Add salt and pepper to taste, the chopped parsley and a pinch of ground cayenne pepper.

Heat through and serve with chopped parsley for garnish.
Notes
Recipe by: Connie Murray @Happybellyfoodie.com