Chicken Fried Potato Wedges
Potatoes to the max. A crunch you can't resist!
As if cutting up a potato and frying it in screaming hot oil isn't enough, I had to make them more crunchy, add more flavor and make them crazy delicious. It sounded too good not to.
Though I didn't spend much time making a food porn picture out of them, because they already look like something I know I wouldn't pass up, you can imagine that they are quite an indulgent side dish.
But. In defense of irresistibly scrumptious home cooked and fried foods, did you know that, according to Michael Pollan, journalist and activist, "what matters most about one's health is not necessarily the nutrients, good or bad.. or even the calorie counts. What predicts a healthy diet more than anything else, is the fact that it's being cooked by a human being and not a corporation."
You don't need to be a complete food nerd like me to enjoy chicken fried potato wedges, guilt free but I think it's important to understand that food gratification of this kind, on occasion is not an evil, complete health wrecking thing to enjoy. For me, it's a matter of knowing your ingredients and taking the time to learn how your food is made.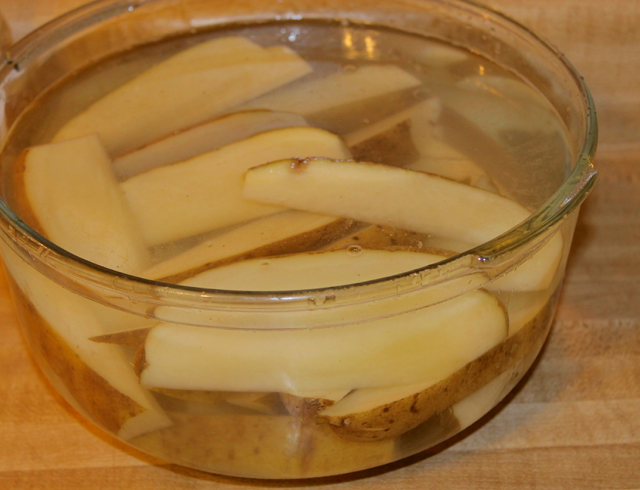 Because they are fairly thick and because you don't want a soggy mess in the pan, soak the potato wedges in cold water for 5 minutes or so to remove some of the starch. Then dry them completely and bake them on a parchment paper lined baking sheet in a 400 degree F. oven for 20 minutes. They should still be firm but easily pierced with a fork.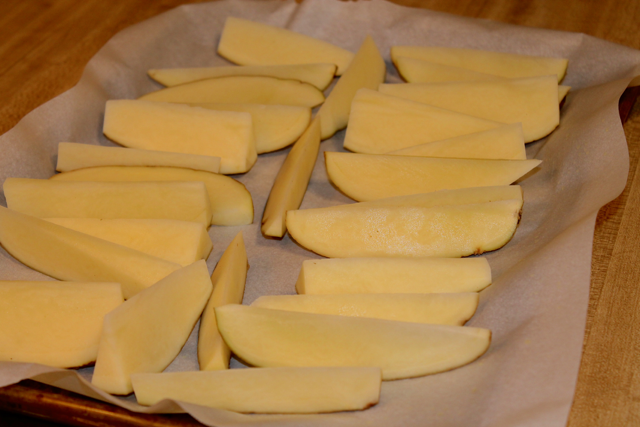 Coat the wedges with plain flour.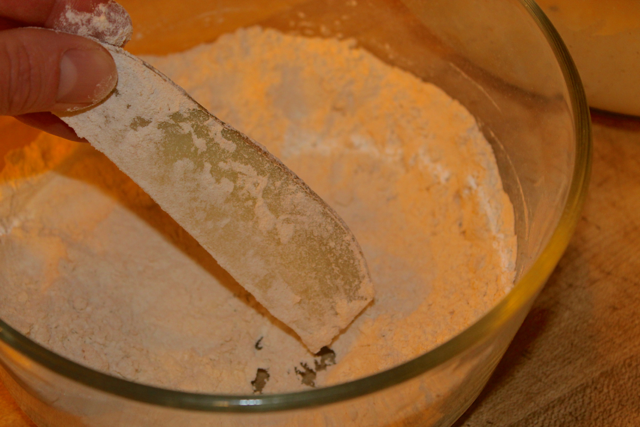 Then dip them in a batter mix of egg, milk, flour, season salt and black pepper.
Finally, coat the potatoes in flour seasoned with garlic powder, onion powder, pepper and seasoned salt.
Let the potatoes rest for 5 minutes before frying them in a Dutch oven filled with hot (375 degree F.) peanut or vegetable oil.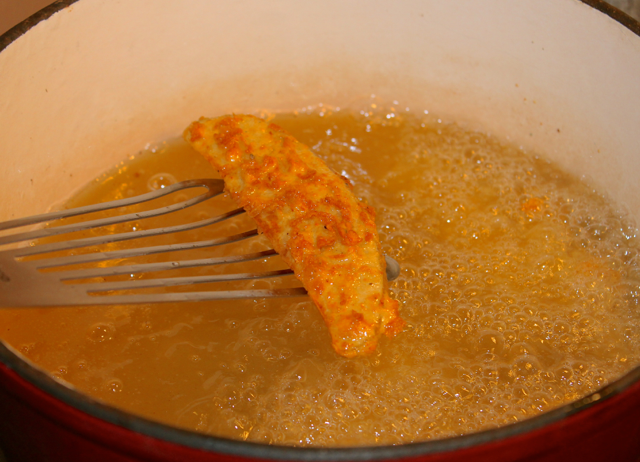 Remove and place on paper towels to drain excess oil.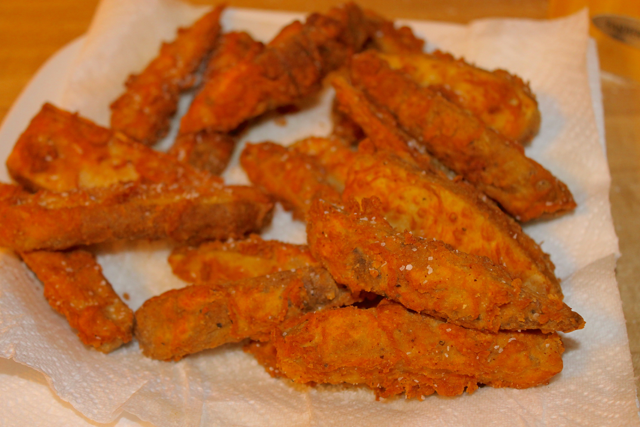 Serve as a side to your favorite sandwich or burger.
As a home cook, amateur food analyst and food blogger, I have learned that good food is not just about pretty pictures or the latest "health" trend. It's about ingredients. It's about spending time with your food and really getting to know it inside and out. Where does it come from? How is it made?
Good food is vital to good health and if you're making it yourself, from scratch as much as possible, it will sustain you. So enjoy and indulge on occasion.
Have a beautiful day and as always, keep it delicious!
Till next time ~ much love, Connie
Chicken Fried Potato Wedges
Ingredients
Oil for frying

peanut or vegetable

3

large russet potatoes

cut into thick wedges

1/2

C

flour

1

large egg

1/2

C

flour

1

tbsp

seasoned salt

1/2

C

milk

1

tsp

freshly ground black pepper

1 1/2

C

flour

2

tbsp

seasoned salt

1

tbsp

onion powder

1

tbsp

garlic powder

1

tsp

freshly ground black pepper

salt to taste
Instructions
Preheat oven to 400 degrees F.

Place the potato wedges in a large bowl filled with cold water.

Allow them to soak for 5 minutes.

Remove and rinse.

Dry the wedges with a kitchen towel.

Place the wedges on a parchment paper lined baking sheet and bake for 20 minutes.

Allow the potatoes to cool until just warm to the touch.

Place the oil in a Dutch oven and heat over med/hi.

Place 1/2 C flour in a bowl.

Place the egg, another 1/2 C flour, 1 tbsp seasoned salt, the milk and 1 tsp pepper in another bowl and combine well to make a batter.

Place 1 1/2 C flour in another bowl and combine with 2 tbsp seasoned salt, onion powder, garlic powder and 1 tsp black pepper.

Dip the wedges in the flour and seasoned salt mixture first.

Then dip them in the batter to coat.

Finally, dip them in the seasoned flour mixture.

Allow the coated potato wedges to rest on a tray for 5 minutes.

Working in batches of 5 to 6 pieces, cook the wedges in the hot (375 degree F.) oil until golden brown on all sides.

Place the fried potatoes on a paper towel lined plate to drain excess oil.

Season with salt to taste and serve hot.
Notes
Recipe by: Connie Murray @Happybellyfoodie.com