Make a fresh pesto for your pasta, veggies or any other dish you want! Delicious, easy AND, you can make it gluten free and dairy free!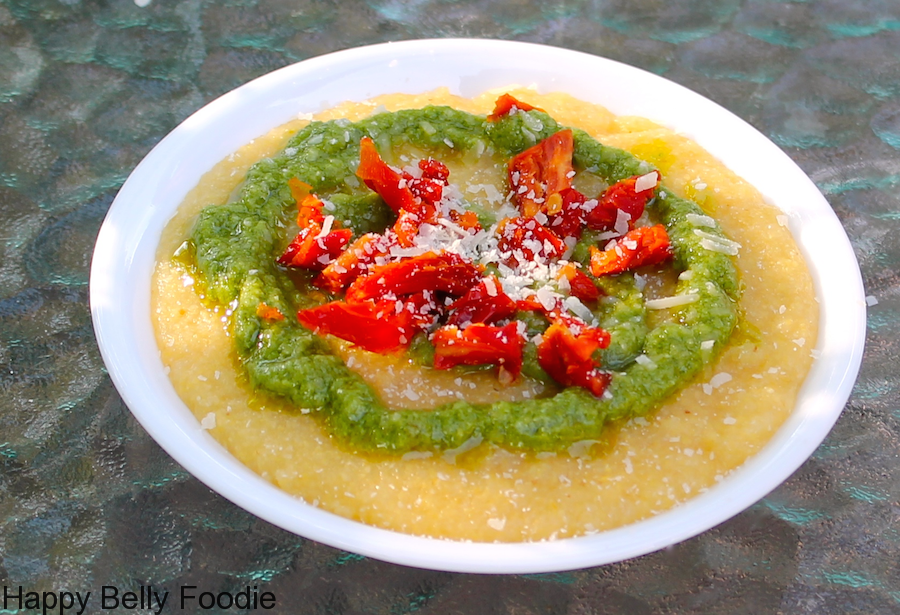 I got a call from an aunt of mine last week. She said the doctor put her on a gluten free, dairy free diet. So I thought I'd give it a go and make something she could easily whip up in her kitchen. Lucky for me, the garden out back is starting to really take off and I've got lots of fresh herbs everywhere. (give me a hollar Auntie and I'll bring some right over to you 🙂 )

You can make a fresh pesto out of just about any green leafy thing such as, parsley, kale, spinach, cilantro… The possibilities are endless, really.
The basic formula for a pesto is greens (usually basil), fresh garlic, olive oil, pine nuts
, Parmesan
<– (that's go veggie parmesan, which is dairy free) and a dash of salt. Those things are crushed into a creamy blend and served over pasta or what ever you wish.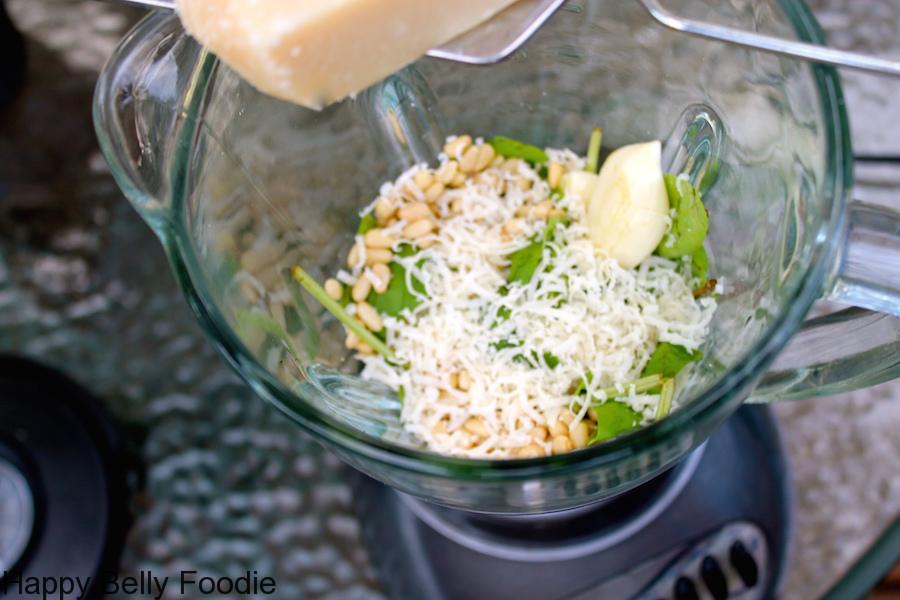 I just toss it all in a blender, give it a whirr and WHA-LA! The scent of the garlic, basil and pine nuts together is bright and green deliciousness!
The great thing about using basil this way is that you don't have to bother with picking the leaves off the stems. Those stems have just as much flavor and nutrition as the leaves do and they'll bulk up your sauce for you.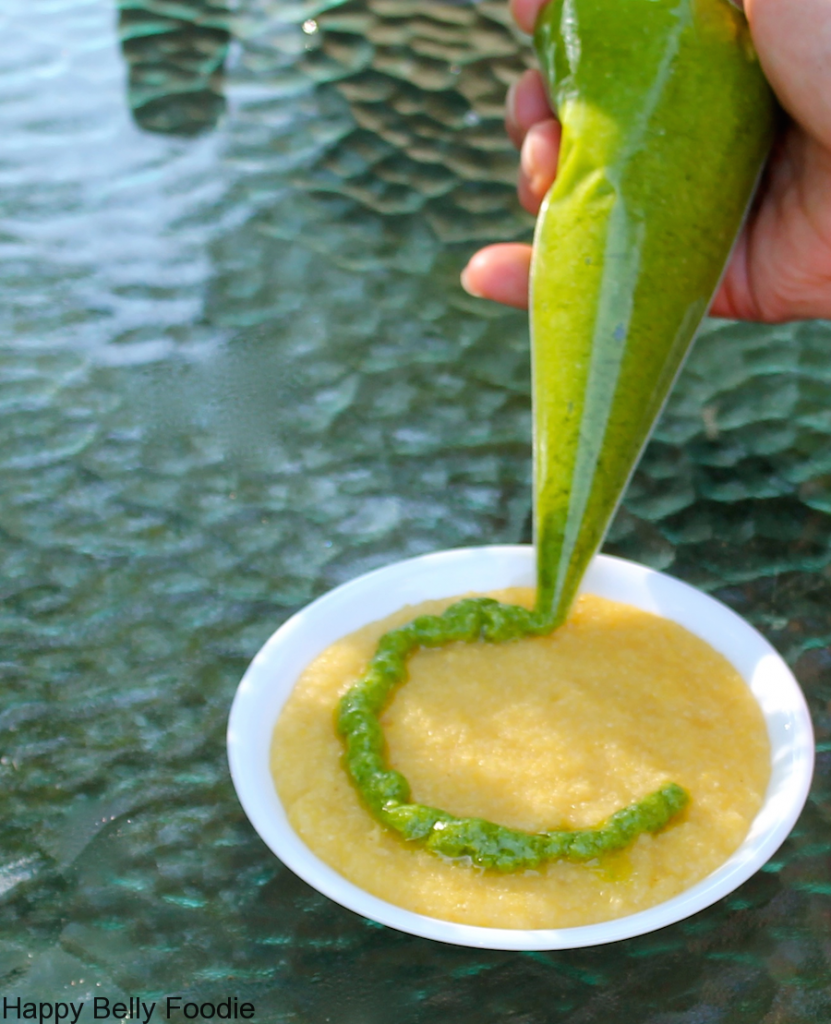 Since the goal was to go gluten free and dairy free with this recipe, I did a little survey of the pantry and found a box of polenta I had picked up a while ago. I really wasn't sure what I'd do with it because I'd never had it before but figured I'd use it for something eventually. Basically polenta is corn flour that you mix up like a porridge with water and salt. A perfect vehicle for my pesto sauce!
I added some sun dried tomatoes to the dish and topped it with a sprinkle of Parmesan cheese. Good!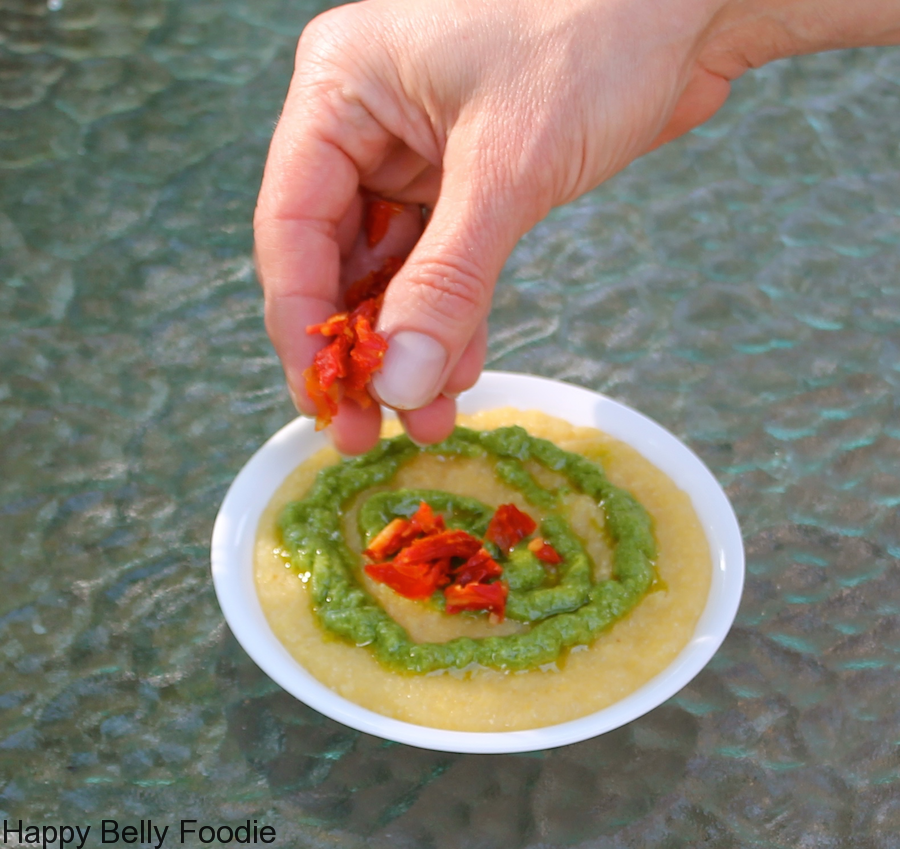 It's a rich little dish, so you don't need much as a serving but it does give you a bright burst of freshness to add to any meal. Also, you can use the pesto sauce to make a gluten free pizza topper. Just throw some chicken on there and a little bit of that Go Veggie Parmesan, YUM!
I'm not really a specialist on diet restrictions but I have no problems figuring out how to make a dish without certain ingredients. If you're interested in any recipes that you love but have to exclude a particular thing from, send me a message through any of those buttons up there on the right, leave a comment in the box down below or just send me an email at Happybellyfoodie@hotmail.com. I'll do my best to come up with something great for ya! And if I can't, I'll point you in the right direction! I know lots of great bloggers out there that specialize in stuff like that.
For your convenience, here's a few links you can click on for info and recipes:
Cheeses you can eat if you're on a dairy restricted diet.
A gluten and dairy free specialist
A ton of food bloggers all in one place, just search what you're looking for
That about wraps it up for this Monday. Make it a delicious week y'all! Thank you for visiting the Happy Belly Foodie! Till next time ~ much love, Connie
Pesto over polenta ~ a gluten free, dairy free dish
Ingredients
Pesto Sauce:

1

C

basil

stems and leaves firmly packed

1/4

C

grated Parmesan cheese

for dairy free, use Go Veggie brand

1/4

plus 2 tbsp extra virgin olive oil

2

tbsp

pine nuts

2

garlic cloves

1/4

C

chopped sun-dried tomatoes

for garnish

Polenta:

4

and 1/2 C water

salt to taste

9

oz

polenta
Instructions
Pesto Sauce:

Place all ingredients in a bender and pulse until smooth.

Polenta:

In a medium sauce pan, bring the water to a rapid boil and add salt to taste.

Add the polenta slowly, stirring constantly until the mixture thickens.

Remove from heat and top with the pesto sauce, chopped sun dried tomatoes and a sprinkle of Parmesan
Notes
Recipe by: Connie Murray @Happybellyfoodie.com