Toasted Sesame Eggplant
Perk those veggies up!
We all know how important it is to include a variety of healthy veg in our diet but sometimes, well… veggies can be boring.
Take this eggplant for instance. I mean, my first instinct for eggplant is to coat it with a bunch of carbs and fry it up. Not good for the caboose, if you know what I'm sayin. Eggplant just doesn't have that zing that makes me wanna pile a bunch on my plate.
However, in defense of this good-for-you veg, it has the best pick-me-up lines in the whole veg community.
In other words, flavor loves eggplant. So, that's what you gotta work with.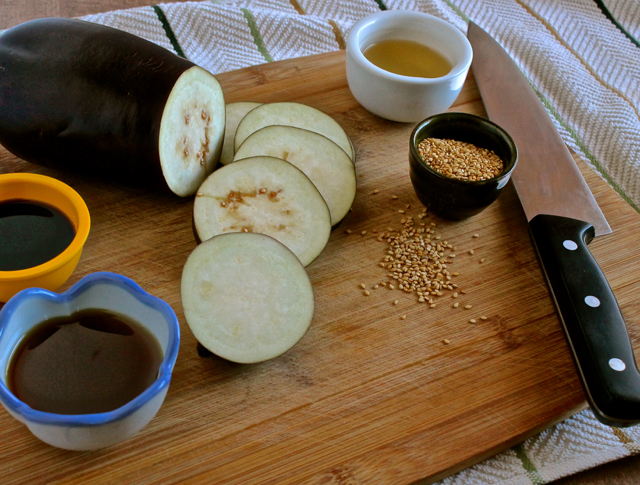 Whatever your heart desires in flavor, eggplant will carry it through. And really, if you're a flavor addict like me, that's great news.
I adore sesame flavored dishes. That dark perfumed oil gathered with a touch of salty soy and a little sweet honey makes a fabulous combination.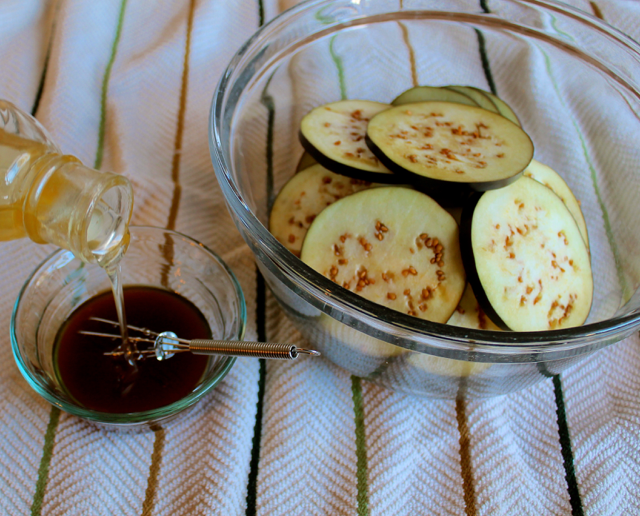 The texture is another thing that has always gotten me about eggplant. Sure, it's fine if it's sauteed quick and hot and planted in a dish full of other veg but alone, soggy and mushy is what you get.
That is, unless you employ the broiler in your oven.
That'll do veg. That'll do.
Ah, the marvelous wonders of the forgotten broiler in the oven.
You won't quite get a crunch like you would from frying but broiling the eggplant takes away that sog and mush.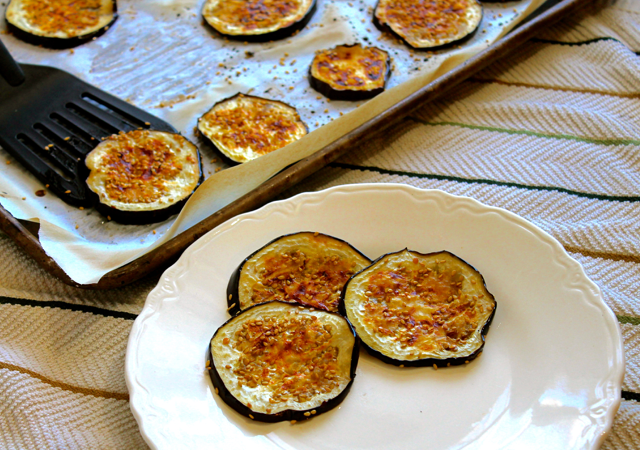 What you will get is a wonderful aroma that fills the kitchen and a nice fork friendly side dish or snack that doesn't have loads of carbs or fat. Okay, I'll take a plate 😉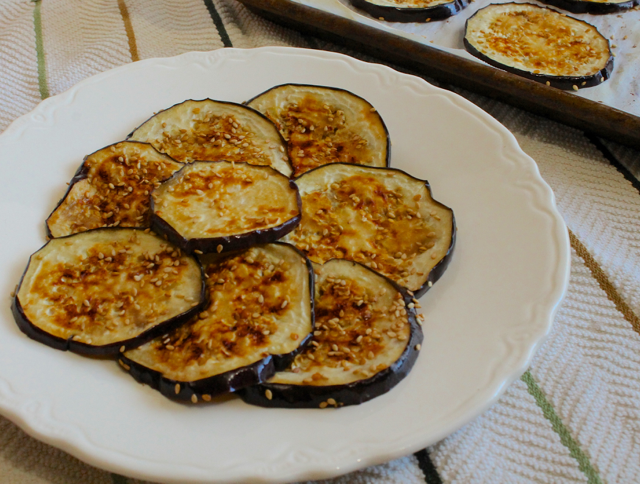 Veggies don't have to be a bore. A little sauce and a little sass will give them a boost and save your
carbs. I was gonna say carbs. 😉
Make it a fantastic day friends and as always, keep it delicious!
Till next time ~ much love, Connie
Toasted Sesame Eggplant
Ingredients
1

small eggplant

sliced

2

tbsp

dark sesame oil

2

tsp

soy sauce

1

tbsp

honey

1

tbsp

toasted sesame seeds
Instructions
Combine all the sesame oil, soy sauce and honey in a medium bowl.

Toss the eggplant slices in the mixture.

Place the slices on a baking sheet.

Sprinkle the sesame seeds over the slices.

Place on the top shelf in the oven under the broiler.

Broil on high for 3 to 4 minutes.
Notes
Recipe by: Connie Murray @Happybellyfoodie.com