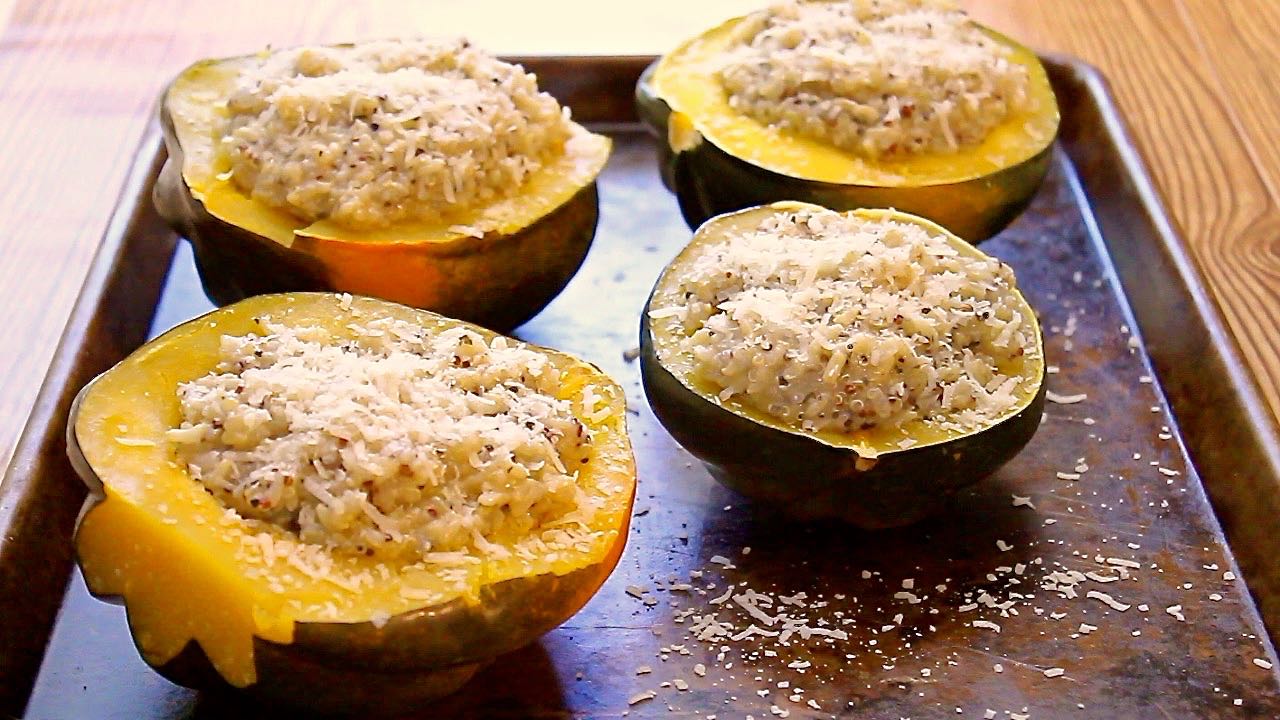 Acorn Squash is a terrific vegetable you can make quick in your pressure cooker. To make a meatless meal or a hearty side, toss in some grains, garlic and savory herbs such as rosemary, sage and thyme. Top it off with some freshly grated Parmesan and you've got a super savory dish.
I'm kind of in love with Autumn. There's just so many things to enjoy. I think all the fantastic colors and lively vegetables available to us deserve a little swooning over. Take for instance these acorn squash. They look gorgeous as they are but when you cut into them, the slightly sweet flesh offers a wonderful bouquet of nutrition.
They taste pretty darn good all on their own but are also delicious when you add a little butter and cinnamon to them. Or, you can go savory like I did with this recipe. I adore things that are so versatile.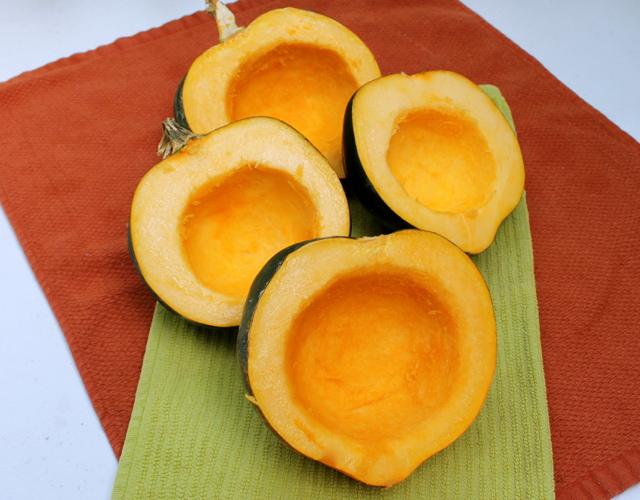 It takes quite a while for heat to penetrate squash such these in the oven. About forty-five to sixty minutes (depending on their size) of cooking at 400 degrees F. will get them soft enough to eat.
However, a pressure cooker
can soften them perfectly in about 6 minutes with high pressure. What's really terrific is you can add the ingredients for your stuffing to the bottom of the pot and cook every thing at once. I used brown rice for mine and that's what the timing for pressure cooking is based on.
Take a look at how it's done..
Using a steamer basket
on a trivet keeps the squash off of the rice mixture and helps everything cook evenly. It also keeps the squash from laying in the liquid while cooking. Otherwise, it may break down too much and be difficult to get out of the pot in one piece. (my guess, anyway)
If you were going to bake the acorn squash in the oven, you'd need to brush the cut sides with a little oil or butter to keep them from drying out. In the pressure cooker, there's no need to worry about that because all the moisture is locked in.
It's so nice to have a healthy side dish or a meatless meal like the stuffed acorn squash. I like the warm and savory flavor of this version but what I really like is the great vitamin boost me and my crew are getting with all its fresh ingredients. I hope you'll give it a try and let me know what you think. I'd love to hear from you!
Have a fantastic day and as always, keep it delicious!
Till next time ~ much love, Connie
Pressure Cooker Stuffed Acorn Squash
Ingredients
1

tbsp

butter

1

C

diced onion

1

tsp

salt

2

garlic cloves

minced

1

C

brown rice *

1/2

C

quinoa

1

tsp

fresh rosemary

finely chopped

1

tsp

fresh sage

finely chopped

1

tsp

fresh thyme

finely chopped

3 3/4

C

chicken stock

2

medium sized acorn squash

sliced in half and seeds scooped out

1/2

C

freshly grated Parmesan cheese

More Parmesan cheese for garnish
Instructions
Preheat the pressure cooker.

Add the butter to melt.

Add the onion, season with salt and saute 2 minutes.

Add the garlic and saute another minute.

Add the rice, quinoa, rosemary, sage, thyme and chicken stock.

Stir well.

Place the acorn squash halves, cut side up in an oven safe

steamer basket

and place on trivet.

Lower the basket into the pressure cooker on top of the rice with the trivet.

Place the lid on top and turn to locked position.

Turn the steam release valve to sealing.

Press the manual button and adjust the timer for 6 minutes.

Once the unit has finished cooking, carefully release the steam. (QR)

Remove the lid and take the steamer basket out with two towels or pot holders.

Drain any excess liquid from the squash and set aside.

Stir 1/2 cup Parmesan cheese into the rice mixture.

Allow the rice mixture to sit for 5 minutes to thicken.

Spoon the rice mixture into the cavity of each acorn squash half.

Top with freshly grated Parmesan for garnish.

Serve and enjoy!
Notes
* Short grain brown rice will give you a chewier texture with less creaminess.
Long grain brown rice will give you a creamier texture with a bit less chew.
Both require the same amount of liquid, pressure cooking time and steam release method.
Recipe by: Connie Murray @Happybellyfoodie.com
Pin It: