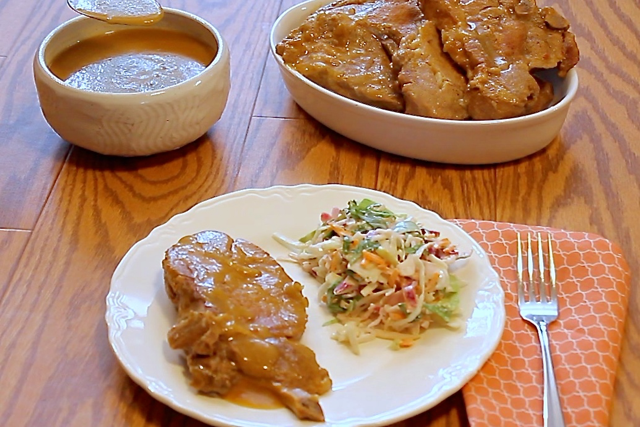 Pressure Cooker Carolina Country Style Ribs are moist, juicy and loaded with flavor inside and out. For a little Southern flair, they're finished with a sweet n sassy apple and mustard based Carolina style BBQ sauce. Get your fork ready for a delicious tender bite!
These aren't your typical country ribs and this is not your typical "speedy" pressure cooker recipe. Though I do like the quick and easy recipes I turn to through busy days, once in a while I like to slow it down a bit. These ribs and their sauce are a thoughtful collaboration of things I've learned through smoking meats outdoors and creating tasty sauces from scratch.
Friends like David from This Old Fat Guy and great websites like Amazing Ribs.com have given me much insight on how to properly make a tasty main dish of pork or ribs. If there's one thing I've remembered from these experts, it's how to get the best flavors inside and out. I'm incorporating that in today's recipe.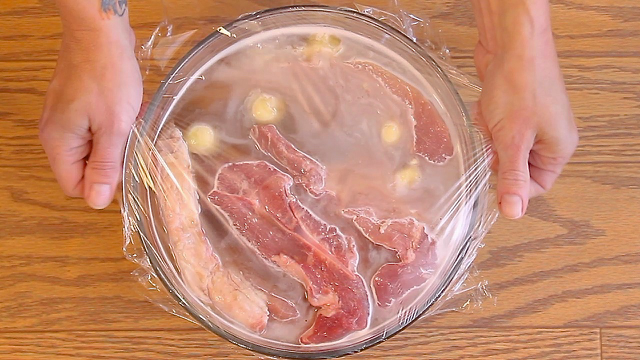 Smoking meats like these country ribs takes quite a bit of time, hours in fact. Prepping them for the process is important because while you want that smoky flavor and slow heat to penetrate the meat through and through, you also want to retain moisture.
One of the most commonly used methods of prepping meats for smoking is using a brine. There are dry brines and wet brines. A typical wet brine, which is what I'm using for this recipe, is made up of three main ingredients; salt, sugar and water. According to Amazing Ribs.com, salt penetrates the outer layers of the meat, keeping flavor and moisture in and that makes for a tender delicious bite. The sugar aids in the browning process, which also lends itself to rich flavor.
Pressure cooking can be a harsh process for meats to go through. While it's a great contrast to the low and slow smoking method, prepping the meat in the same fashion can help avoid dry, tough and flavorless meat. You can have a great sauce but if the meat itself isn't tasty inside and out, you're just covering it up.
The amount of time you'll need to soak the ribs in the brine for this recipe is reasonably short. Two hours minimum and 24 hours max. For safety's sake, be sure to keep the meat cold until you're ready to cook it.
Take a look at how it all comes together..
Lovely, huh?
NOTE: I do want to caution you about using an immersion blender
to puree the cooked onion and apples. Though I don't show it in the video, you'll need get any loose bones or hunks of meat (that may have fallen to the bottom of the pot) out of the liquid before you blend. Straining the hot liquid through a sieve
and picking any of them out is best. Then you can put the liquid, apples and onions back into the pot and proceed with making the sauce. I know it's an extra step but one well worth taking and definitely necessary.
The tenderness of the finished ribs is akin to pulled pork but a bit finer, as the fibers of the meat are shorter because of the way the meat is cut.
After making this dish in the pressure cooker, I'd venture to say there are a lot more sauce variations one could incorporate here.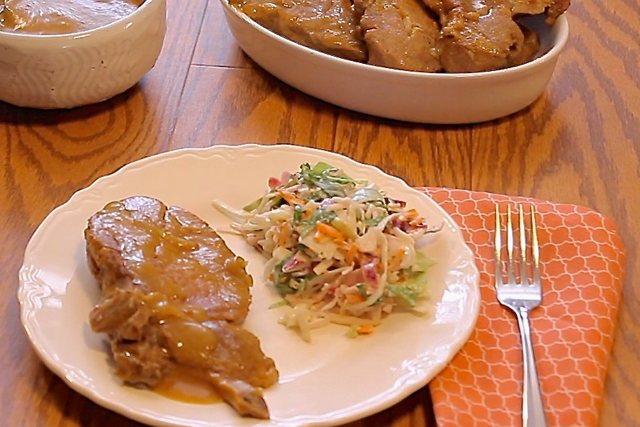 A great deal of seasonings are used in my Carolina style sauce along with the apples and cider but the juices the pork leaves behind contribute to the overall flavor balance. The thing I like best about the sauce is the kick of heat you get. That may not be for everyone. So, you may need to adjust the chili powder, cayenne and chili sauce according to your taste.
I hope you'll hit that little print button down below and give this one a try. Let me know about it. I'd love to hear from you!
Have a fantastic day and as always, keep it delicious!
Till next time ~ much love, Connie
Pressure Cooker Carolina Country Style Ribs
Ingredients
4 - 5

lbs

country style ribs

bone in or boneless
Brine
4

C

water

1/2

C

kosher salt

1/2

C

brown sugar

2

tbsp

liquid smoke

2 - 3

garlic cloves

peeled and smashed
Ribs
2

tbsp

butter

1

C

sliced onion

1/2

tbsp

water

1

lb

apples

peeled, cored, sliced

1

tsp

chili powder

1/2

tsp

cinnamon

1/4

tsp

cayenne pepper
Instructions
Brine
In a large bowl, combine the water, salt, brown sugar, 2 tablespoons of liquid smoke and garlic cloves.

Place the ribs in the mixture and submerge well.

Cover with plastic wrap and refrigerate 2 hours up to 24 hours.
Cook the Ribs
Heat the pressure cooker up by pressing the saute button.

Melt the two tablespoons of butter.

Brown the ribs on both sides making sure not to crowd the pan. (work in batches)

Set aside.

Add the onions and 1/2 tablespoon of water to the pot and saute a minute or two to deglaze the pot.

Turn the unit off.

Add the apples, chili powder, cinnamon and cayenne pepper.

Stir well.

Lay the ribs on top of the apples and onions and arrange to distribute evenly in the pot.

Place the lid on the unit and turn to locked position.

Turn the steam release valve to sealing.

Press the manual button and adjust the timer to 15 minutes.

Once the unit has finished cooking and the timer has counted to zero, carefully release the steam. (QR)

Take the ribs out and set aside on a plate.

They will be very tender and falling off the bones.
Finish the Sauce
Remove any remaining bones or chunks of meat from the left over liquid.

Strain if necessary.

Use an

immersion blender

to puree the apples and onions.

Press the saute function.

Add the mustard, Dijon, liquid smoke, brown sugar, Worcestershire, chili sauce, soy sauce and honey.

Taste and adjust seasonings as preferred.

In a small cup, make a slurry with the cornstarch and cold water by mixing them together well.

Once the mixture begins boiling, whisk in the slurry.

Cook 1 minute and turn the unit off.

Add the ribs back to the pot to cover with sauce and keep warm until ready to serve.
Notes
Recipe by: Connie Murray @Happybellyfoodie.com