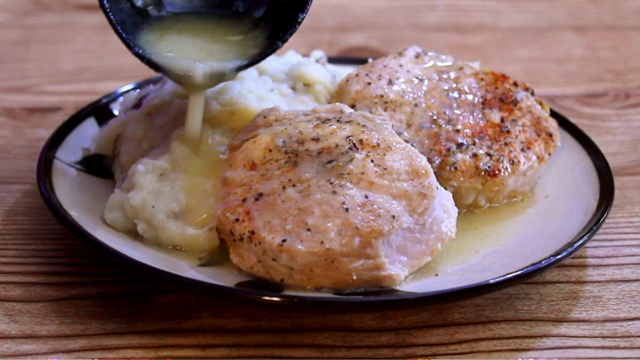 A recent comment on my Pressure Cooker Pork Chops, Smashed Potatoes with Gravy recipe (pictured above) inspired this post. In response to the question, "Why are my pressure cooked pork chops tough?" I decided to further investigate to find a solid answer.
A dear reader of mine tried my recipe and loved the flavors but tenderly let me know that "the meat didn't get nearly as tender as I was hoping to get." In other words, her chops were tough. As a food blogger with an honest intention to be a trusted resource for my readers, this REALLY upset me. I want my recipes to be solid, clear and infallible.
Okay, perhaps that's a bit much and actually quite impossible because there are a bazillion avenues us home cooks can dive off into. And just like all of you pressure cooking hounds, I'm still learning. But E-gads, fails for any of my fellow foodies, using my recipes bugs me like a fly itches a no-tailed horses arse.
I couldn't understand what could make her chops tough and mine not. Mine always turn out perfectly tender. Seriously. My first thought was that maybe it was because I always buy whole pork loins and cut my own chops to the thickness of my liking. Maybe she used a different cut of pork meat?!?! Surely there has to be a perfectly clear explanation I can give to my readers when their repetition of my recipe doesn't turn out the way I boasted it would.
There in, lies the answer. Let me explain.
I visited three different butchers at three different locations in my local area. Each one had their own wonderfully detailed explanations about what could make a pork chop tough. I learned more from these guys than I ever thought I would and now have a better understanding of what pork chops actually are, how they cook and what most package label terminology means. All that info is really great to know but unfortunately, pressure cooking pork chops wasn't something any of them could give me solid answers on.
The next step was to do a bit of research. I consulted one of my favorite books, Wayne Gisllen's, Professional Cooking, 7th Edition, and found that tough meat can be the result of many complex variables. I won't dull you with this one but I will say that the science behind proteins, their water content, fat distribution in, on and throughout along with your method of cooking are all important (boring) factors to consider.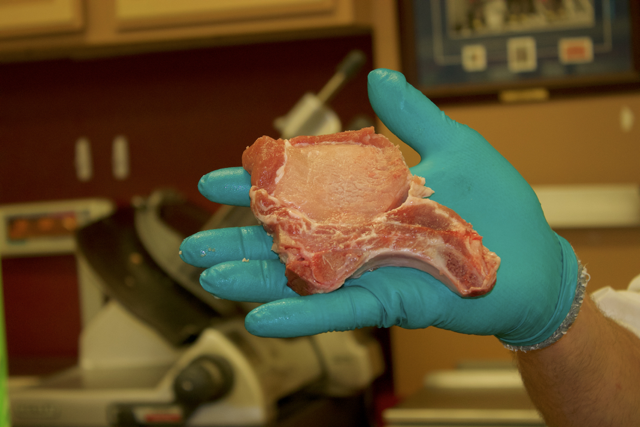 Finally, I did some online research and came across none other than the American National Pork Board's website, Pork Be Inspired. Here's where my "Aha" clarification came into light. This little passage on their website made all the information I'd gathered make sense and gave me a solid reason pressure cooked pork chops can turn out tough.
Pork chops come from the loin of the pig, the portion of meat located between the pig's shoulder and hip. When shopping for pork chops, you may find that labels can have various names including loin, rib, sirloin, top loin and blade chops. "All pork chops cook the same. The length of cooking primarily depends on the thickness of the chop. Thickness can vary from ½ to 2 inches. Whether you choose chops boneless for convenience or chops with the bone attached for their attractive appearance, the cooking time is the same."
So, foodie friends.. Because, "all pork chops cook the same," bones or no bones, the reason your pressure cooked pork chops are tough is not necessarily how long you've pressure cooked them. I mean, yes you can over cook them but the key element here is how thick your chops are or not. The thinner your pork chops are, the higher your chances of getting tough meat is going to be.
In my recipe, I specify the thickness of the chops as 1 to 1 1/2 inch thick. Like most home cooks, I just eye-ball it when I'm cutting my chops. If I were to buy my pork chops in an package, because of the way they're packaged, it's not a measurement I could easily determine. There's a chance that when I go to pressure cook them, they're going to be too thin and turn out tough.
My advice for tender pressure cooked pork chops is to make sure you know how thick they are. If you can't clearly see how thick they are when you buy them, (packaging can be deceiving) don't waste your hard earned money. Either buy a whole loin and cut the chops yourself or ask the butcher to do it for you. You want them to be no thinner than 1 inch. An easy way to judge this is to use the middle part of your index finger, knuckle to knuckle, as it measures about an inch.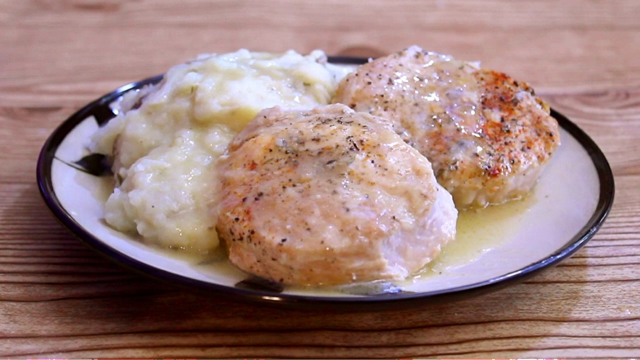 I hope this information is helpful for all you lovely foodies out there. I enjoyed learning the "porkology," as Pork Be Inspired would say of chops. I look forward to sharing more great pork chop recipes here at Happy Belly Foodie. For your convenience, the printout for my original Pressure Cooker Pork Chops, Smashed Potatoes and Gravy recipe is below.
To those butchers out there that took the time to answer all my questions about pork chops, I sincerely thank you. Thank you for working so hard and sharing your knowledge.
Have a beautiful day and as always, keep it delicious!
Till next time ~ much love, Connie
[amd-zlrecipe-recipe:278]
Pin It: