Sausage and Apple Stuffing
Don't you just love stuffing? I mean, seriously. It's Sooooo good. The ultimate comfort food. And this recipe, hands down, is the best stuffing I've ever made.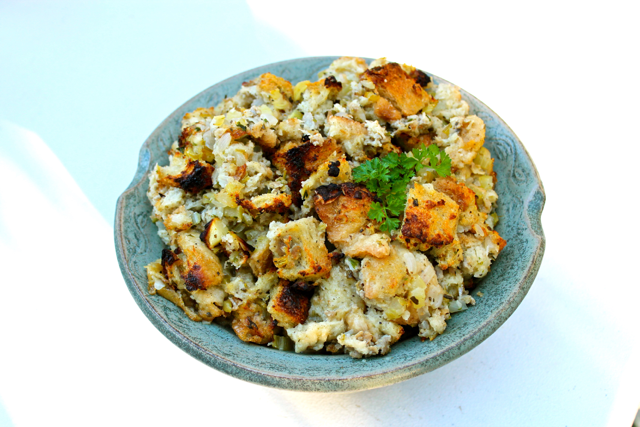 Of course the fact that the bread and the chicken stock are homemade and the herbs are home grown does make a difference. There's just something so satisfying about those things.
For this recipe, you can use any bread you like as long as it's fresh. Croutons in a bag won't do it justice. For the bread recipe, see my post German Meatloaf and Stuffing Flavored Bread. For the stock recipe, see Roasted Organic Chicken ~ Homemade Broth.
I did use the whole loaf of bread for my stuffing and the recipe reflects that. It's a pretty big dish but considering Thanksgiving is around the corner, it's a perfect size for a family feast. Otherwise, you can cut the ingredients in half for regular sized side dish.
You'll start by cutting the bread into cubes and placing them on a baking sheet. Brush the cubes with melted butter and place them under the broiler in your oven at the lower setting. Every two to three minutes, you'll want to give the cubes a toss to make sure all of them get nice and browned.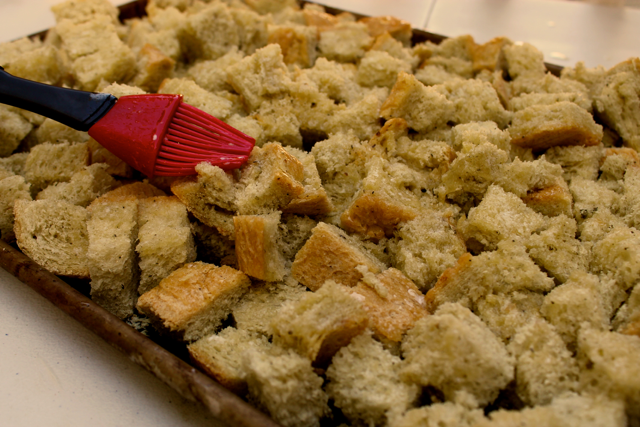 In a large pot or Dutch
oven, you'll cook the ground sausage until browned and then add onion, the apples (I used honey crisp), and celery. Cook until the celery and onion are softened.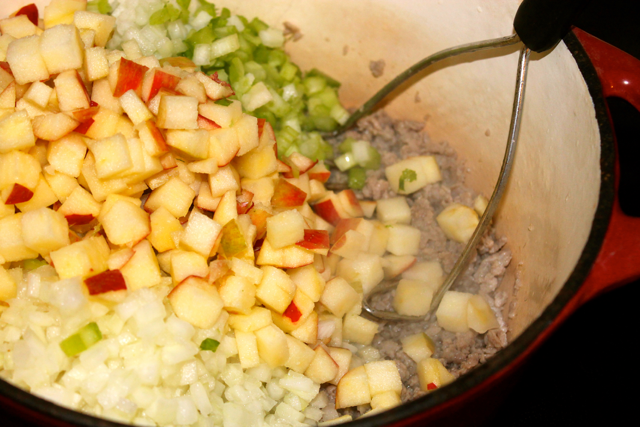 After the celery and onions are softened and the bread is browned, you will need to combine everything and add some freshly chopped herbs. You're basic poultry seasonings are parsley, sage, rosemary and thyme. Once everything is combined, you'll add the chicken stock.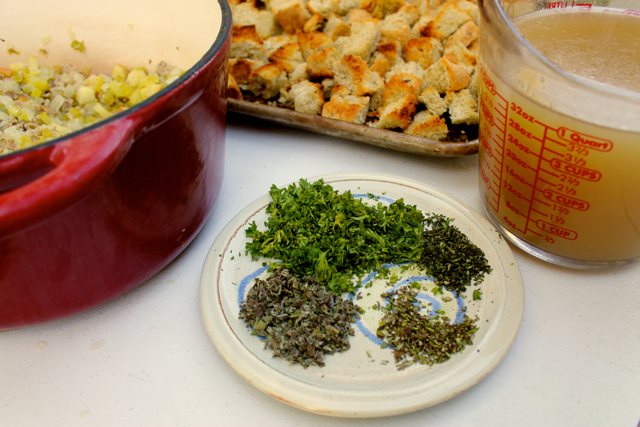 Coat a large baking dish with butter.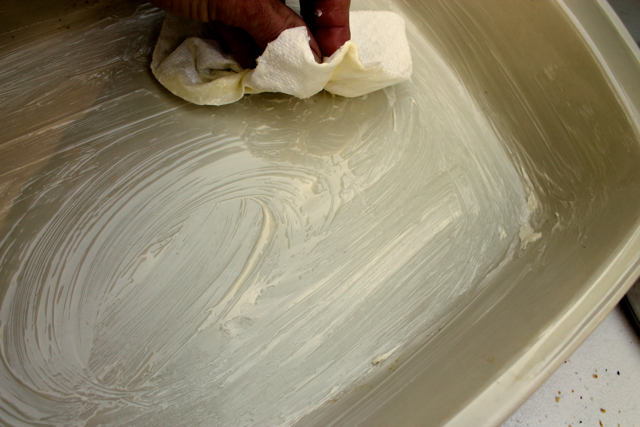 Place in a 400 degree F. oven and bake for 45 minutes or until nicely browned on top.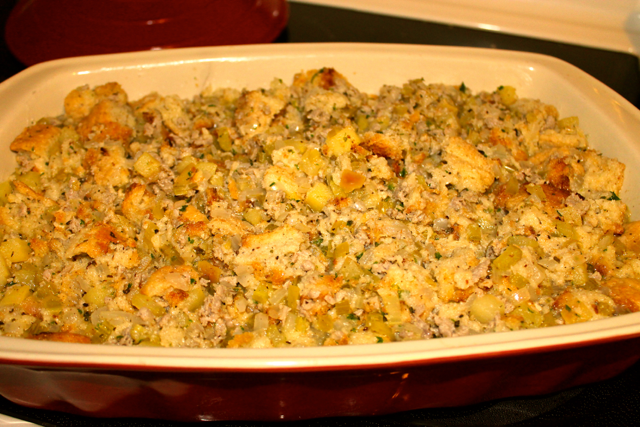 Serve with your favorite meat.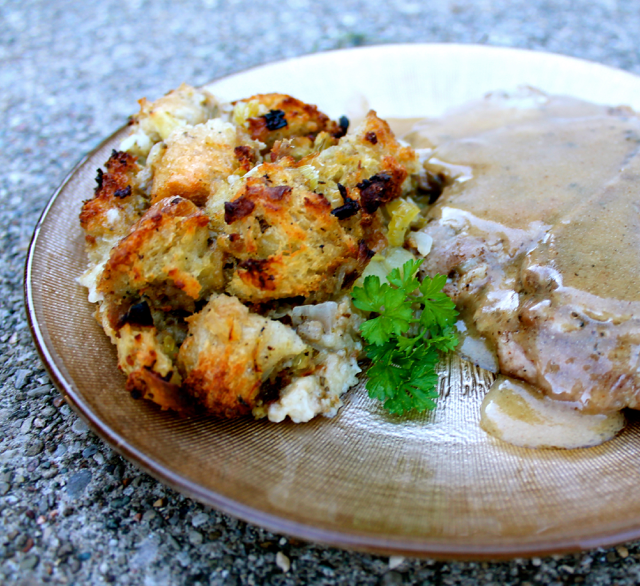 I never really gave a thought to adding apples to a stuffing but they do make a wonderful addition because they add body and texture to the mix. The honeycrisp apple is perfect for this dish because it's not too sweet or sour and it's nice and firm.
Perhaps this Thanksgiving you'll consider giving this recipe a try. I know it'll grace my table when I prepare our feast.
Have a beautiful day foodie friends. If you wanna catch up with me, you know where to find me.
Keep it delicious!
Till next time ~ much love, Connie
Sausage and Apple Stuffing
Ingredients
12

C

bread cubes

cut from a fresh loaf of bread

1/2

C

melted butter

1 12

oz

pkg ground sausage

1

lg onion

diced

4

lg stalks celery

diced

1

lg or 2 small honey crisp apples

diced

salt and freshly ground black pepper to taste

1/4

C

chopped fresh parsley

2

tbsp

chopped fresh sage

1/2

tbsp

chopped fresh rosemary

1

tbsp

chopped fresh thyme

5

C

chicken stock

butter for greasing the baking dish
Instructions
Place the bread cubes on a baking sheet and brush the melted butter over top of them.

Toast the bread under an oven broiler on the low setting, stirring the bread around every couple of minutes until evenly browned.

Turn the oven to bake at 400 degrees F.

In a large pot or Dutch oven, brown the sausage. Add the onion, celery and apples and saute until softened. Season with salt and freshly ground pepper to taste.

Combine the bread crumbs, the sausage mixture and the fresh herbs in a large bowl and add the chicken stock. Stir well.

Grease a large (3 quart) baking dish well with butter.

Spoon the stuffing into the baking dish and smooth.

Bake in the oven for 45 minutes or until the top has a nicely browned crust.
Notes
Recipe by: Connie Murray @Happybellyfoodie.com