Pressure Cooker Cincinnati Style Chili
What's the secret to Cincinnati Style Chili? Is it chocolate? Cinnamon? One may never know.
Today, we're gonna make pressure cooker Cincinnati style chili. A first for me.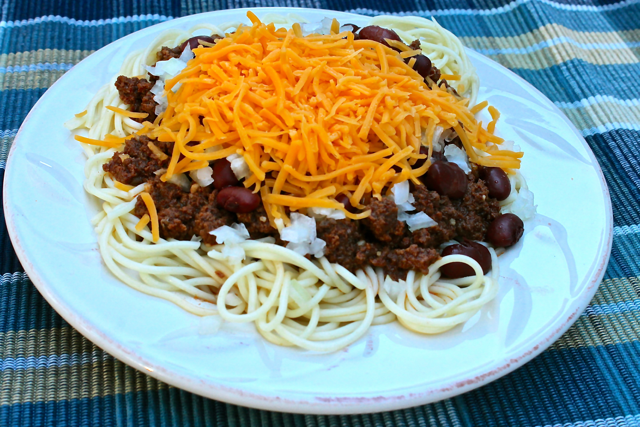 Ever had Cincinnati Style Chili before? Ever made it? That's what we're gonna do today!
Now, if you are familiar with Cincinnati Style Chili, you know that it's basically a meat sauce. It has a tomato base and has a very distinct aroma of cinnamon. There's actually quite a few spices that give it it's fantastic flavor, including chocolate. Yes, I said chocolate. I've made this dish for, well actually my Mom made it when we were kids.
Before you start the chili, go ahead and have your spaghetti done or just about done because this only takes 25 minutes to cook in the pressure cooker.
We've got a busy tray full of flavor going on here..
Starting clockwise from the top right, we've got grated onion, cinnamon, ground beef, beef stock, chili powder, worchestershire sauce, apple cider vinegar, cocoa powder, dried minced garlic, cayenne pepper, cumin, a bay leaf and tomato paste.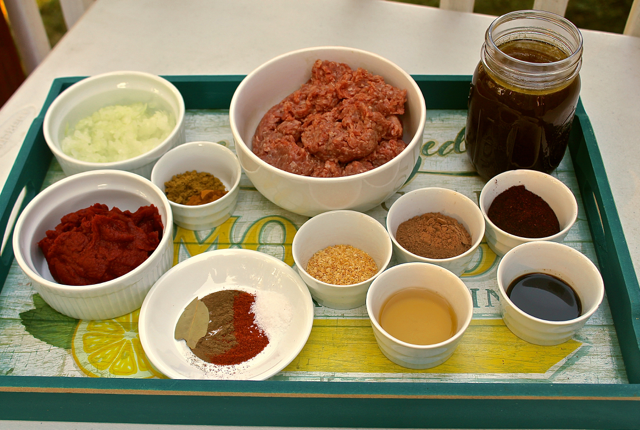 Now, I've gone through several recipes for this dish and most of them don't mention anything about the texture of the meat. Cincinnati Style Chili is supposed to have a very fine texture. In other words, no chunks. That's the reason the onions in this recipe are grated, not chopped or minced.
A trick I learned many years ago for ground beef, when you're making a fine textured dish such as taco meat (ground beef ones), instead of browning the meat first, you add the liquid to it and mash it up.
That way, you're sure to have the texture you want. Some folks like the chunky ground beef texture but for this dish, in my opinion it needs to be fine and smooth.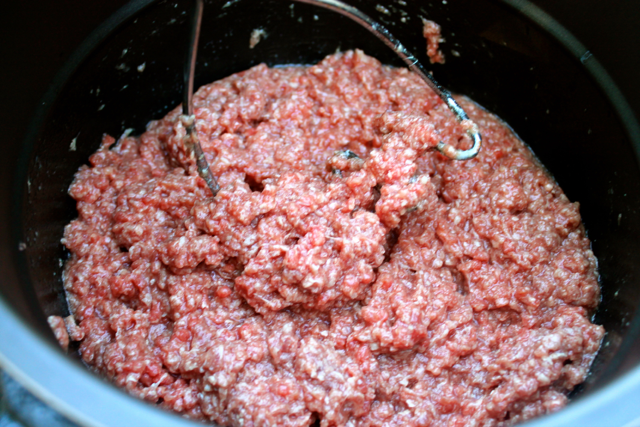 Add the rest of the ingredients and combine well.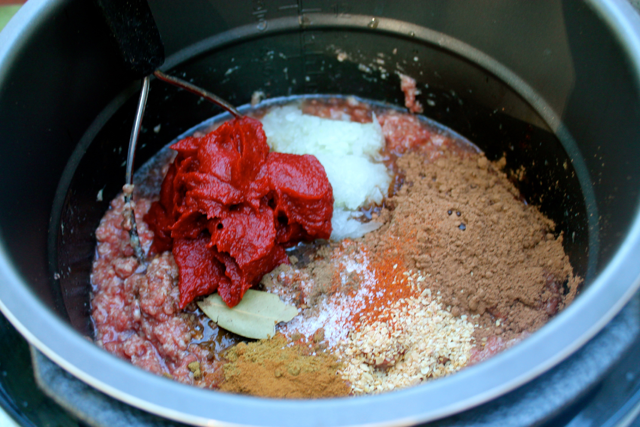 Looks kinda like sausage meat, huh?
Once you get everything combined, place the lid on and lock. Turn the steam release valve to the locked position.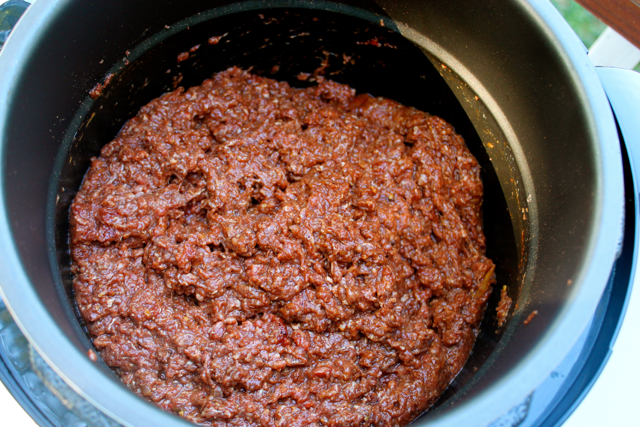 Select the soup/stew button and adjust the timer to 25 minutes. When the timer goes off, it's done.
The smell that fills the house when you're making Cincinnati Style Chili is absolutely heavenly. Usually on the stove it takes about an hour and a half. Using the pressure cooker for this recipe is wonderful because you're not walking around with your mouth watering so long.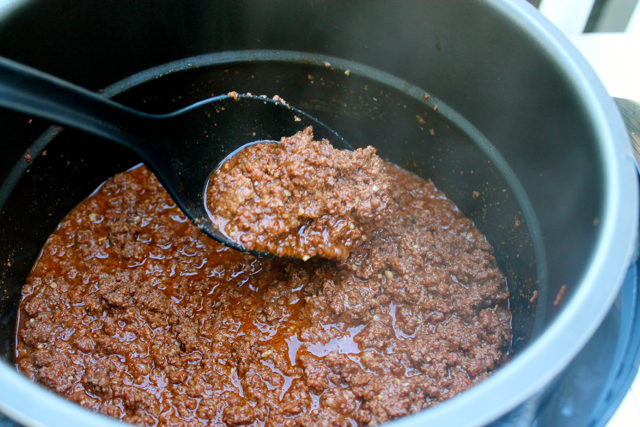 I personally like my Cincinnati Style Chili served as a 5-way. That is, the chili is served over spaghetti and topped with kidney beans, onions and cheese. (With a side of oyster crackers) Yummy!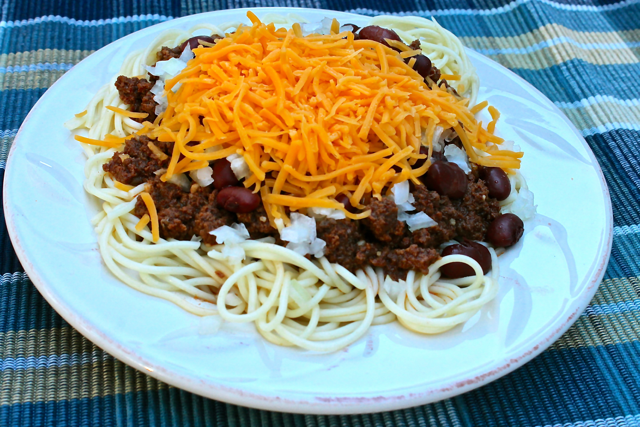 If you like Cincinnati Style Chili and have never made it, you'll be pleasantly surprised when you do. If you've never had it before, you'll wanna stick this recipe in your back pocket for the next chilly day because it's delicious. Besides, who doesn't love a nice warm chili on a cool Autumn night? Right. 😉
Make it a great day and as always, keep it delicious!
Till next time ~ much love, Connie
Cincinnati Style Chili ~ Pressure Cooker Fast
Ingredients
2

lbs

ground beef

2

C

beef stock

1

medium onion

grated fine

1

can tomato paste

2

tsp

worchestershire sauce

2

tbsp

apple cider vinegar

2

tbsp

chili powder

2

tbsp

cocoa powder

2

tsp

dried minced garlic

1

tsp

cinnamon

1

tsp

cumin

1/2

tsp

salt

1/2

tsp

cayenne

1/4

tsp

allspice

1

bay leaf
Instructions
Place the ground beef and beef stock in the pot. Combine well until all the meat is broken into a fine texture.

Add the rest of the ingredients and stir well.

Cover with the lid and turn the steam release valve to the locked position.

Press the soup/stew button and adjust the timer to 25 minutes.

When finished, carefully release the steam and stir.

Serve hot over pasta with beans, onions and cheese (if desired) or serve on hot dogs for coneys.
Notes
Recipe by: Connie Murray @Happybellyfoodie.com