♪ "I'll never be your beast of burden…"♪ – Rolling Stones
Dad has a request for baby back ribs for Father's day? Don't make a grown man cry. We can make the ribs healthier and keep the whole meal heart-smart! I got a plan!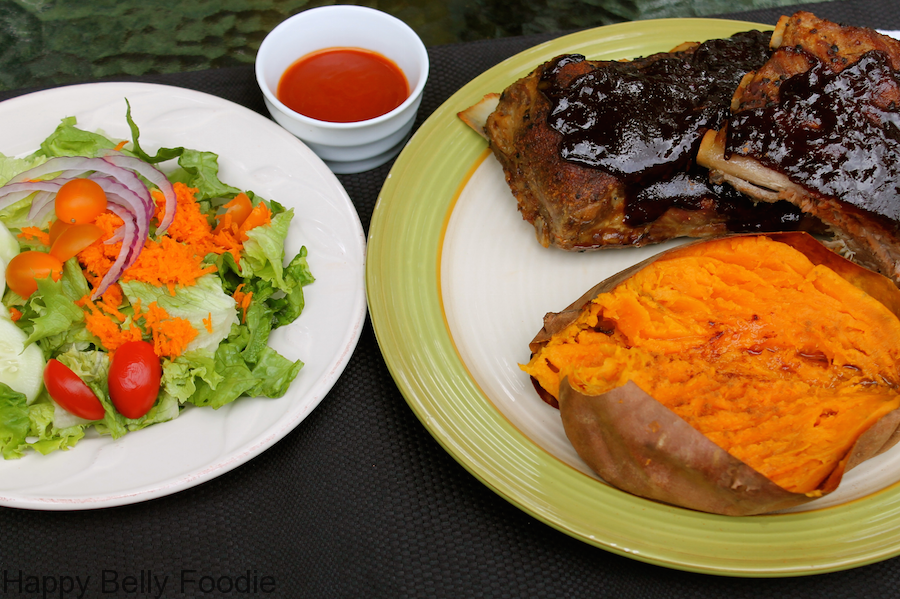 First of all, The Happy Belly Foodie wants to wish all you Dads out there a very Happy Father's Day! Let's make heart-smart week's grand finale a dedication to Pop! After all, he deserves a treat for all the hard work he's done for us!
So Dad wants ribs for Father's day huh? We can do that and keep his ticker in check! The keys to keeping it heart smart are a matter of doing a little extra trimming from the ribs, cooking them long enough to render as much fat out of them as possible and surround the meal with extra good, heart-smart choices to keep the main course portion size down.
Quite honestly, you make just about any meal heart smart and healthy. If you get enough fruit, veg and complex carbs in before you head for the heavier part of the meal, you're simply not going to eat as much of the fat. Plus, when you get some of those good enzymes from the raw fruit and veg, you're going to digest the protein and fat better.
Let's talk about trimming those ribs up..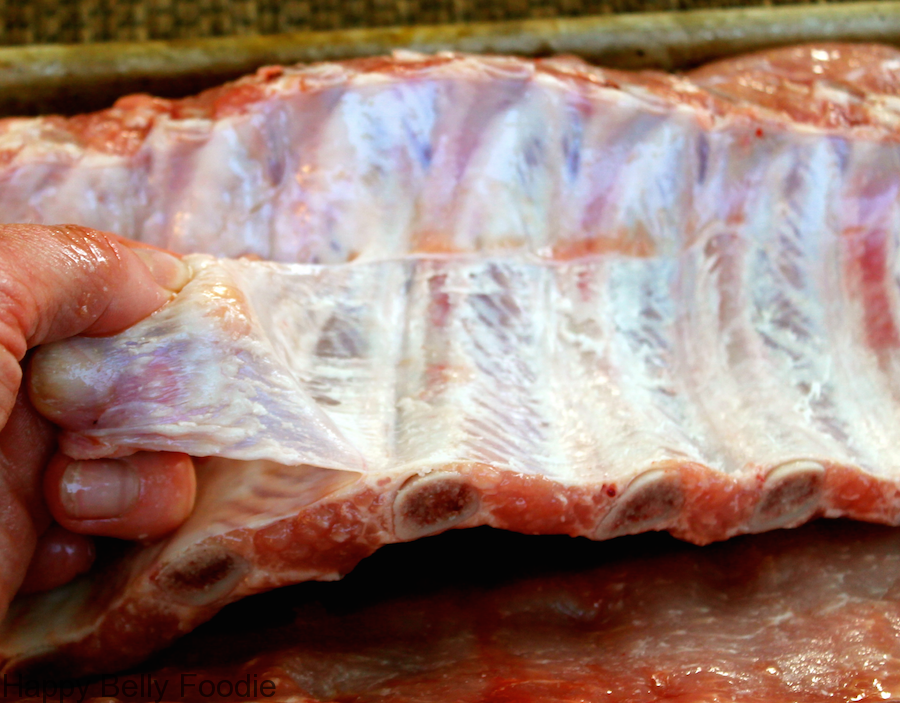 On the underside of the ribs is a membrane. It's a thin, latex-like layer that can be a little tricky to get off, as it is slippery. If you slip a knife under the membrane, you can lift enough to get a hold of it. A lot of people will use a paper towel to grasp it to keep it from slipping out of their hands but I just get a good grip pull it quick. Kinda like a band-aid. Usually it'll come off in one good swipe.
That membrane holds a lot of fat in those ribs. Even though you won't be picking the fat out, when you cook your ribs, the fat will release and instead of pooling up in between the meat and the membrane, it'll drain out.
Kinda gross looking, huh? Meh, it's meat.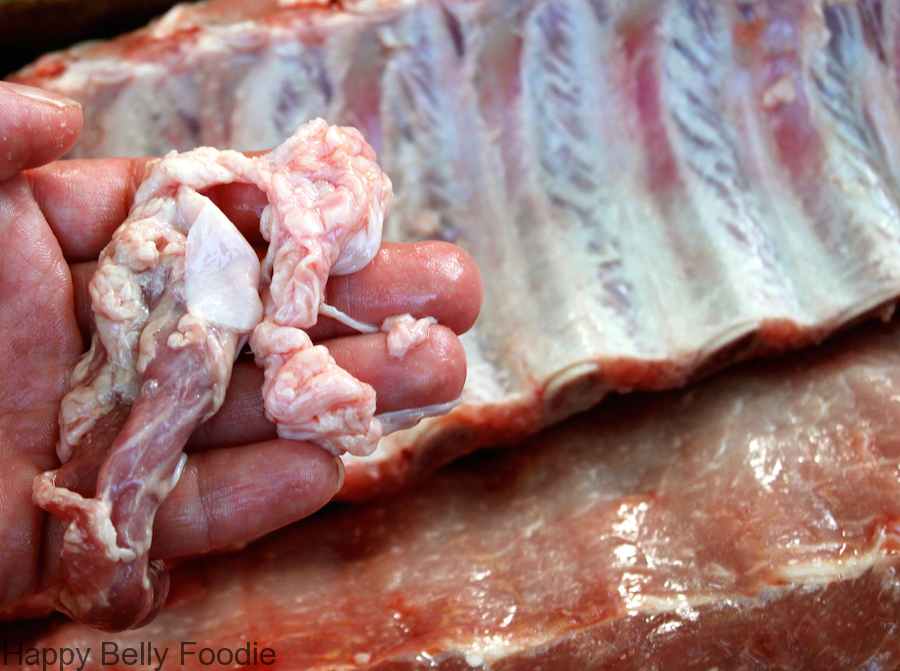 I cut any of the visible, white fatty stuff from the top of the ribs off, too.
Btw, when your done with your bones after your meal, save them. They make a nice addition to Beef Stock for extra flavor. I just rinse them off and put them in a baggy in the freezer.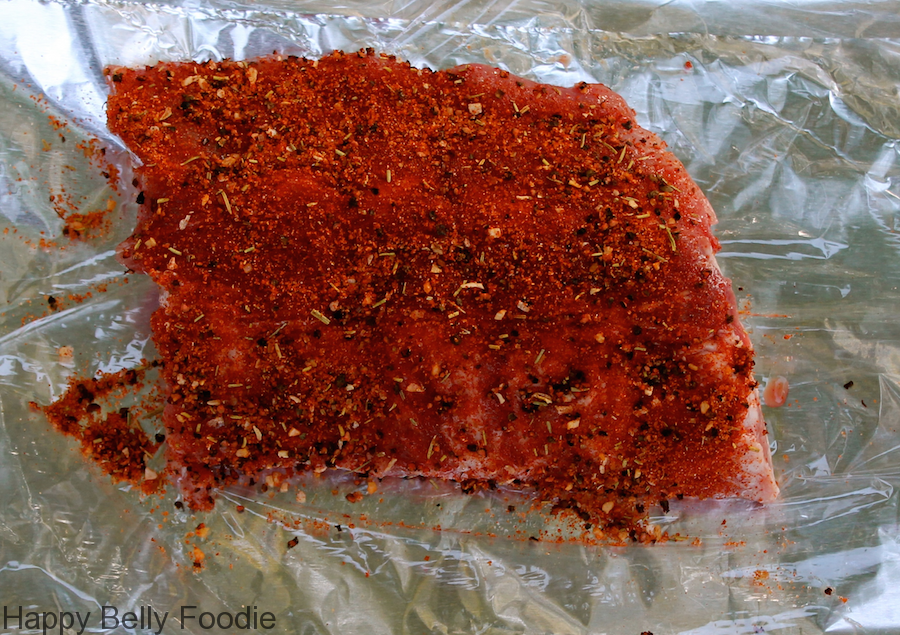 Another crucial thing for baby back ribs, in my opinion is giving them a great flavor. That way, you're not going to need a ton of BBQ sauce, which can up the calories in your meal. I like to find a nice BBQ rub and marinate them for a couple of days in the fridge.
* Tip: When I buy ribs like this, I like to spend a little more and buy extra. You can freeze the extras with the rub marinade on them for a meal at a later date.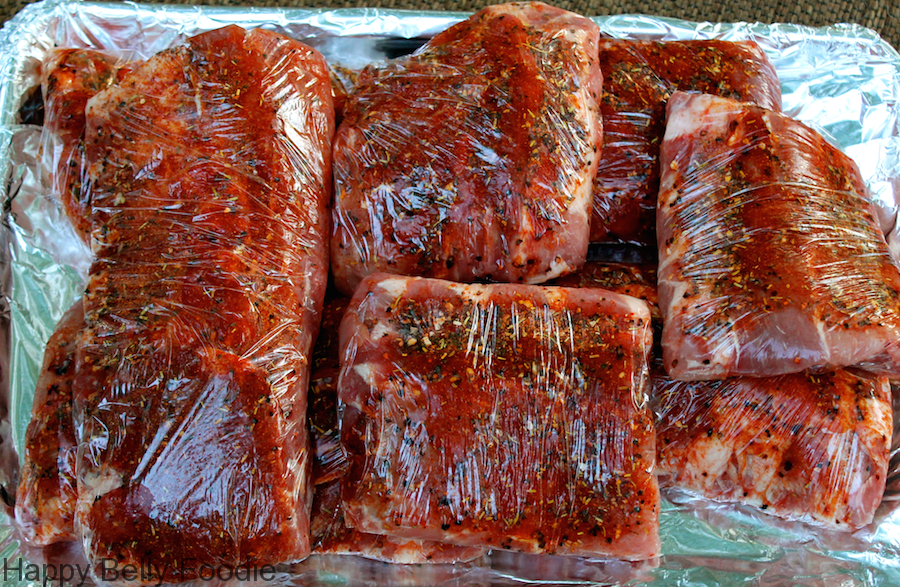 Now, you can cook baby back ribs in the smoker
, on the grill
or even in a crock pot
. I've made mine in all of those at one time or another but my favorite way to do them is to slow cook them in the oven at 265 F for three hours.
See all the fat that released from these? Look at the one on the lower right.
When the internal temp of meats hits the 190 degree mark, that's when all the fat breaks down and starts to melt and the meat fibers start to break down.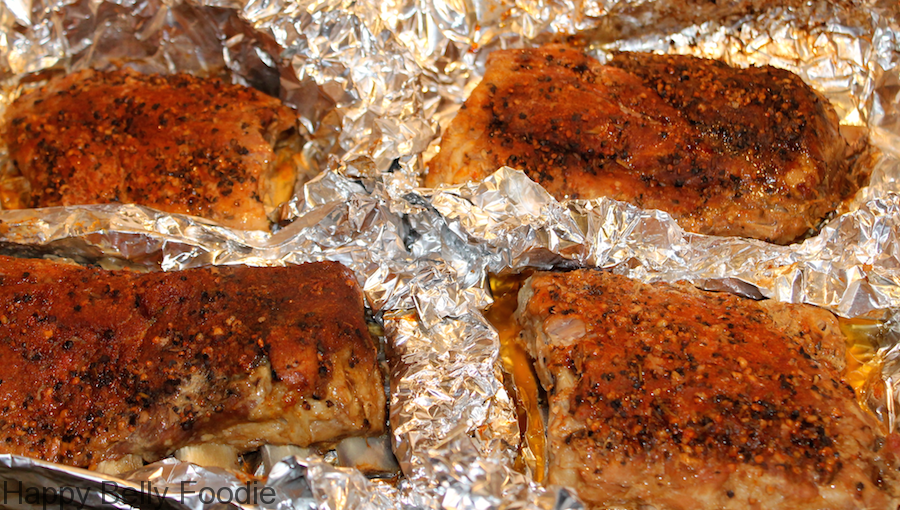 To get even more fat out of them and get the sauce all nice and baked on, I put them on a broiler pan
that has really good drainage holes and stick them back in the oven for a half hour at 400 degrees F. Or sometimes I'll throw them on the grill to do the sauce part.
These look pretty darn yummy, don't they? Yes, they were fall-off-the-bone tender and delicious! The two day marinade helps tenderize the meat and the slow-low cooking gets them to the perfect tenderness. YUMMY! Dad's gonna be so happy!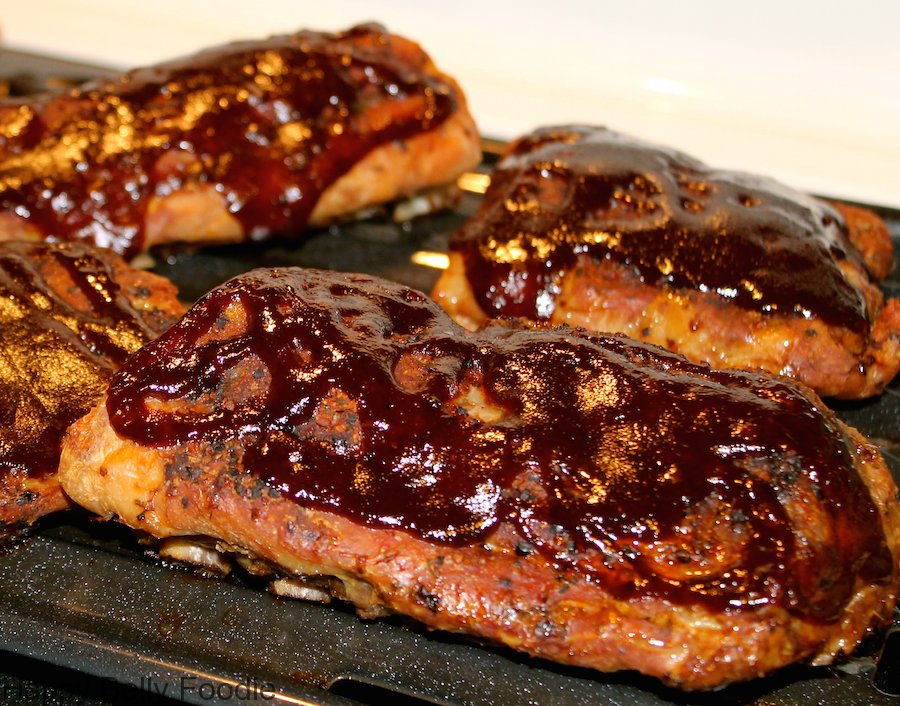 So here's the plan.  About a half an hour before dinner, serve an enzyme rich fruit bowl, such as that Tropical Fruit Salad ~ Enzyme Therapy as an appetizer.
Before the main course is set out, serve a nice sized, pretty and simple salad with a light, organic dressing.  Presentation is super important when it comes to a salad, to me anyway. You make it colorful, serve it with a good smelling dressing and most people have no problem enjoying the salad before the main course.
For your side dish, serve baked sweet potatoes and put a little bit of coconut oil on them, instead of butter with a little cinnamon sprinkled on top. Which, btw is like serving candy on a plate because sweet potatoes done up like that are super DELICIOUS!  I don't mind feeling like I'm eating dessert right in the middle of my meal, do you? * wink *
By the time you get to the ribs, you're gonna be filled up too much to eat too many of them. You'll enjoy the flavor and be satisfied. Those fruits and veggies are gonna help you digest and process the meat and fat better and you're gonna get the most out of your meal, nutrients and all!
Not even half of those ribs on that plate were eaten by the hubs because this plan really does work!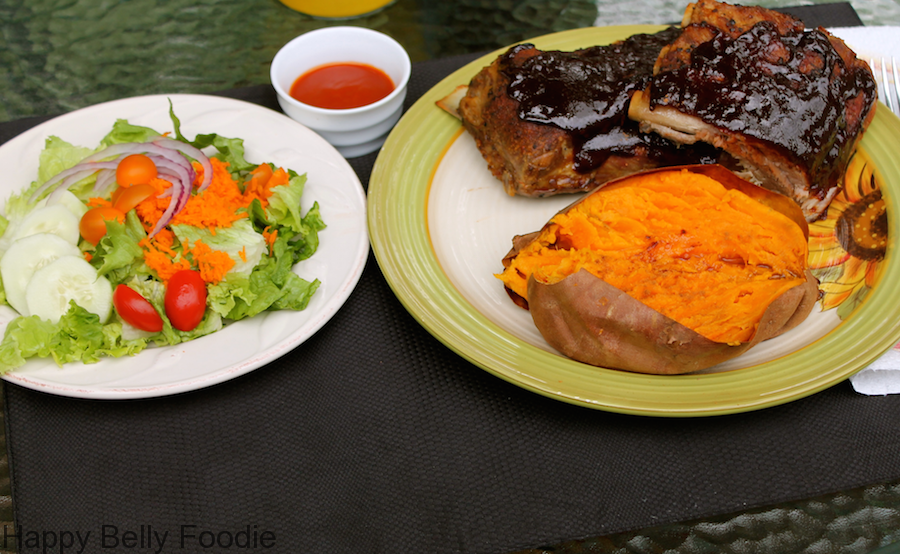 I do hope you'll make it a delicious Father's day weekend foodie friends and keep Dad happy and healthy! A little maneuvering, a little planning and some heart-smart strategies really do help! You don't have to skip your favs and neither does Dad!
If you have any special requests or wanna share some tips with me, you know where to find me 🙂
Make a great day, every day folks! Till next time ~ much love, Connie
Baked Baby Back Ribs
Ingredients
2-3

racks of pork baby back ribs

4

oz

bbq rub

bbq sauce for topping
Instructions
Cut each rack of ribs into portion sizes desired.

Remove the membranes from the underside of each rack of ribs.

Trim excess fat from the meat as much as possible.

Dust the meaty sides of each rack with bbq spices and rub into the meat well.

Turn the racks over and dust the underside as well.

Wrap each portion size in plastic wrap tightly.

Place in refrigerator over night or up to 48 hours.

Preheat oven to 265 degrees F.

Unwrap the ribs and re-wrap them individually with foil tightly.

Place the ribs with the folded part of the foil side up on baking sheet and bake for two and a half to three hours.

Remove from oven. Use tongs to take the ribs out of the foil and drain all excess fat and oil rendered from them.

Turn oven heat up to 400 degrees F.

Place the ribs on a broiler pan that has good drainage holes on it.

Drizzle bbq sauce of choice on top of ribs.

Bake in oven for additional 30 minutes.

Serve hot.
Notes
Recipe by: Connie Murray @Happybellyfoodie.com