Where there's a will, there is a way! Want ice cream but can't have dairy or gluten? I've gotcha covered! 😉 Plus, I've got two sweet dairy-free, gluten-free toppings to boot!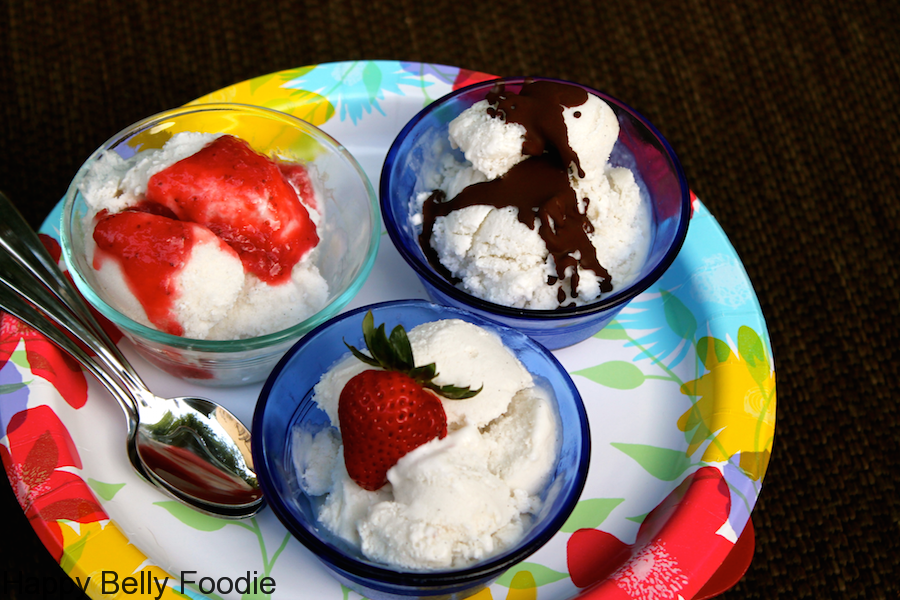 Of course I had to make a dairy-free, gluten-free ice cream to finish off this week's theme! Summer time or any time just ain't complete without a creamy cool sweet treat!
When I was trying to figure out how to come up with a dairy-free, gluten-free ice cream, I knew I'd be using coconut milk
for the base and agave syrup
for the sweetener. I thought I was going to be using my beloved coconut oil
as a stabilizer but I just didn't think it would work out well. I'm not an ice cream scientist but you know, it didn't make sense. Luckily, I found this coconut cream
. The only ingredients in it are coconut cream and guar gum. As it turns out, lots of ice creams have guar gum in them as the stabilizer and it's gluten free. Guar gum comes from a bean and is processed into a powder that is ten times stronger than corn starch. Good to know!
What about fat content? I was concerned about that because, as you can see from that picture of the coconut cream, it's quite thick and creamy. We want thick and creamy results but we don't wanna eat a weeks worth of fat and calories in one little bowl of ice cream, right?
I did a comparison between the coconut cream and heavy whipping cream, which is what I'd use in regular ice cream, and I was quite surprised!
Here's the comparison:
| | | |
| --- | --- | --- |
| | 1/3 Cup Coconut Cream |  1/3 Cup Heavy Whipping Cream |
| Calories |  160 |  271 |
|  Total Fat |  17 g |  29.06 g |
|  Saturated Fat |  14 g |  18.09 g |
Well heck YES! I can live with that! Let's get to work!
I've mentioned this before about fresh vanilla beans
; After you scrape the seeds from the bean, place the pod in an air tight container with a half cup of sugar or so and you'll have your very own vanilla flavored sugar after a few days of letting it infuse! Waste nothing 🙂 because vanilla beans aren't cheap. You can make vanilla extract with the pod, too. See my post, Homemade Extracts ~ Getting down to the nitty gritty.
Here's my humble lil ice cream maker
. It ain't anything too fancy but I love it.
The really great thing about this way of making ice cream is that there was no cooking and no long wait to get started.
I just chilled the mixture of coconut cream, coconut milk and other ingredients in the freezer for thirty minutes and then put it into the ice cream maker.
Here's the progress of thickness after churning:
20 minutes, 40 minutes and 1 hour
It was creamy-dreamy-whippy-delicous! After freezing the finished product for about an hour it had a fantastic texture similar to hand-dipped regular ice cream.
For the strawberry sauce, I just cut up a pound of strawberries and combined them with 1/2 cup of agave syrup and cooked them down in a sauce pan for about a half hour.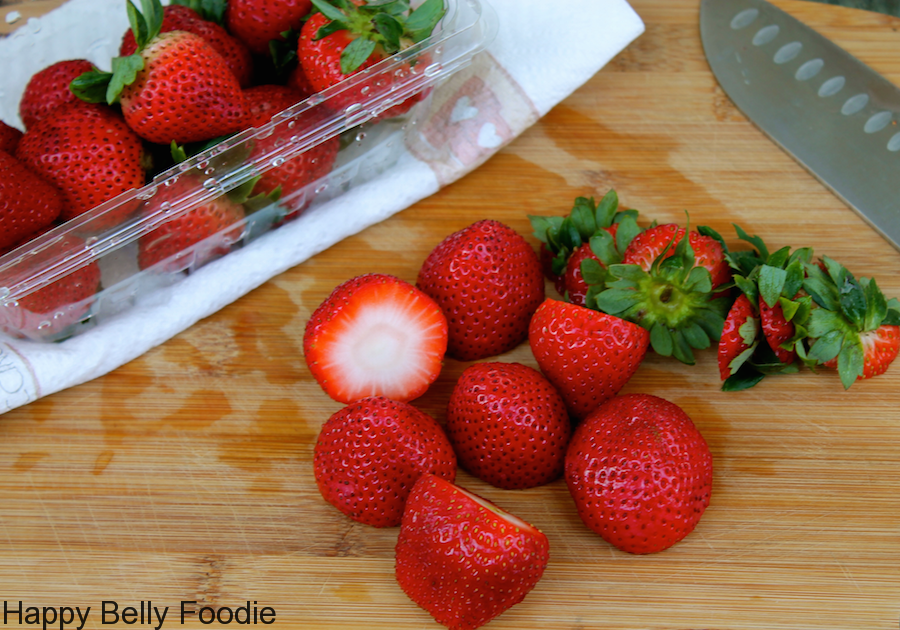 YUM! I really like this! I think I might cook up some apples and mix some of this sauce with them for a gluten free strawberry flavored apple sauce. Good idea, no?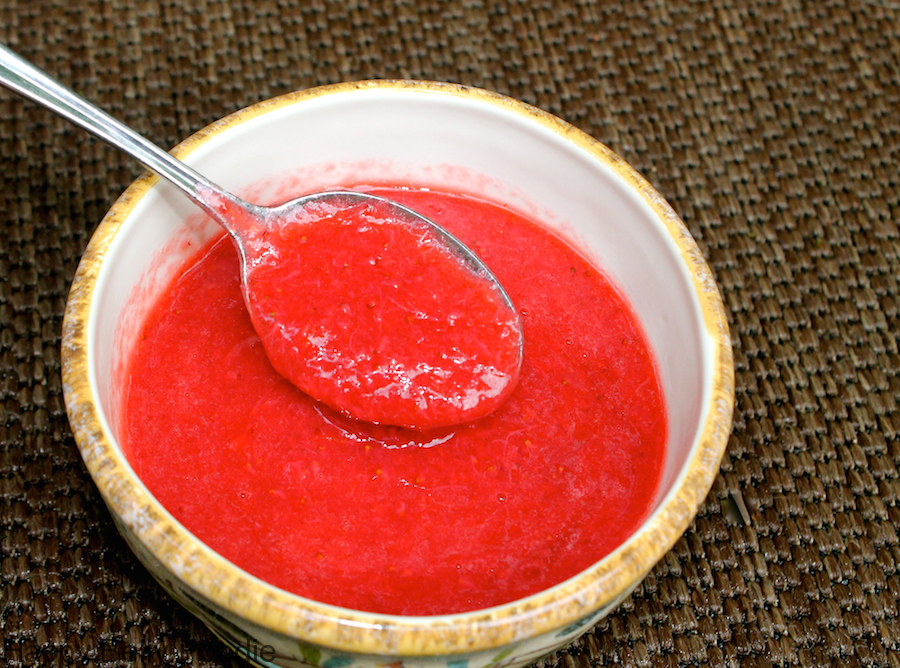 I took that left over dairy-free, gluten-free chocolate
from the Peppermint Patties ~ sticking with the dairy free, gluten free theme post I did earlier this week and added a tablespoon of coconut oil to it for a magic shell topping. It tasted wonderful! It has a nice CRUNCH after you pour it over the ice cream! If you want the full magic shell recipe, see Double Vanilla Gelato ~ with bonus magic shell topping. If you want it dairy-free, gluten-free, check out Enjoy Life Products. They've got lots of stuff to choose from!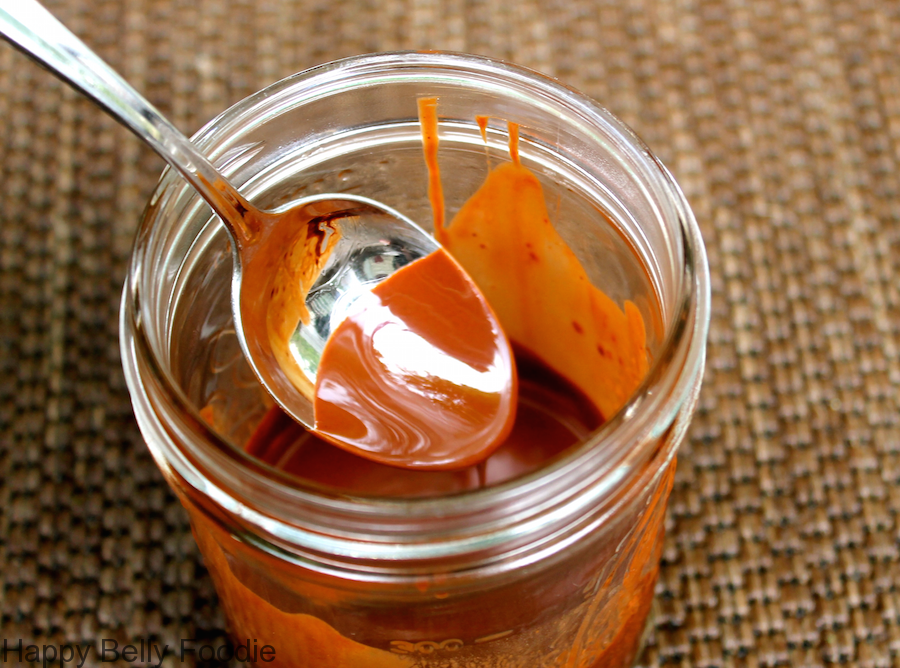 The final verdict on this fun recipe…. Everyone LOVED it! It does have a different taste and slightly different texture than regular ice cream because it has no milk in it but it was seriously delicious! I'll definitely make it again and explore some other flavors, too! Btw, you're wondering if it tastes like coconut, right? Yeah, a tad but not overwhelmingly. I love coconut anyway but if you're not a fan, don't worry. It's not like eating a Mounds candy bar. It's very subtle.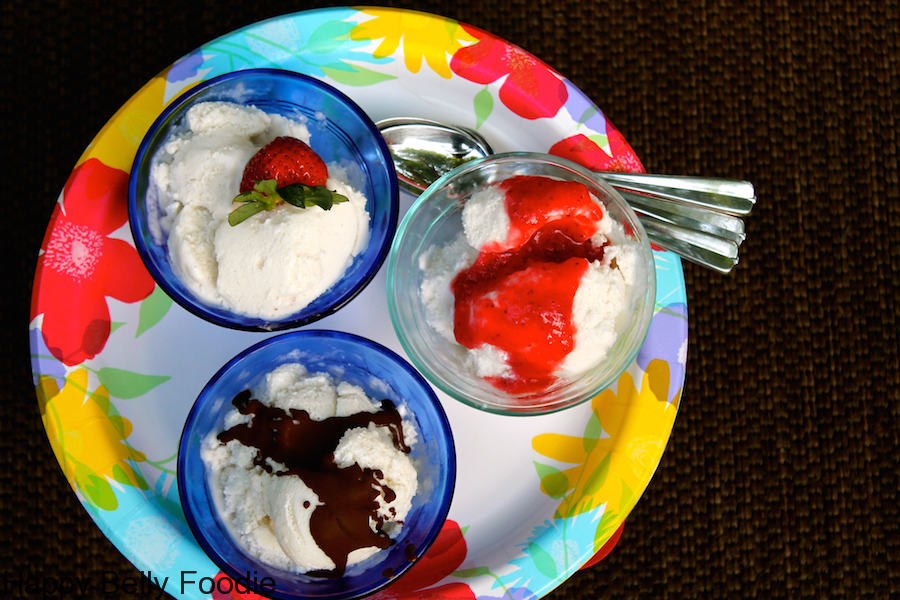 There you have it foodie friends! That concludes this week's dairy-free, gluten-free recipe theme. I really did have a lot of fun doing this!
If you have a special request for anything, give me a hollar! You can catch up with me through one of those buttons up top or leave a comment in the box down below. You can also send me an email to Happybellyfoodie@hotmail.com.
Thank you so much for reading and checking out my crazy food adventures! I really appreciate ya! Have a fantastic, delicious weekend!
Till next time ~ much love, Connie
Coconut Ice Cream, Dairy Free and Gluten Free ~ Plus, Gluten Free Strawberry Topping
Ingredients
Coconut Ice Cream:

2 13.66

oz

cans coconut cream

12

oz

coconut milk

1

vanilla bean

1

tbsp

vanilla extract

3/4

C

agave syrup

1

tsp

salt

Strawberry Topping:

1

lb

strawberries

trimmed

1/2

C

agave syrup
Instructions
Coconut Ice Cream:

Scrape the vanilla seeds out of the bean and combine with the rest of the ingredients in a large bowl with a hand mixer. Chill the mixture for 30 minutes in freezer.

Process the mixture in an electric ice cream maker as directed by manufacturer.

Place the mixture in the freezer, in an airtight container and freeze for about an hour or until desired hardness is achieved.

Strawberry Topping:

Cut strawberries into quarters and place in a medium sauce pan along with the agave syrup.

Heat on med/hi until the mixture begins to boil. Turn the heat down to low.

Use a potato masher to break the strawberries down after they have softened.

Cook until sauce has thickened, about thirty minutes. Cool and serve over ice cream.