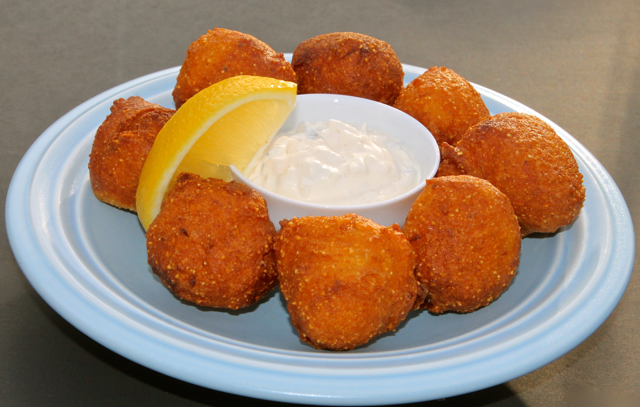 Crispy on the outside, fluffy on the inside and super tasty! These Hush Puppies with Homemade Tartar Sauce are a perfect companion for your fish dinner or as an appetizer.
There's not a whole lot of fuss when it comes to hush puppies. The secret to great taste is in the seasoning and using buttermilk instead of milk gives them a nice zip in flavor. So let's get down to business.
For the batter you'll need corn meal, flour, baking soda, baking powder, an egg, salt, sugar, onion powder, garlic powder, old bay seasoning and a half cup of sauteed onions that have been cooled.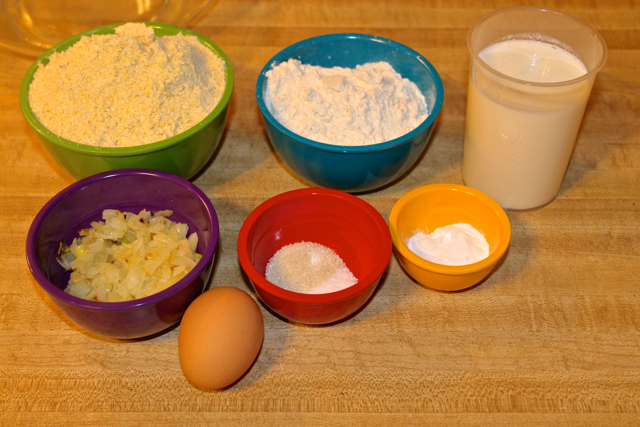 To get started, heat some oil in a Dutch oven to 375 degrees F.
Combine all the ingredients well for a nice thick batter that's a tad thinner than drop biscuits.
Use a small ice cream scoop
or a tablespoon to drop 1 inch balls of the batter in the oil and cook for 4 to 5 minutes.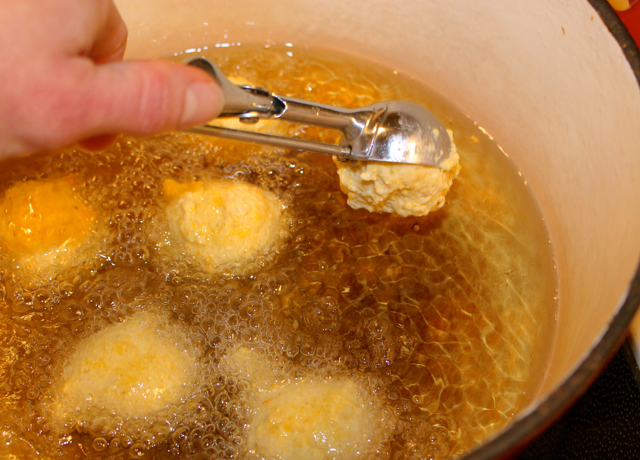 To make sure they're evenly browned and cooked all the way through, you'll want to give them a turn after about three minutes of cooking. When the color is a deep golden brown one both sides, they're ready to take out.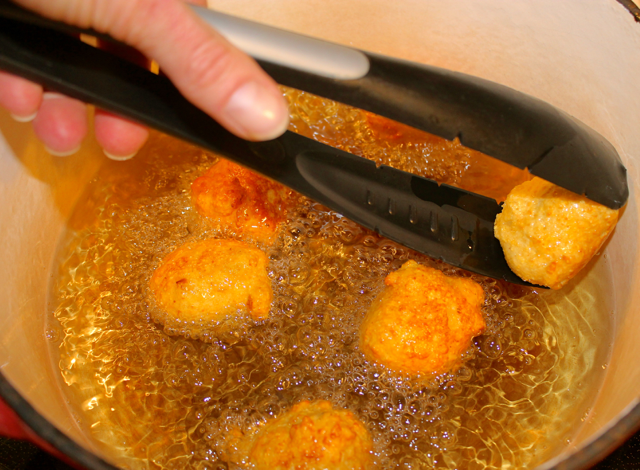 When they're done, set them on a clean rack to drain the excess oil and cool.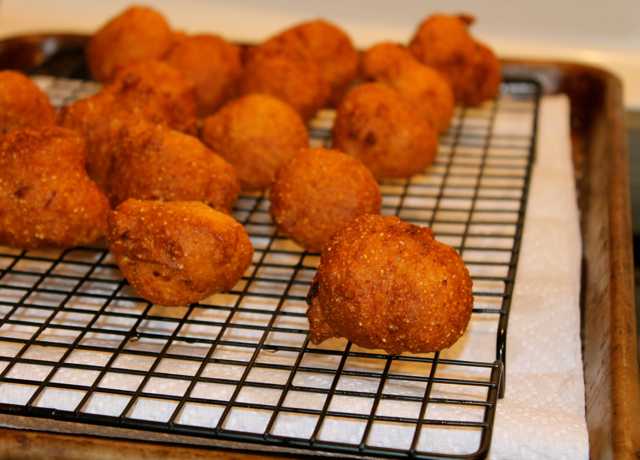 Of course making your own tartar sauce to go with is simple, too. I personally like a dill flavor, so some chopped koshers go in my mix. I use my own homemade Kosher Dill Refrigerator Pickles but you can use any kind you like.
Whisk some minced onion and mayonnaise together with the chopped pickles and refrigerate. The onion and pickle will marinate together and give the mayo a terrific flavor. Since the pickles are flavorful enough, you won't need any seasoning.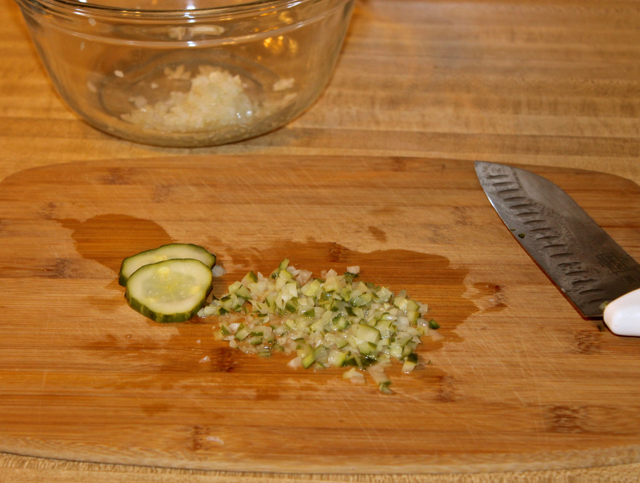 You can serve the hush puppies as an appetizer with a wedge of lemon and the tartar sauce or just have a few along side a fresh seafood meal.
Next time you plan on having some terrific seafood or you're just hankerin' for a delicious bite to munch on, serve some of these guys up. They're a delicious!
I hope you'll give this one a try. Let me know about it. I'd love to hear from you!
Make it a fantastic day and as always, keep it delicious!
Till next time ~ much love, Connie
Hush Puppies with Homemade Tartar Sauce
Ingredients
Hush Puppy Batter

Oil for frying

1

tsp

olive oil

1/2

C

onion

diced

2

C

corn meal

1

C

all purpose flour

1 3/4

C

buttermilk

2

tsp

garlic powder

1

tsp

onion powder

1

tbsp

old bay seasoning

1

tsp

baking powder

1/8

tsp

baking soda

1

tsp

salt

1

tsp

sugar

Tartar Sauce

1

C

mayonnaise

1/4

C

onion

minced fine

1/4

C

kosher dill pickles

diced fine
Instructions
Hush Puppies:
Pour the oil in a Dutch oven or shallow skillet.

Make sure you have at least 1/2 inch of oil.

Heat to 375 degrees F.

Heat a small skillet over med/hi heat.

Add the teaspoon of olive oil and saute the onions.

Set aside to cool.

Combine the rest of the ingredients in a large bowl.

Add the onions, once they're cool.

Mix well.

Use a small ice cream scoop to drop the batter into the hot oil.

Fry for about 3 minutes and carefully turn the hush puppies over.

Cook until evenly golden browned on both sides.

Be sure to cook at least 5 minutes so that all the batter is done inside.

Serve hot with tartar sauce and a wedge of lemon.
Tartar Sauce:
Combine all ingredients in a small bowl.

Cover and refrigerate until ready to use.
Notes
Recipes by: Connie Murray @Happybellyfoodie.com
Pin It: