Put on your best sundress and your fancy shoes! We're having a fancy shindig in the garden!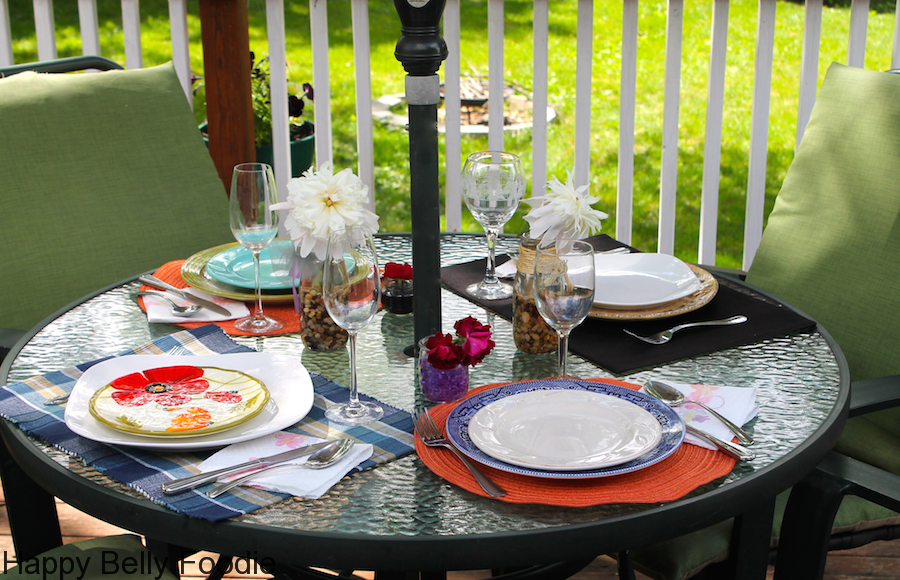 Just because little girls grow up, it doesn't mean they don't want pretty parties anymore.
We had a birthday at the Happy Belly Foodie house and by special request from the birthday girl, my beautiful-all-grown-up-now daughter wanted breakfast for dinner. So that's just what we did! I have to admit, I thoroughly enjoyed doing this, too!
We had music and mimosas
, fancy place settings
, flowers from the my garden and lots of good food. FUN! And of course, I had to take pictures and share the recipes with you, my foodie friends because who doesn't love a great breakfast meal?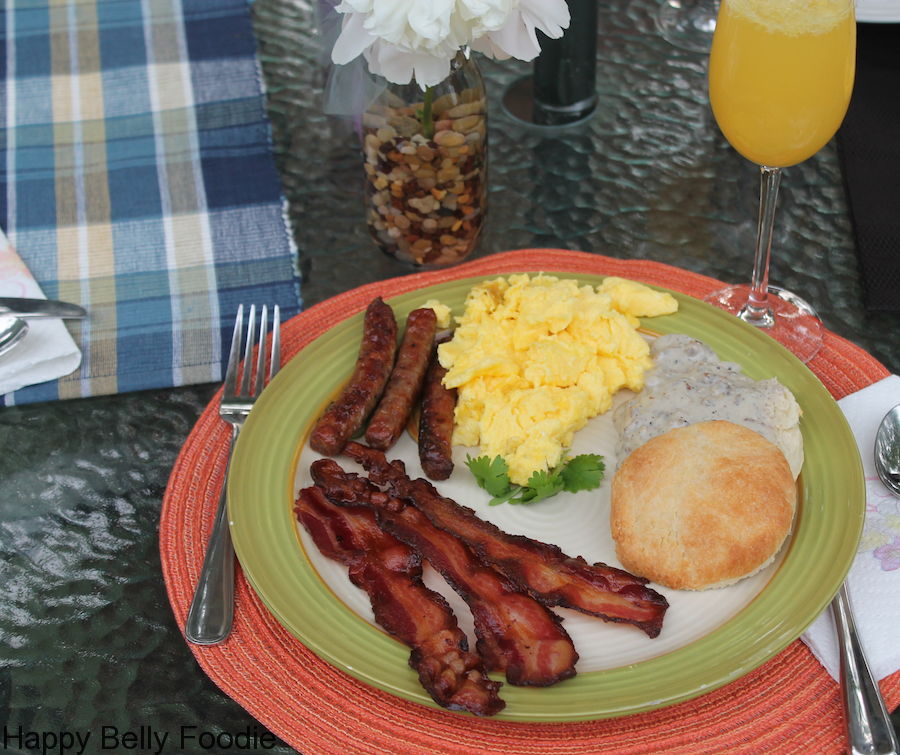 So let's talk about those recipes!
First on the menu was the mimosas. A fancy-schmancy drink that's super easy to make. It's simply half orange juice and half champagne and it's bubbly-sweet delicious!
Next up was the bacon and sausage. To make it easy on my kitchen and save me some space and time, I simply baked them.
For the bacon, if you place it on a baking sheet
between two pieces of parchment paper and place another baking sheet on top, you'll have flat bacon rather than all curled up, half cooked in parts bacon. Put it in the oven at 400 degrees F and bake for 10-20 minutes, depending on how done you like yours. (We like it extra crispy!)
As soon as the bacon was done, we put the sausage links in for about 15-20 minutes.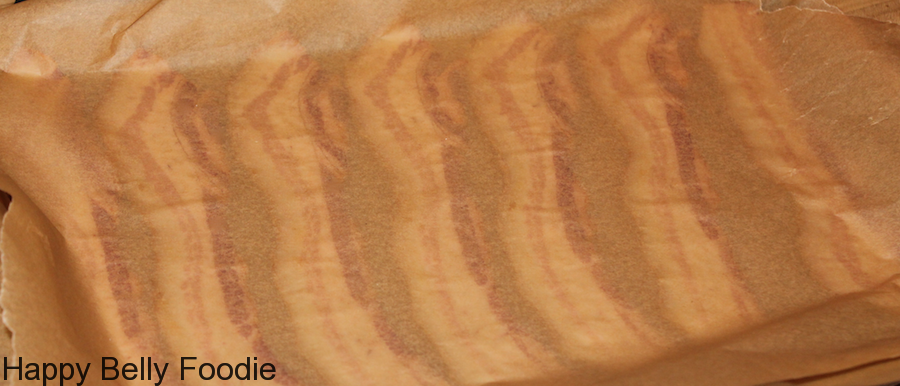 Next up was the buttermilk biscuits. (my favorite!)
The recipe included below is the one I've been using for years. I know I have some issues with baking at times but this one never, ever disappoints! They're quick and so very yummy with butter and honey or sausage gravy.
Most the time, when I make these I don't even shape them because they're great as drop biscuits. But since we were being all proper, I did add a little less buttermilk and a tad more flour so they'd shape up all nice n perty.
Secret Tip: Use this recipe to make "Cheddar Bay Biscuits" like Red Lobster for your next seafood dinner. Just add a couple cloves of finely minced garlic, some fresh chopped parsley, and a cup of shredded sharp cheddar cheese. Use the drop method instead of rolling them out and dab some melted butter on top after they're done baking
. Tastes exactly like the restaurant version!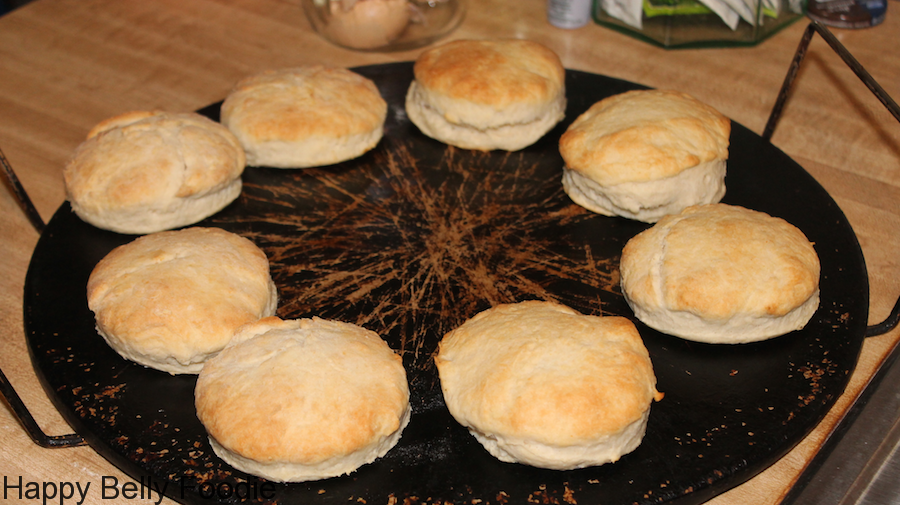 Moving right along….  The sausage gravy.
Now the recipe I have below for this is something I just whipped up. I don't really recall ever following a recipe for it because it is so simple. The main thing you have to pay attention to is the amount of milk you add after you've cooked the sausage and added the flour. For this one, I added quite a bit of milk and lots and lots of freshly ground black pepper
. I just love the smell of it! It turned out fantastic, too! I did check out a few recipes on the net for it but they all called for WAY more sausage than I wanted in mine. So, when all else doesn't look good, you gotta wing it and put what you like in the pan
.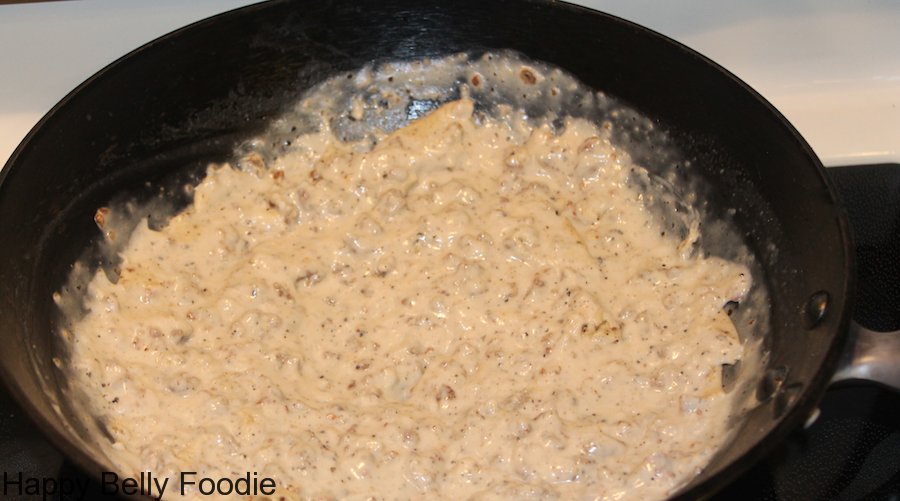 And last but absolutely not least was the scrambled eggs.
I always make my eggs last because they're the most delicate thing on the breakfast menu. I've had more requests from my family for my scrambled eggs than I can even begin to count, especially since I get my eggs straight from the farm. They truly are the best!
I've got a few tricks up my sleeve for these babies and if you follow the instructions in the recipe below, you'll have some of the best sunshiny delicious scrambled eggs ever. Cross my heart, I promise! 🙂
A few crucial keys for perfect scrambled eggs are:
* Make sure you whip
lots of air into them for fluffiness.
* Don't move them around in the pan a lot. Pour them in the pan and leave them alone over medium heat until they're about half done.
* Don't over cook them.
See how they look a little runny in the pan
here?
That's exactly when you want to plate
them up because they'll keep cooking after you've taken them out and it'll happen super fast. By the time your fork
reaches in for your first bite, they'll be perfectly done and scrum-dilly-umptious!
Now that's one happy birthday girl! Give us a big birthday cheeser Cory!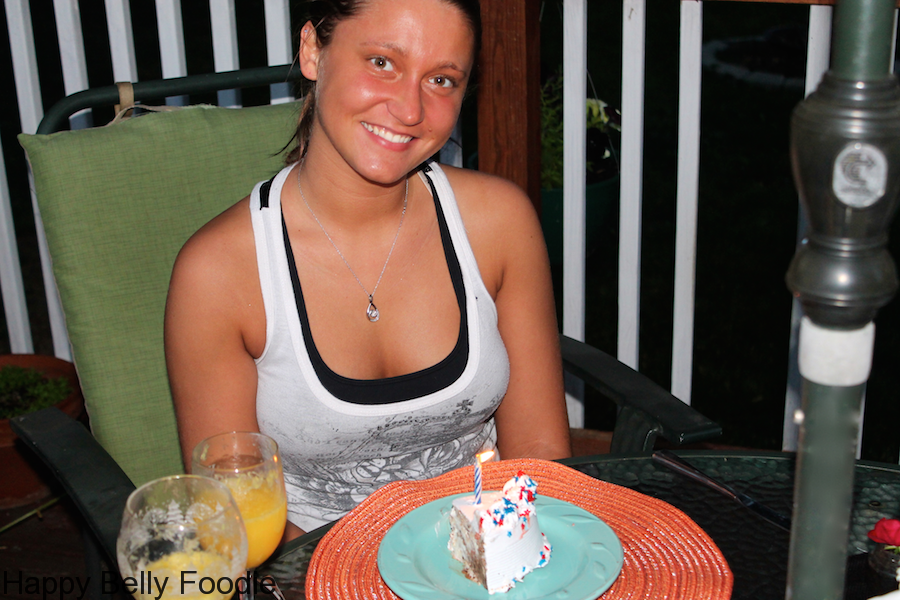 And there you have it folks! A beautiful breakfast for dinner garden party. I really do hope this post inspires you to get your swag on! I totally plan on doing this again for some girlfriends of mine. Maybe we'll even make some bodacious flower hats to go with!
How fun!
If you've got some great ideas for garden parties, I'd love to hear from you! Thank you for visiting Happy Belly Foodie! Till next time ~ much love, Connie
Breakfast for Dinner ~ A garden party
Ingredients
Mimosas:

1/2

gallon

fresh orange juice

1

bottle champagne

1

lb

bacon

baked 15-20 minutes in 400 degree F oven

1

pkg breakfast sausage links

baked 15-20 minutes in 400 degree F oven

Buttermilk Biscuits:

2

C

all-purpose flour

1

tbsp

sugar

2

tsp

baking powder

1

tsp

salt

1/2

tsp

baking soda

1/2

C

shortening or lard

3/4

C

buttermilk

up to 1 cup if needed

Sausage Gravy:

4

oz

ground mild pork sausage

1/4

C

all-purpose flour

1

C

milk

more if needed

Salt and freshly ground pepper to taste

Scrambled Eggs:

1

tsp

butter per egg

2

eggs per person

1

tsp

milk per egg

dash of salt per egg
Instructions
Mimosas:

Chill the champagne. Add equal parts of orange juice and champagne to champagne flutes.

Buttermilk Biscuits:

Preheat oven to 400 degrees F.

In a large bowl, combine all the dry ingredients.

Using a pastry cutter or potato masher, cut the shortening or lard into the flour mixture until you have pea sized pieces.

Pour in the buttermilk and mix by hand until all ingredients are well combined. Add more buttermilk if needed. The dough should form a ball but not be too sticky.

On a lightly floured surface, roll the dough out to about 1 inch thickness.

Using a cookie cutter or a cup, cut out the biscuits.

Place the biscuits on a cookie sheet or baking stone and bake in oven for 10 to 12 minutes or until the tops are golden brown.

Sausage Gravy:

In a large skillet, cook the sausage over med/hi heat. Break the sausage into small pieces with a spatula and cook until done.

Add the flour to the skillet and cook for 1 minute.

Whisk the milk in. Cook until desired consistency is achieved, adding more milk if necessary.

Season with salt and pepper to taste.

Scrambled Eggs:

Heat a large skillet over medium heat. Melt the butter in the pan.

In a large bowl, combine the eggs, milk and salt. Whisk very well until the eggs are lighter in color and have plenty of air whipped in.

Add the egg mixture to the skillet and leave it alone until the eggs are about halfway done.

Run a spatula through the middle of the eggs and break them up, turning them over in sections to cook the other side.

Turn the heat off and plate the eggs immediately.

They will look like they're not quite done (a little runny) but by the time you go to eat them they'll be perfect.
Notes
Recipes by: Connie Murray @Happybellyfoodie.com