Irish Meatloaf with Creamed Cabbage
Cozy Irish comfort on a plate. Ah, this is very heart warming and satisfying.
It ain't fancy schmancy but it is simply delicious.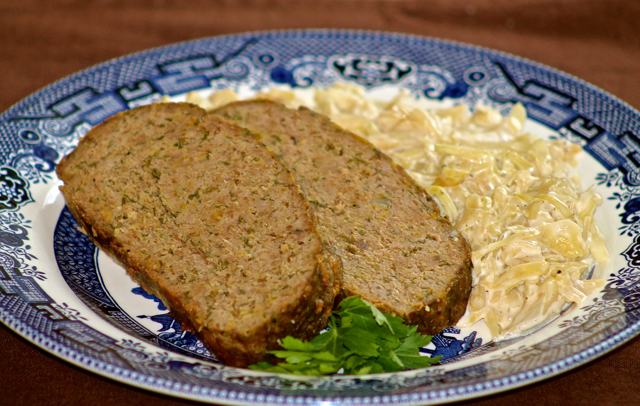 I mentioned in an earlier post that I saw this being made on a Food Network show and wanted to give it a try. So, here I am. Doing my thing.
In the meantime, I did find that Food Network does post recipes from some of their shows on their website. However, the amounts given for the dishes I wanted to try are for restaurant quantities. They don't make much sense for the home cook, so you've gotta do some guesswork. I wouldn't count on any baking recipes but meatloaf and a cabbage side dish are doable.
The ingredients for the meatloaf I made are fairly close to the original recipe I was following. By the way it was Diners, Drive-ins and Dives, season 2, episode 8.
I didn't include the Irish pudding chunks they had in their meatloaf. Not really sure what that would add to the recipe but I figured it wouldn't cause a total flop to not have it. Irish pudding is basically a dried pork and oatmeal sausage.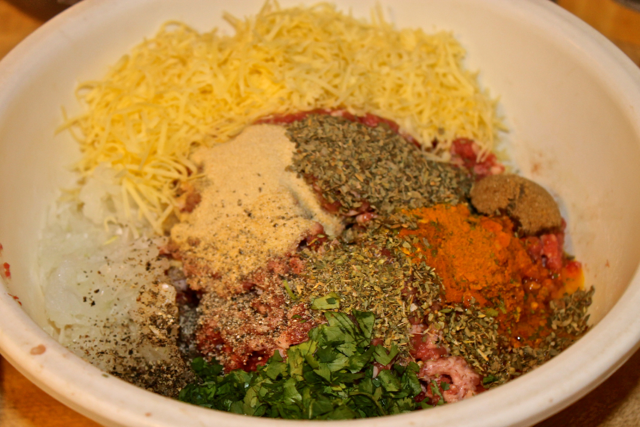 Meatloaf is a straight forward sort of thing. Mix the ground meat with the seasonings and herbs. Shape it into a loaf and bake.
One thing they did do on the show was place the meatloaf on cabbage leaves and put celery on top to keep it from sticking to the pan and the foil. I liked that idea.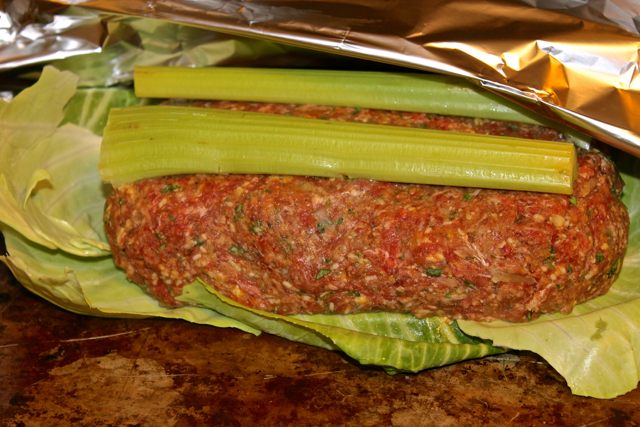 The thing I didn't like was cleaning the baking sheet afterwards. Note to self ~ line the sheet with foil next time.
Finished meatloaf isn't a gorgeous looking thing but the combination of beef and lamb with all those savory seasonings made my house smell absolutely wonderful. I was kinda drooling while it baked.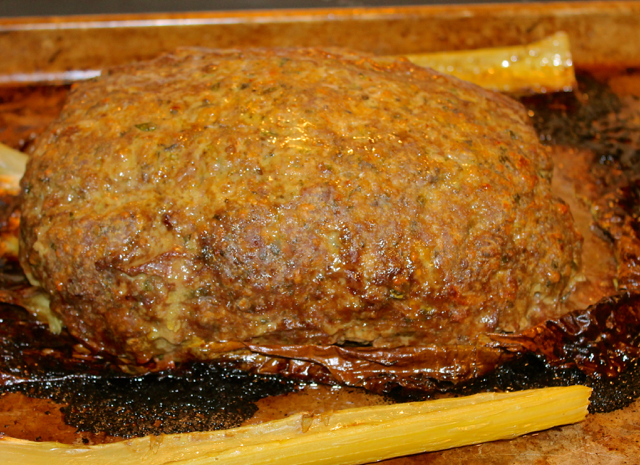 The cabbage was very simple to make. Just sweat it out with some garlic and salt.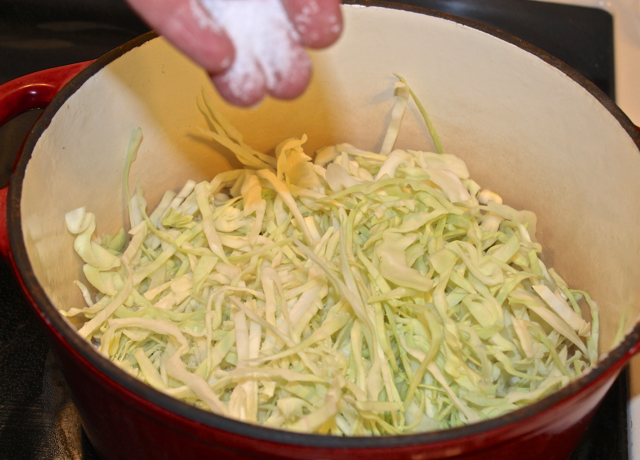 Once the cabbage is wilted down and translucent, add a cup of sherry.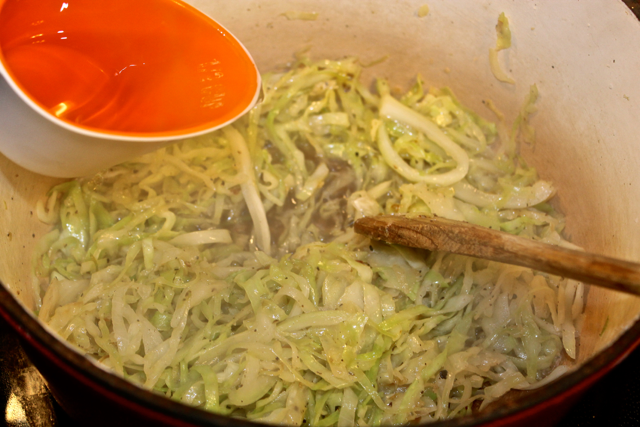 Let the sherry reduce nearly all the way and then add some cream. Turn the heat down and let it simmer until it's thick like a gravy. It's very tasty!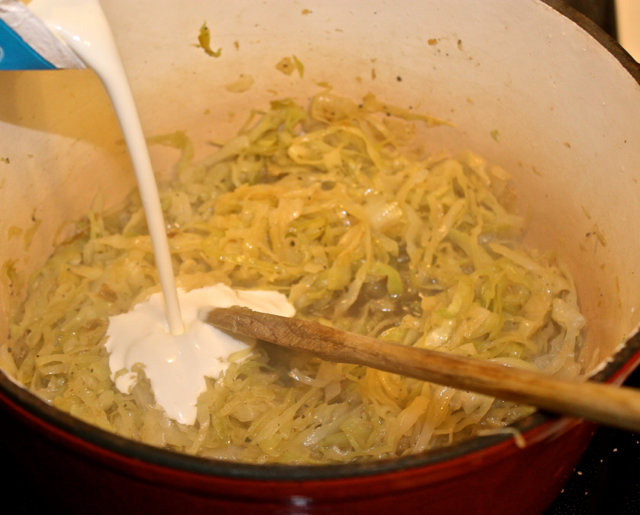 I liked this recipe a lot. That creamed cabbage is perfect with the meatloaf.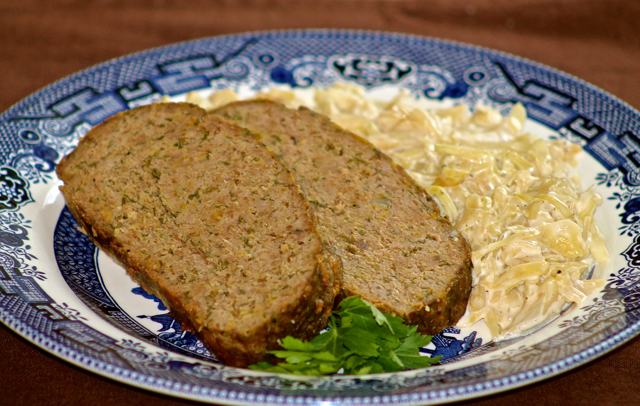 Everyone in the house went back for seconds, so this recipe is a keeper. Happy Belly Foodie approved!
If you're looking for something to celebrate St. Patty's day with or just wanna change things up with your favorite comfort meal, I hope you'll give this one a try. Let us know how it turns out.
Have a wonderful day and as always, keep it delicious!
Till next time ~ much love, Connie
Irish Meatloaf with Creamed Cabbage
Ingredients
Irish Meatloaf

1 1/2

lbs

fresh ground beef

chuck

1

lb

fresh ground lamb

1

medium onion

grated

1

tbsp

oregano

1

tbsp

basil

1/2

tbsp

curry powder

1

tbsp

garlic powder

1/2

tbsp

onion powder

1/2

C

fresh cilantro

chopped fine

1

lg egg

1/2

C

panko bread crumbs

3

oz

Irish cheddar

shredded

3

lg cabbage leaves

2

stalks celery

Creamed Cabbage

1

tbsp

oil

2

garlic cloves

minced

1/2

lg cabbage

shredded

1/2

tbsp

salt

1

tsp

freshly ground black pepper

1

C

dry sherry

1

pint

heavy whipping cream
Instructions
Irish Meatloaf

Preheat oven to 400 degrees F.

Combine the ground meat with the onion, seasonings, herbs, egg, panko bread crumbs and cheddar.

Shape the meat into a square loaf.

Place the cabbage leaves flat on a foil lined baking sheet.

Place the meat loaf on top of the cabbage leaves.

Place the celery stalks on top of the meat loaf and cover with foil.

Bake in the oven for 45 minutes.

Remove the foil and celery stalks.

Bake 15 minutes more.

Remove from oven and cover with foil.

Allow the meatloaf to rest for 30 minutes before slicing to serve.

Creamed Cabbage

Heat a Dutch oven or high sided pot over med/hi.

Saute the garlic for 1 minute.

Add the shredded cabbage, salt and pepper.

Allow the cabbage to cook down until translucent.

Add the sherry and cook until the liquid is reduced almost all the way.

Add the cream and turn the heat down to med/low.

Continue cooking until the cream has reduced to a thick, gravy like consistency.

Serve hot over top slices of meatloaf.
Notes
Recipe by: Connie Murray @Happybellyfoodie.com