Need some ideas for party snacks?
Wanna practice your pastry bag skills?
Need a boost getting the kiddos to eat their fruits n veggies?
These little snack-ity-roos are cute, fun to make, healthy and delicious!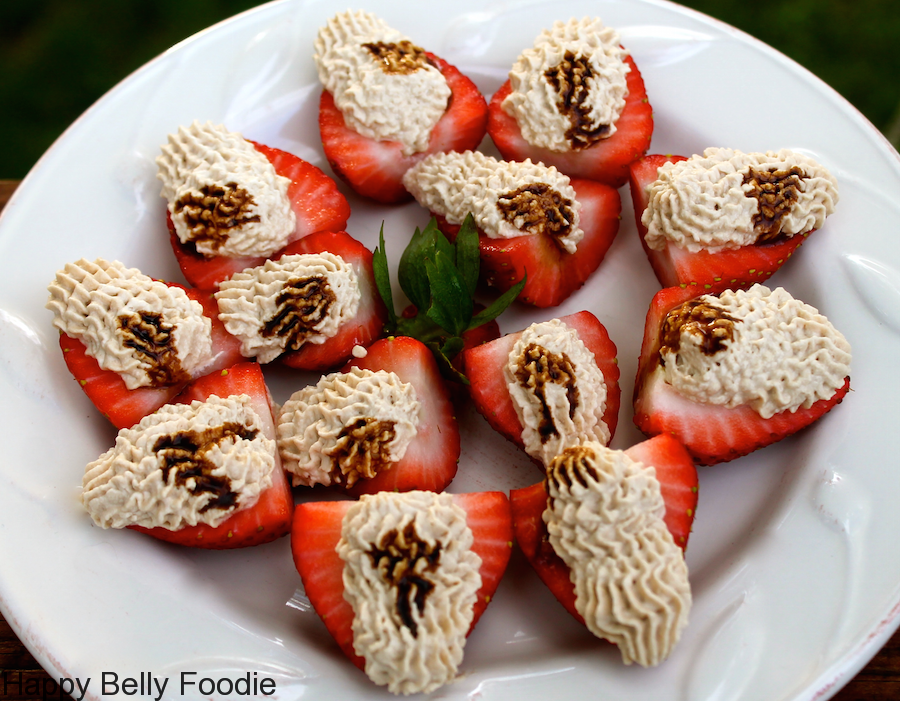 These fruits were so easy to dress up. Plus, I got to practice my pastry bag
skills. Not too shabby, huh? I'm getting better and I'm finding out that it really just takes some practice to get those pretty shapes. The best part about piping whipped cream on strawberries is that you can put the cream on and if it doesn't look right, you can wipe it off and start over. Or just eat the mistakes 🙂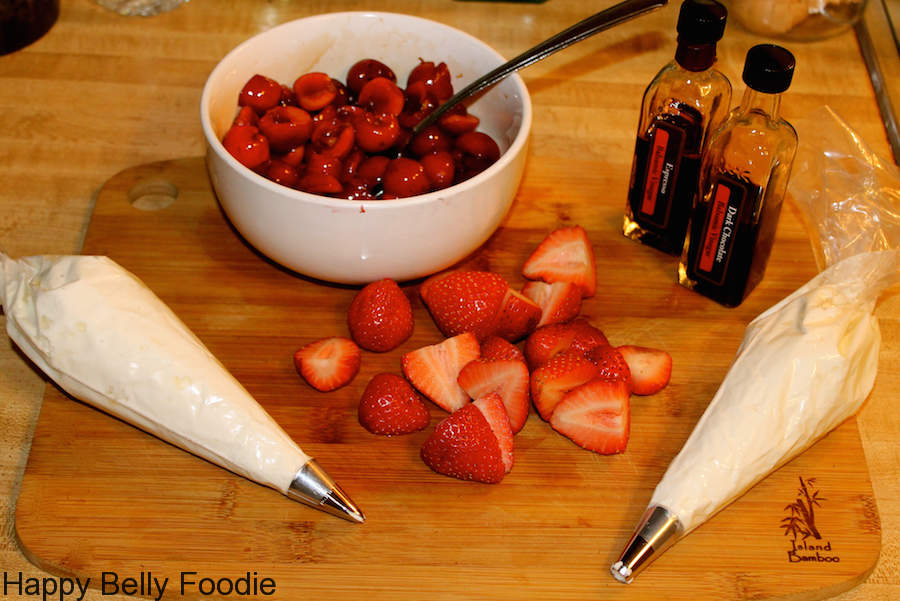 When I was making the strawberries, I thought this would be a really cute idea for kids to get in on. Years ago I ran a daycare out of my home and I was always looking for fun food ideas for the kids to participate in making. This would have been perfect. I might have added some color to the whip cream for more fun, too. It's really neat to see all the different shapes you can make with the decorating tips. I used a leaf tip
to make these cute little butterflies…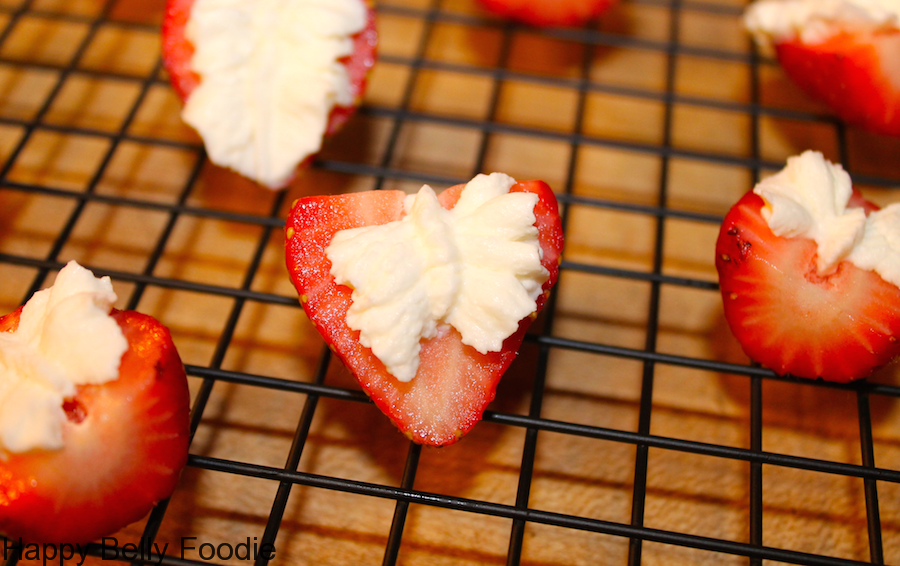 The inspiration for all of these appetizer recipes came from a very sweet lady that owns a specialty shop. She sells high quality extra virgin olive oils that are infused with delicious flavors and flavored balsamic vinegars. Her shop is located in the Friendly Market in Florence Kentucky. In case you want to check it out, here's a link to the Facebook page, Flying Olive Bluegrass.
When I saw that they had the dark chocolate flavored vinegar, I instantly thought it'd be great on cherries and it really is! The expresso flavored vinegar went on the strawberries n cream. I might put the blueberry flavored vinegar on the strawberries if I make them for kids.
I shared the two fruity snacks with a few friends of mine and they LOVED them!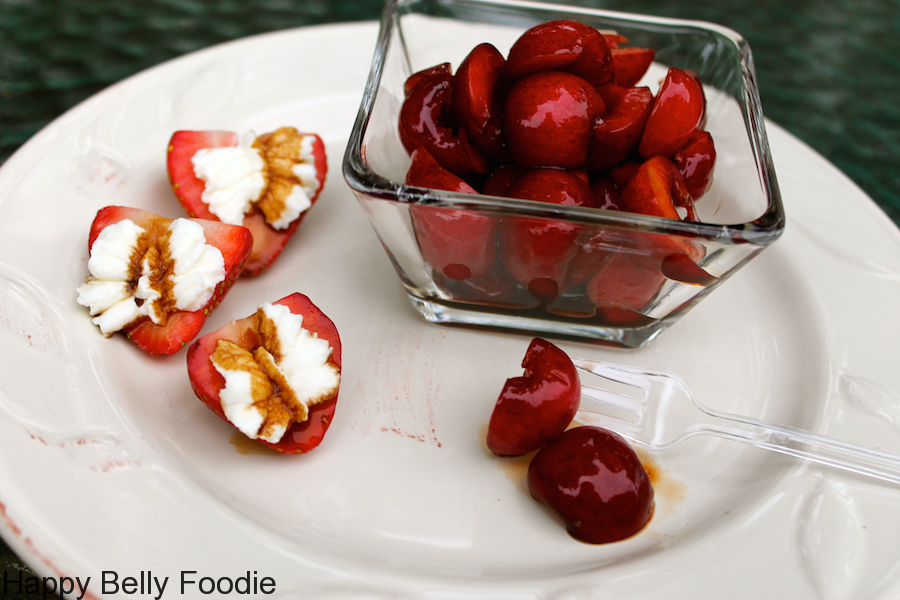 The garden bites here are topped with organic cream cheese on cucumber rounds. I used the Picholine infused olive oil (my favorite flavor!) to soften the cream cheese so that I could get it smooth enough to incorporate some ranch mix in and use it in a pastry bag. Aren't they sweet looking?  Really, you could use all kinds of different veggies for these adorable treats. I might even put some olive slices on there. These could be switched up for kid-friendly bites, too. I think the kiddos would have fun making them! I bet you could even do a hummus in place of the dairy for those that can't have it. Endless possibilities folks!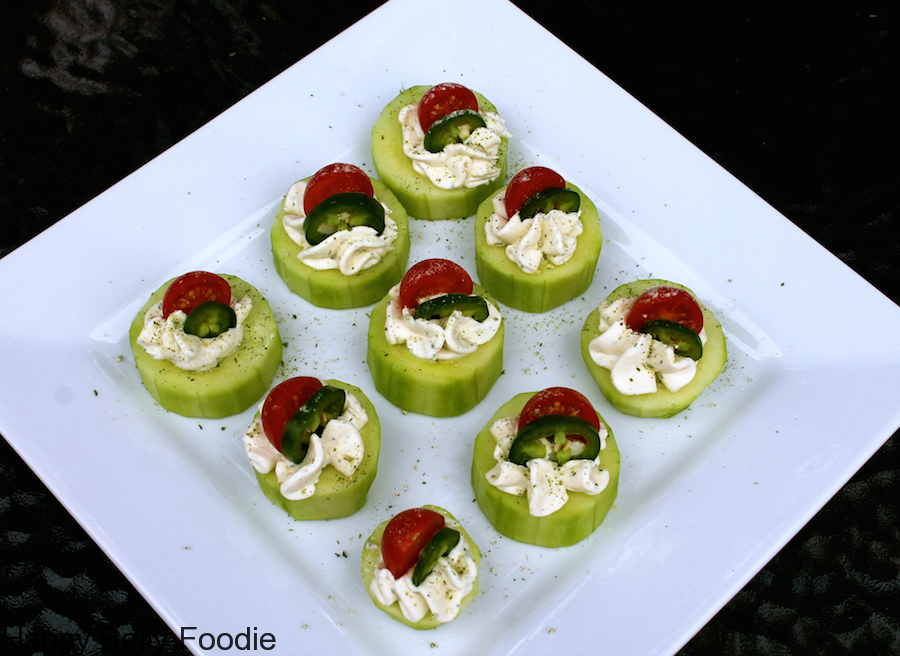 The best thing about these appetizers is that they're healthy snacks. Of course, fruits and veggies are really good for you! The organic cream and cream cheese have lots of healthy saturated fats, fat-soluble vitamins and are rich in Vitamin K2. The extra virgin olive oils are very high in monounsaturated fats (the super good kind). They contain vitamins E and K and are loaded with antioxidants. The balsamic vinegars have trace amounts of several essential minerals and are also loaded with good-for-you antioxidants.
What's not to love here?
Make it a great week foodie friends. I hope you'll enjoy trying these little treats and sharing them with your kiddos and friends. All the recipes are down below in one print out. Fun fun fun! If you've got any great healthy snacks you'd like to share with me, give me a hollar. Thank you for visiting! Till next time ~ much love, Connie
Party Bites ~ Snack-ity-roos and fun with a pastry bag
Ingredients
Strawberries n Cream w/ Dark Chocolate Balsamic Vinegar:

1

C

heavy whipping cream

1

tbsp

sugar

1

pint

strawberries

trimmed and sliced in half

dark chocolate flavored balsamic vinegar for drizzling

Espresso Balsamic Vinegar Marinated Cherries:

3

C

fresh cherries

pitted and cut in half

1/4

C

espresso flavored balsamic vinegar

more if desired

Garden Bites:

1/2

pkg cream cheese

1/2

tbsp

olive oil

1/2

tbsp

ranch mix

plus more for sprinkling

1

lg cucumber

peeled, sliced to 1" thick pieces

5

cherry tomatoes

sliced in half

1

jalapeno pepper

sliced in 1/4" rounds
Instructions
Strawberries n Cream w/ Dark Chocolate Balsamic Vinegar:

Place the cream and sugar in a chilled glass or metal bowl. Mix on low with an electric mixer until it begins to thicken then turn the speed up to medium. When the mixture thickens even further, turn the speed up to high until the cream thickens to stiff peaks.

Place the cream mixture in a pastry bag and pipe onto the strawberry halves.

Drizzle the flavored balsamic vinegar on top of the strawberries.

Espresso Balsamic Vinegar Marinated Cherries:

Place the halved cherries in a bowl and drizzle with the flavored balsamic vinegar. Allow to marinate for 20 minutes or so.

Garden Bites:

Allow the cream cheese to come to room temp. In a small bowl, mix in the olive oil and ranch mix.

Using a spoon, scoop out half of the middles of the cucumbers, leaving the bottoms in tact.

Put the cream cheese mixture in a pastry bag and pipe into the cucumber rounds.

Top each one with 1/2 a cherry tomato and a slice of jalapeno.

Sprinkle the ranch mix over the bites and chill for 1/2 hour.
Notes
Recipes by: Connie Murray @Happybellyfoodie.com