Shrooms and herbs, let's do some fresh talk! While we're at it, let's talk about growing herbs too!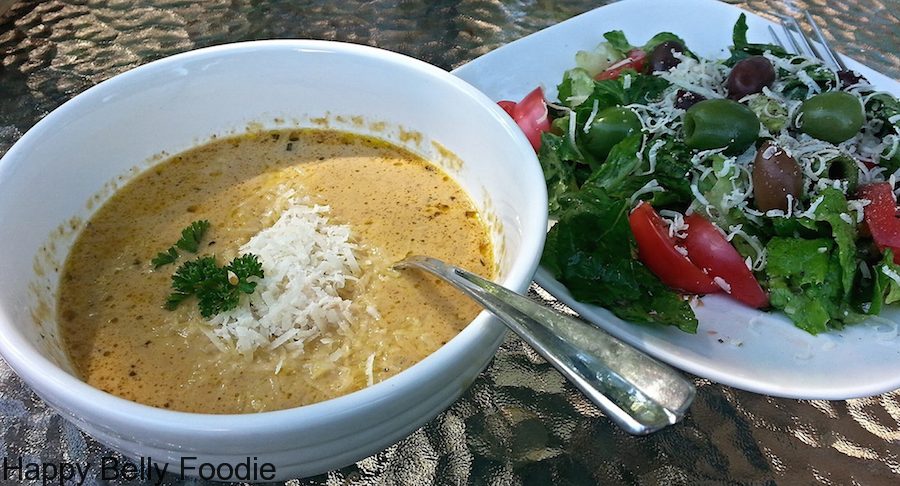 One of my favorite lunches is the pairing of a freshly made soup and a beautiful salad topped with a fresh herb vinaigrette. These two dishes go together perfectly! You've got the rich and savory creamed mushroom soup that tastes like it came straight out of Italy and then you've got the good for you greens to the side, topped with freshly picked herbs from the garden out back. Wholesome and satisfying!
One of my favorite restaurants, that sadly no longer exists, used to serve this mushroom soup and salad. I would go there every chance I could just to have them. So delicious!! When they closed their doors forever, I was heart broken. So, what does a foodie like me do in a situation like that? You already know the answer, don't you?
Now, the recipes I have here are my take from what I remember about the dishes and they're pretty spot on. The best thing about the soup and the vinaigrette is the fact that I have all the herbs I need just outside my back door. (I planned it that way, of course) I'll talk about those herbs in a sec but first, I want to talk about the mushrooms.
Most of us are familiar with every day, common mushrooms like white (mild) and portobello (stronger mushroom-y flavor) because they're widely available. More and more of the wild types are becoming available locally here in Kentucky and Ohio, which is great for foodies like you and me! When I was creating this recipe I went to Jungle Jims (a foodie's paradise!) to find the craziest looking things I could find for my soup. 
These are the ones I found clockwise from top left: oyster, beech, enoki and royal trumpet . They all have their unique individual flavors and textures and they're pretty cool looking, too. That royal trumpet one was really spongy and funky to cut, lol. I found this great article that goes into detail about them Wisegeek's : All About Mushrooms. Interesting, eh? I really like the oyster mushrooms because they actually do have an oyster-ish flavor.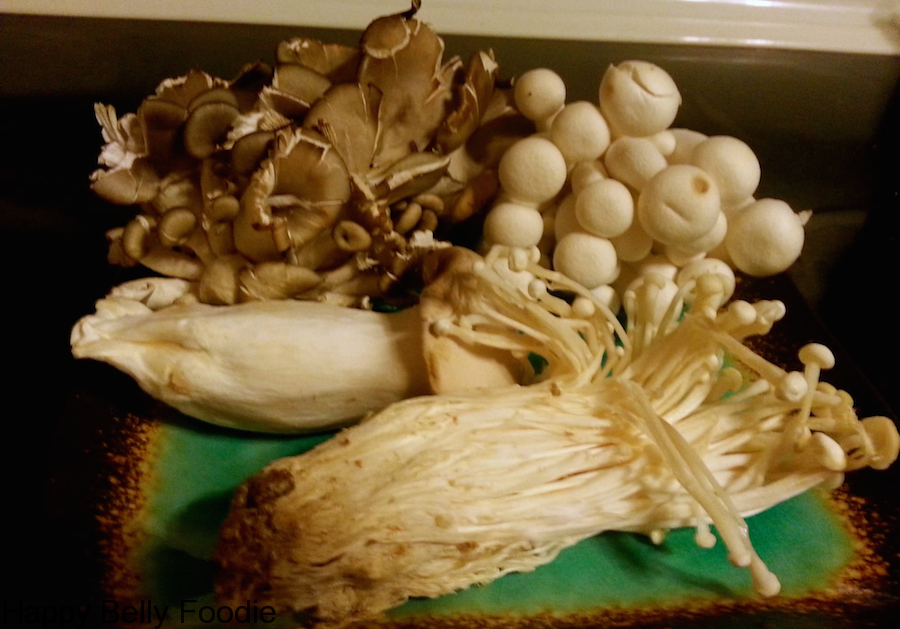 While I was out shopping, I just so happened to find this awesome little mini mushroom
farm, too. You can grow them yourself! How awesome is that?!?! I can't wait to get them started!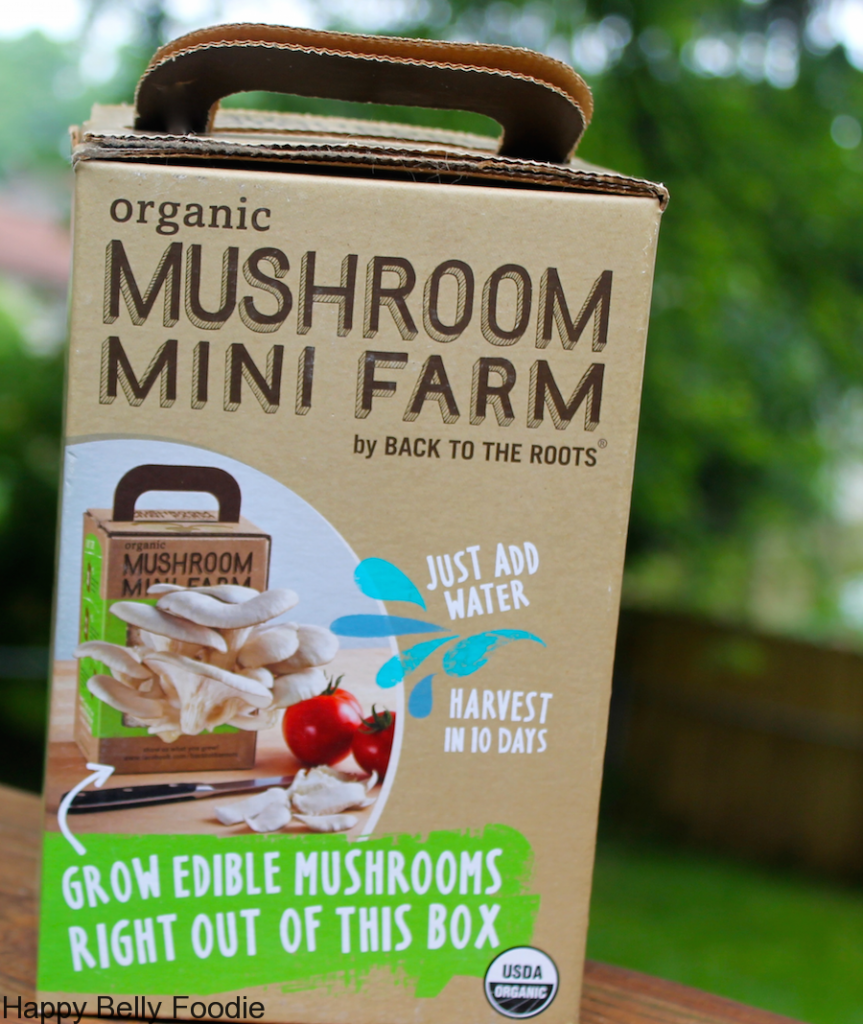 The fresh wild mushrooms and fresh rosemary and thyme give the soup such a rich flavor that when the bowl is presented to you, this fabulous smell wafts up to your nose and instantly makes you feel all woosy. From the first spoonful to the last, you'll be savoring every flavor that rolls over your tongue when you taste it. Man, my mouth is watering now!
What's really terrific, on top of all the great ingredients is that you can grow the herbs yourself for an even more satisfying pot o soup! And you can grow any of them indoors or out!
Here's some quick herb profiles and pics from my planters out back:
Rosemary
: A woody plant that has a strong scent, like pine but more savory. It's easy to grow and wards off pesty type bugs because of it's strong scent. Growing from seed is a little difficult but can be achieved well by starting indoors. These can be shaped into a pretty topiary garden accent, too! I use this herb a lot in roasted veggies and it's fantabulous for roasting lamb with. (See Roasted Leg of Lamb ~ the farmer's advice)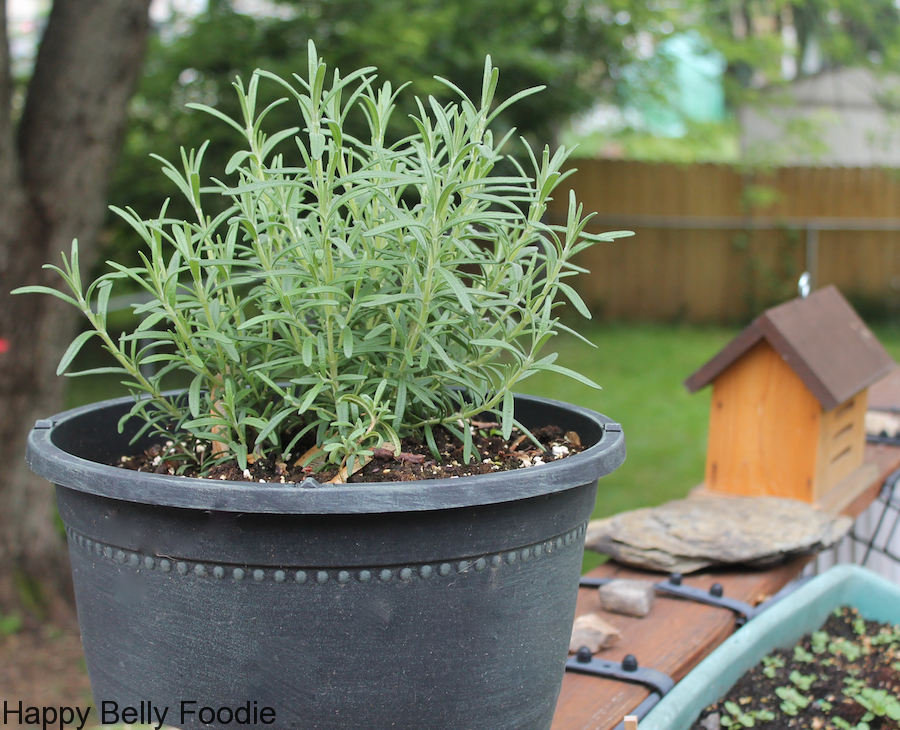 Thyme
: One of the easiest herbs to grow from seed. It only takes two or three days for the seedlings to sprout. They have a nice scent that's similar to oregano but not quite as strong. Thyme goes really great in lots of soups and stew dishes. You can chop it up or tie it in a bundle and remove it when your soup is done.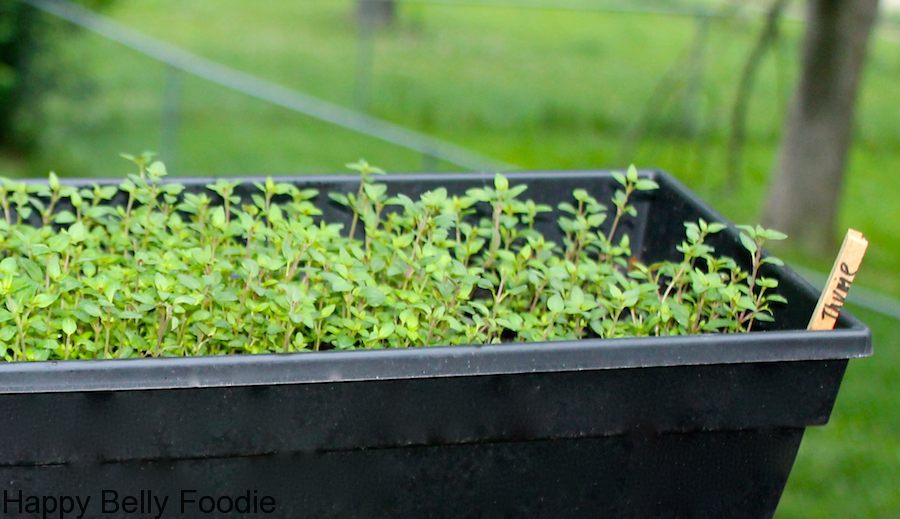 Basil
: Very easy to grow from seed. Watch out for nippy bugs with this one because they love it as much as we do. Basil has a slight licorice flavor and is featured in many pesto dishes. When you're just using a small amount of this herb for a recipe, take the big leaves and leave the stems in tact because they will just keep producing more leaves. Love a plant that does that! Also, if you buy some at the store, look for ones that still have part of the root attached because you can put them in water and start a plant like that.
Chives
: A very mild onion family member. The flavor is great in just about everything. Mostly, these are used fresh and uncooked. These guys aren't that easy to start from seed, for me anyway. However, I have found a great way to have a constant supply of them. When you buy a bunch at the store, chop the root ends off of them and stick them in a cup of water for a day. Then stick them straight into a pot of dirt. In just a few days, they'll grow anew for you to use.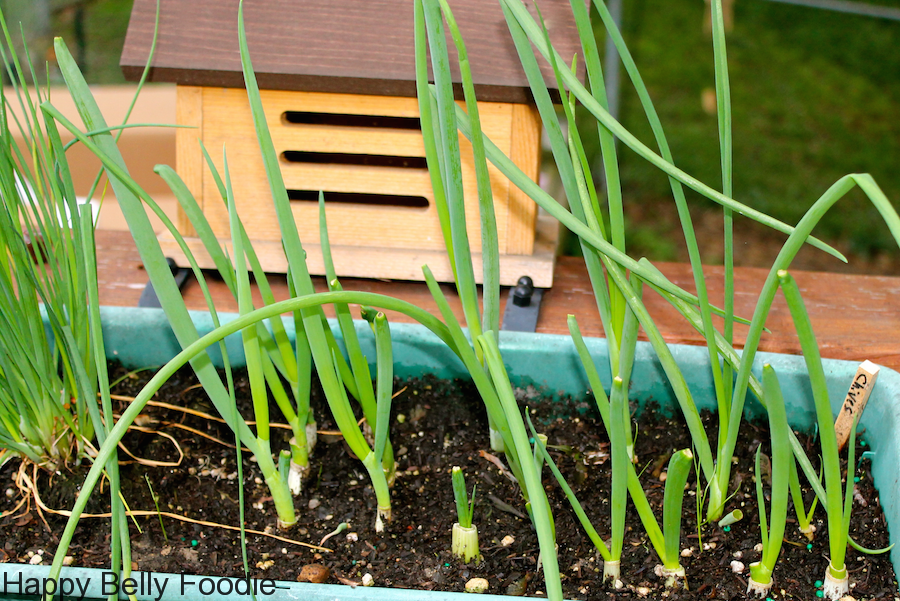 Flat Leaf Parsley
: That's the fresh you taste in a dish when this herb is in it. I love, love, love fresh parsley! These take a little bit to get started from seed (like a week or so) but once they get going, they're great producers. Plus, they're pretty! Curly parsley is about the same, btw but it's milder in flavor. That's the little garnish you see on so many dishes served in restaurants. Yes, you should eat that! It'll give you fresh breath after your meal.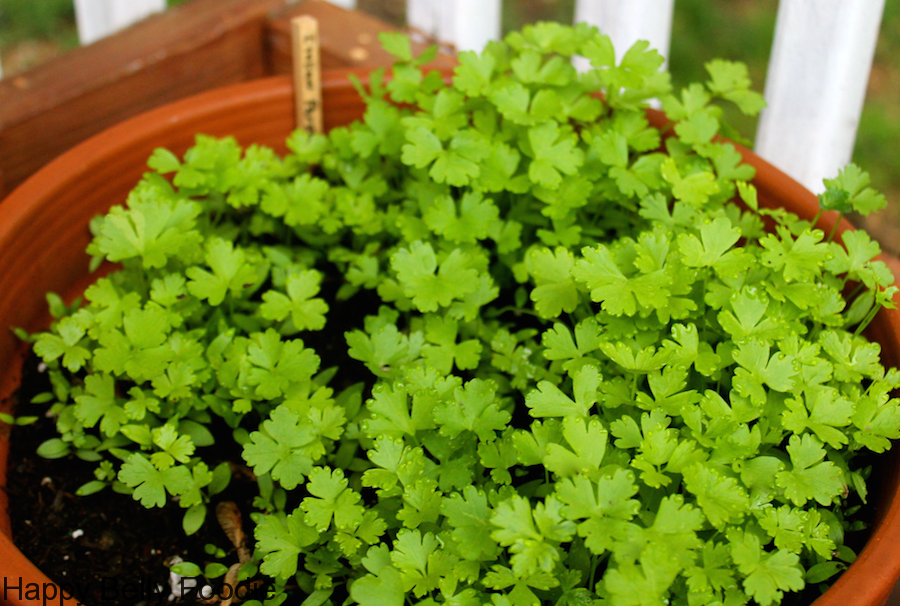 Oregano
: Strong pungent flavor used in many Italian dishes. That herb you taste in pizza sauce and many spaghetti sauces, yeah that's oregano. It's relatively easy to grow from seed and once it gets going it produces a lot. Again, like the basil you'll want to use the bigger leaves and let the stems stay in the dirt because they'll keep on producing for you. (how nice of them 🙂 )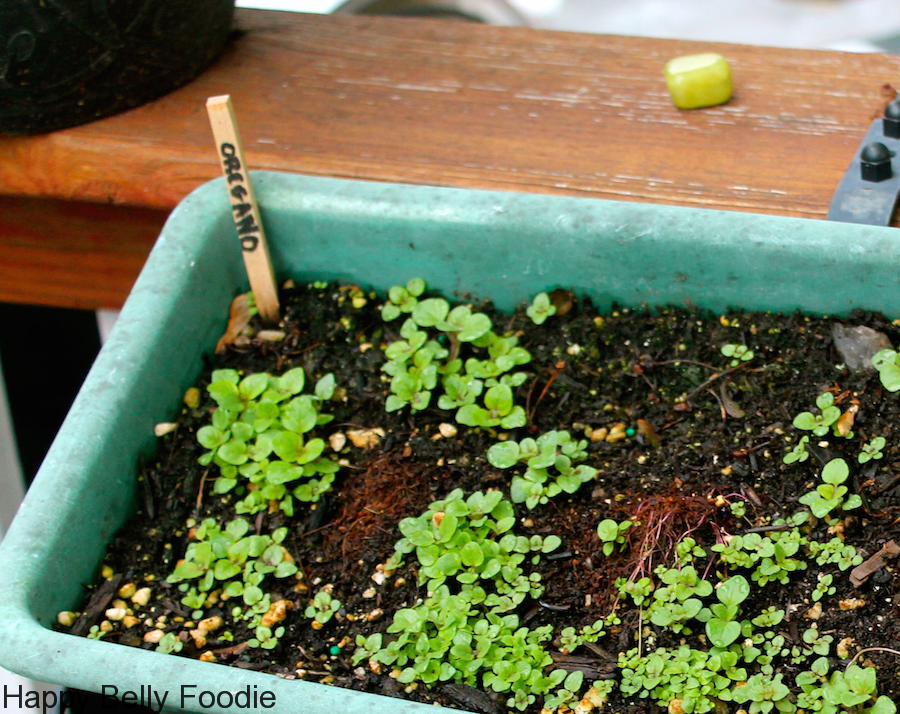 You can put any of these herbs in different combinations for a great vinaigrette. They're all delicious! They're fun to grow and what home cook wouldn't love to just have a little garden full of great fresh flavors handy for cooking with?
The vinaigrette recipe below is one that I switch up all the time, so play around with your favorite flavors and enjoy! I do hope this post inspires you to try growing some fresh herbs for yourself. Also, I hope you'll give these great recipes a try. Really, you'll LOVE this soup!
Make it a delicious day foodie friends! Thank you for reading! Till next time ~ much love, Connie
Wild Mushroom Marsala Soup and Simple Fresh Italian Vinaigrette
Ingredients
Wild Mushroom Marsala Soup:

½

cup

butter

divided in halves

1

medium onion

diced

1

lb

wild mushrooms

I used oyster, beech, royal trumpet, and enoki

2

cloves

garlic

finely minced

2

sprigs fresh rosemary

finely minced

2

sprigs fresh thyme

chopped

4

cups

chicken stock

2

tbsp

flour

1 ½

cups

marsala cooking wine

2

cups

heavy whipping cream

salt and freshly ground pepper to taste

fresh parsley and Parmesan cheese for garnish

Simple Fresh Italian Vinaigrette:

2

tbsp

red wine vinegar

1/8

tsp

salt

6

tbsp

extra virgin olive oil

1

garlic clove

minced

1

tbsp

green onion

minced

1

tsp

fresh oregano

finely chopped

1

tsp

fresh basil

finely chopped

1

tsp

fresh thyme

finely chopped

1

tbsp

finely grated Parmesan cheese
Instructions
Heat 1/2 of the butter on medium in large, heavy bottomed pot. Add onion and cook until soft. Add mushrooms and turn heat up to med/hi. Cook until mushrooms are golden brown. Add garlic and cook for 30 seconds more. Turn heat off and add ½ cup of the chicken stock. Let mixture cool.

Put mixture into a food processer and pulse until finely pureed.

Heat the pot on med/hi and add the rest of the butter. When melted and bubbling, add the flour and cook for 1 minute.

Add pureed mixture back to pot and stir in the marsala wine, the rest of the chicken stock, the herbs, and salt and freshly ground pepper to taste. Cook on medium heat until reduced by nearly half.

Stir in cream and heat through but do not simmer. Turn heat off and adjust seasonings. Garnish with parsley and freshly grated Parmesan cheese. Serve hot.

Simple Vinaigrette:

Combine all ingredients in a sealed jar and shake vigorously. Serve over fresh greens.
Notes
Recipes by: Connie Murray @Happybellyfoodie.com