Pressure Cooked Roast Beef
Who doesn't love a great roast beef? Wanna get that fantastic slow cooked flavor? Pinched for time? Come on friends, I'm gonna show you how to cook up a nice rump roast in a flash, gravy and all!
One of my favorite things to purchase from the farm is beef and Brookhill Farm really does have the best!
This here is a three pound rump roast and I couldn't wait to cook it up.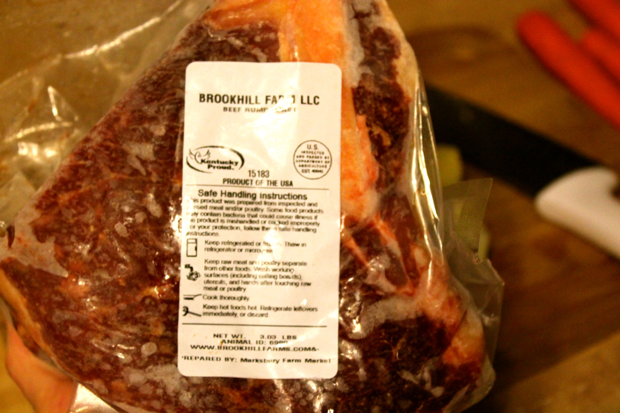 The only problem I have with a nice big chunk of beef is that you have to slow cook it for tenderness. You can't rush good flavor. Or can you?
So you've got all the typical fixin's that go with a great roast, right? Carrots, onions, garlic, taters..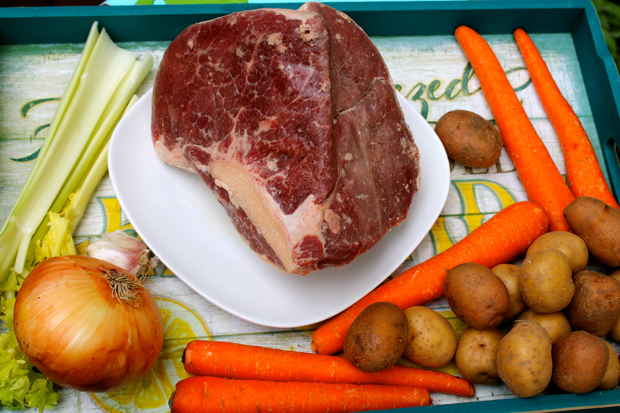 You've got your favorite seasonings that give it just the right taste. For mine, I like a little red wine, some balsamic vinegar, a good quality pepper flake, some mustard seeds, salt and a bouquet of fresh herbs. (tarragon, rosemary and thyme)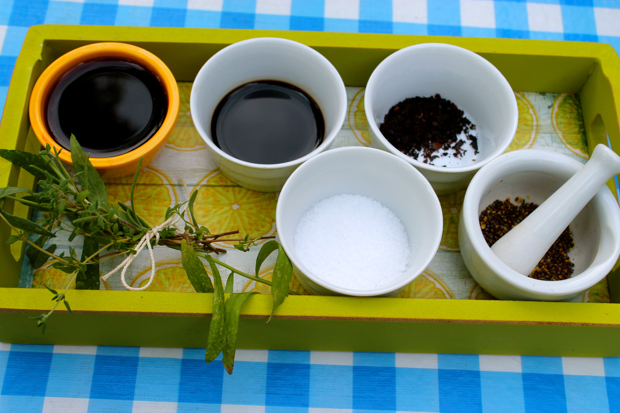 This is where the time saver comes in. I mentioned in my last post (Roasted Organic Chicken ~ Homemade Broth) that I recently purchased a pressure cooker/canner.
Now a days, they've got all kinds of pressure cookers to choose from. I wound up getting, the Power Pressure Cooker XL. It was a hundred dollars. That's quite an investment but after researching I found that for me, it was the best choice. I plan on using it a lot this fall. It's got all kinds of fancy-schmancy buttons and a digital timer. It comes with, of course, the instruction booklet and a cook book. It also comes with a canning instruction booklet.
First, gather all the things you're planning on cooking with your roast. You'll need your veggies, seasonings, some good quality olive oil, a quart of liquid and of course, your roast. I used some of that chicken stock I made from yesterday. Yes, you can use any type of stock you want. Beef would probably be better but I didn't have any left in my supply.
The steam release valve has two settings. One is to lock the steam in (hence pressure cooking) and the other is to release the steam. When you begin, set the valve to lock.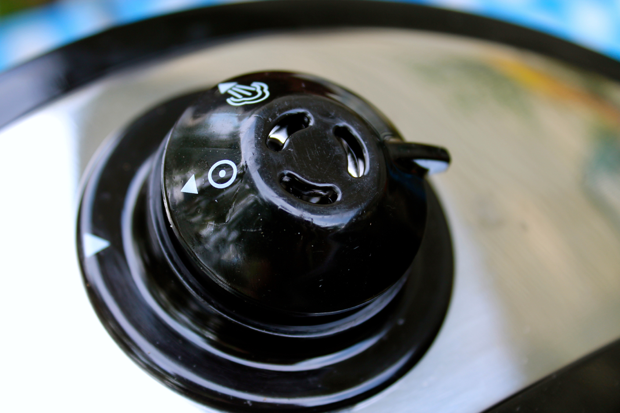 As you can see on the panel here, you've got lots of choices for the cook settings. Since we're doing beef, we'll push the chicken/meat button. The timer immediately goes to 15 minutes. You'll push the "Time Adjustment" button, just above that and set the time to 40 minutes.
The unit will begin to heat up. The time display will change to bunch of digital dashes that rotate around the display. Basically, the rotating dashes are just the unit heating up. The timer will actually start counting down once the unit is ready for the pressure cooking part.
The first thing you'll do before you put the lid on is brown the meat. I just put my hand in to touch the bottom of the pan, like I would a skillet or pot on the stove. If it feels hot enough that you wouldn't keep your hand placed there, then it's ready.
Pour in a couple tablespoons of olive oil and sear the meat on all sides, just like you would in a skillet. Using some good strong tongs, turn the meat to get all sides browned. A couple of minutes on each side will do.
Remove the meat and set it aside.
Add your veggies and give them a quick saute. Then, add the meat back in. Add your seasonings and potatoes. Cover everything with your quart of stock and place the lid on the unit. Make sure the steam release valve is still locked.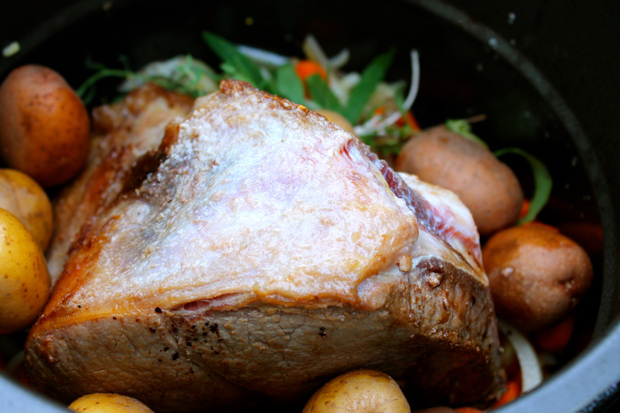 Hit the keep warm/cancel button to reset the timer. Hit the chicken/meat button again and adjust the time as before to 40 minutes.
Then, you're done. The digital dashes will do their dance around the display again until the unit has heated up and the pressure is where it should be to get the food done. Once it's ready, the timer will begin to count down.
You'll use a towel or a pot holder to cover your hand, so that you don't get burned (VERY IMPORTANT!) and turn the steam release valve to the unlocked position (the icon that looks like a geyser)  and the steam will release. Make sure you do not put your face anywhere near that steam release. Let the unit finish releasing the steam completely before you try to remove the lid.
Once the steam is done releasing (you'll hear it when it stops) you can remove the lid from it's locked position.
You'll be left with this tender chunk of meat that nearly falls apart when you pick it up with your tongs and your veggies will be perfectly tender. YUM!!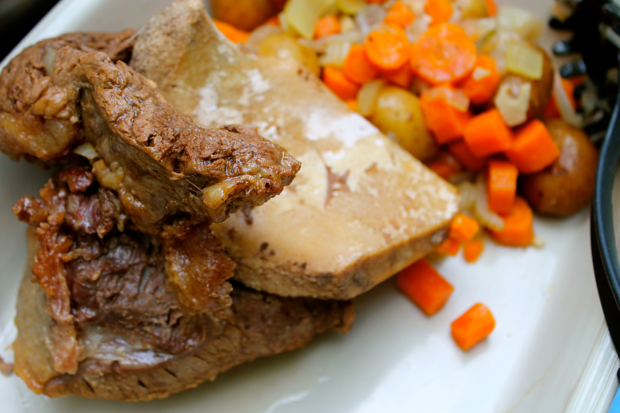 Of course there's gonna be a lot of liquid left in the pot and you definitely should make gravy with it. I just took my liquid and put it in a big ol' skillet on the stove. Heat that liquid to boiling and mix you up a cup of cold water (1/3 cup) and about three tablespoons of corn starch. Whisk that mixture into the boiling liquid and cook, stirring constantly, for about three minutes or so.
Perfect!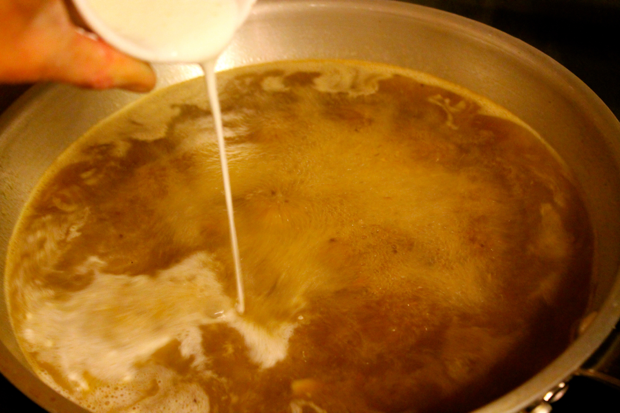 I like my taters smashed so that all that gravy can flavor them.
I have to say, this turned out absolutely delicious and tender. And, it was ready, from start to finish in less than half the time it would have taken in a traditional oven setting. (About an hour and 15 minutes)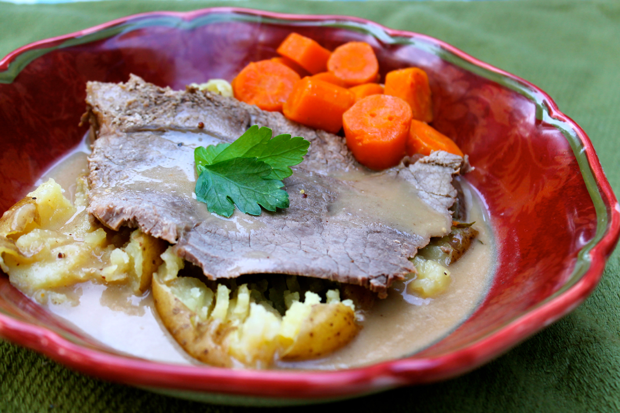 There you have it folks! If you're interested in getting a pressure cooker, I would recommend the Power Pressure Cooker XL.
You can still do this recipe in an oven and it'll be just as tender and delicious, too. Nice for a Sunday slow cooked dinner. Just assemble everything in a roasting pan and cook at 325 degrees F. for 3-4 hours, depending on the weight of your roast. Don't forget to brown it in a skillet on all sides. That's to lock in all the juices and flavor.
If you've got any questions or requests, you know where to find me 🙂
Make it a great day and as always, keep it delicious.
Till next time ~ much love, Connie
Pressure Cooked Roast Beef ~ Slow Cooked Taste in a Flash
Ingredients
1 3

lb

rump roast

2

tbsp

extra virgin olive oil

4-5

lg carrots

peeled and chopped in big chunks

3-4

lg stalks of celery

trimmed and chopped

1

lg onion

chopped in big chunks

10-15

small new potatoes

left whole

1/4

C

red wine

2

tbsp

balsamic vinegar

1

tsp

pepper flakes

1

tsp

mustard seeds

crushed

2

tsp

salt

1

bouquet of herbs

tied in a bunch (tarragon, thyme, rosemary)

1

quart

of stock

broth or water (your choice)

1/3

C

cold water

3

tbsp

corn starch
Instructions
Heat the pressure cooker up, according to instructions in the manual for the meat setting.

Pour the olive oil in and sear the beef on all sides.

Remove and set aside.

Add the veggies to the unit and saute for a minute or two.

Add the beef back in.

Add all the seasonings and herbs.

Add the stock.

Cover the unit with the lid and lock. Set the steam release valve to lock.

Hit the cancel button to reset the unit to the meat setting. Add minutes to the timer to set it to cook for 40 minutes. The digital dashes will appear until the unit is ready to cook and then begin counting down.

Once the timer has counted all the way down to zero, use a pot holder to turn the steam release valve to release.

When the steam has finished releasing, unlock the unit and remove the meat and veggies. Discard the bouquet of herbs.

Mix the cold water and cornstarch in a cup until all lumps are gone.

Pour the liquid from the pressure cooker pot into a deep skillet. Heat to boiling.

Whisk in the cornstarch mixture and cook for about three minutes or until thickened to your likeness.

Slice the beef up and serve with the veggies and gravy.
Notes
Recipe by: Connie Murray @Happybellyfoodie.com