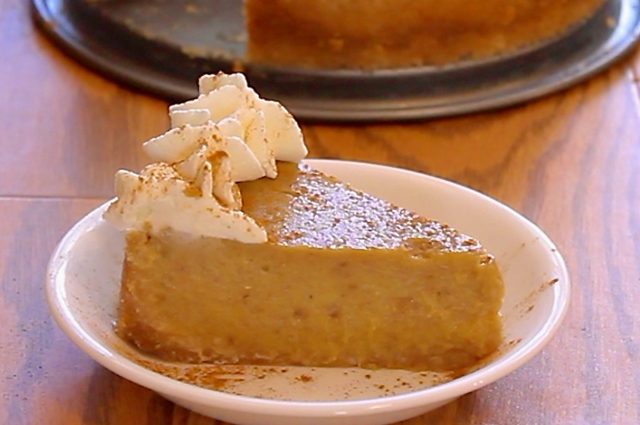 Pressure Cooker Cushaw Pie is a delightfully creamy dessert made with fresh Cushaw Squash. Warm spices such as cinnamon, cloves, nutmeg and ginger give it a lively brightness with every bite. Topped with freshly whipped cream, this recipe is one you'll want to hang on to for years to come.
What exactly is a Cushaw Squash? So glad you asked! It's a curved neck Winter Squash that can be used instead of pumpkin to make a much creamier pie. That's because it has a lower water content. Cushaw squash has two grams of naturally occurring sugar per each 3.5 ounces, making it slightly sweeter than pumpkin. (I say heck yes!)
Winter squash such as the Cushaw, Blue Hubbard and Butternut are much higher in vitamin and mineral content compared to pumpkin and that makes them more nutritionally favorable.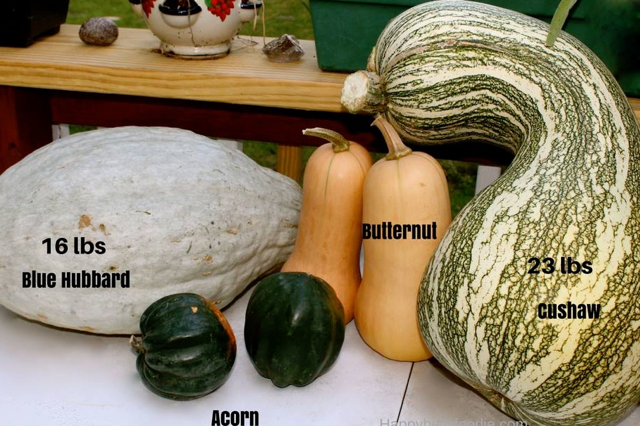 How do you cut a Cushaw? Simple. Just like any squash, use a good sharp knife and slice right in. Chop the "handle" or stem off and discard. The neck of the squash is where the sweetest, more dense "meat" is. The round bottom part is where the seeds and stringy fibrous strands are and those you'll need to scoop out and discard. You can save the seeds and use them for planting or toast to make a snack with.
How do you cook a Cushaw? Once you get the squash into manageable sized portions, you can bake them on a tray in a 400 degree F. oven until a knife glides in. Then allow to cool and peel the skin off. Use a food processor to puree the cooked squash.
Or you  can cut the portions into 2 to 3 inch chunks. You'll want to slice the skin off before you cook them this way. Trust me, it's just easier. Place them in a steamer basket
and into the pressure cooker with 1 cup of water in the bottom. Pressure cook them at high pressure for 3 minutes and use a quick release when done. I had a 23 pound Cushaw squash. After I cut off the top, cut it into chunks and trimmed the skin away, I wound up pressure cooking it in batches, five to be exact.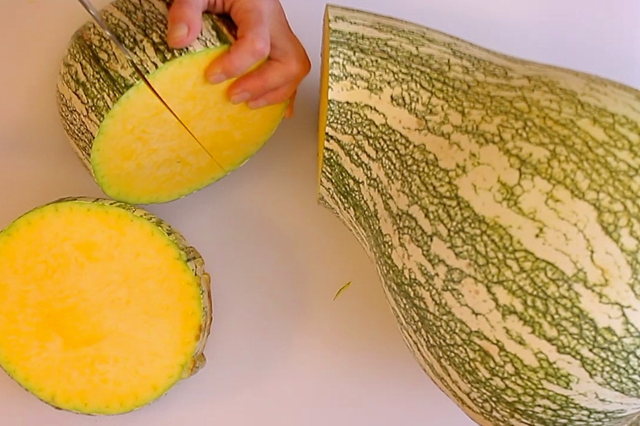 Yes, that's a lot of work but when I measured the finished squash puree, I came away with enough to make nine seven inch pies. Well worth the effort in my book because I'll be able to whip up a Cushaw pie whenever I get a hankerin' or for a special occasion. I measured the puree out and placed it in zip top baggies to freeze. To use, I'll simply thaw one of those measured packets, strain any accumulated moisture off and make my pie. That's a great thinkin' ahead strategy for busy times.
Don't worry, you don't have to take on such a large task if you don't want to. The Cushaw Squash do come in many different sizes and you can buy one that suits your needs. If you can't find one at your local grocery, try a farmer's market. You're more likely to find them there.
For your reference, note that 2 pounds of cut up winter squash, with the skin trimmed off equals about 2-½ cups of cooked puree according to the Old Farmer's Almanac.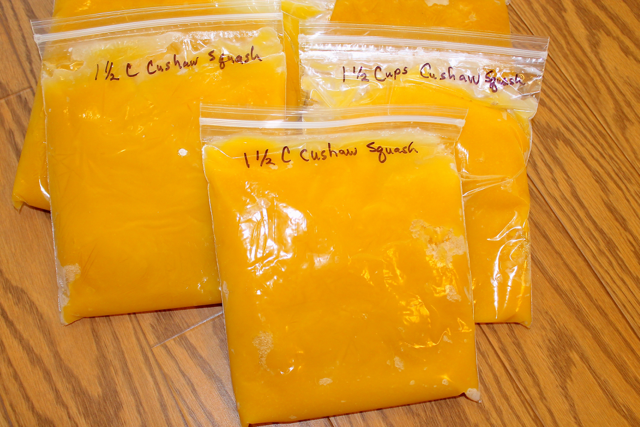 So how's the pie made? Once you get your squash pureed, making the pie is as easy as.. well, pie. Have a gander..
Not too shabby, eh? I love that little 7-inch spring form pan
. Thanks to Barbara Shieving of Pressure Cooking Today, I had great guidelines on making a pumpkin pie in the pressure cooker
. I didn't have to guess at the technical parts. Her timing and pressure release instructions are spot on.
The spices in my Cushaw Pie are similar to my Blue Hubbard Squash Pie.
If you're interested in making your own whipped cream, because fresh and homemade are best I've included the recipe for that down below along with the pie recipe. You're welcome 🙂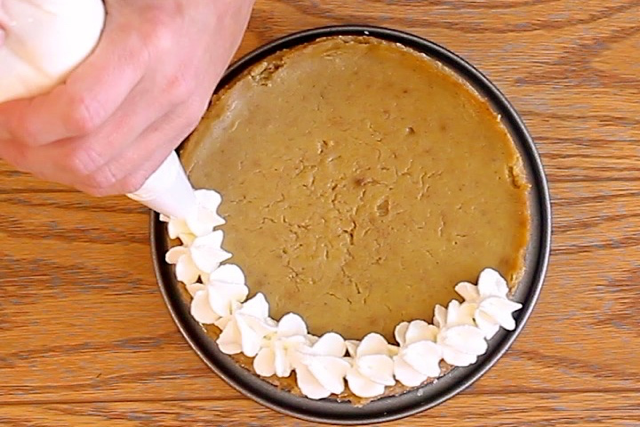 I suppose the only thing left to mention about this recipe is that I'm pretty sure you're gonna need to go ahead and plan on making two pies, which I did. We couldn't wait long enough for me to get my final "pretty" pics of it and had to taste test immediately. Kinda funny but that's a true story.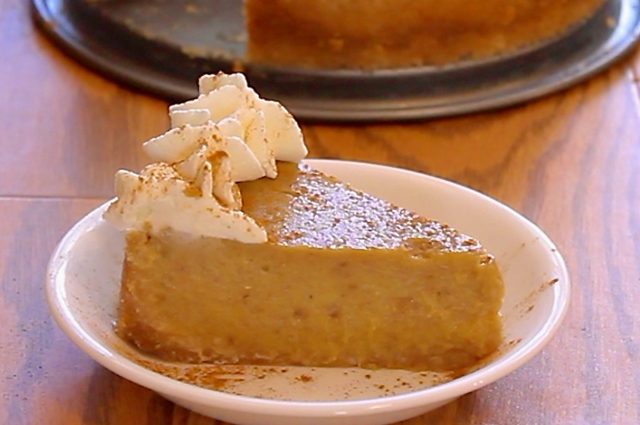 I hope you'll give Pressure Cooker Cushaw Pie a try. You'll be happy you did!
Pressure Cooker Cushaw Squash Pie
Ingredients
Crust
Butter for the pan

1/2

C

finely crushed vanilla wafers

1/3

C

finely crushed macadamia nuts

2

tbsp

melted butter

butter for the pan
Filling
1 1/2

C

cushaw squash

cooked and pureed

1

egg

5

oz

evaporated milk

1/2

C

brown sugar

1/2

tsp

salt

1/2

tsp

cinnamon

1/8

tsp

ground cloves

1/4

tsp

nutmeg

1

tsp

fresh ginger

grated

1

C

water for the pressure cooker pot

Fresh whipped cream for garnish
Whipped Cream
1

C

heavy whipping cream

2

tbsp

powdered sugar
Instructions
Make the crust:
In a bowl, combine the crushed vanilla wafers, macadamia nuts and melted butter.

Lightly butter the bottom of a 7-inch

spring form pan

.

Press the mixture into the pan firmly.

Place in freezer for 10 minutes.
Prepare the filling:
In a bowl, combine the squash, egg, evaporated milk, brown sugar, salt, cinnamon, cloves, nutmeg and ginger with a spatula.
Assemble and pressure cook:
Pour the squash mixture into the pan, on top of the crust.

Smooth with a spatula.

Cover the pan with a dry paper towel and then a sheet of aluminum foil.

Pour one cup of water into the pressure cooker pot.

Place the pan on the trivet and carefully lower into the pressure cooker.

Place the lid on the unit and turn to locked position.

Turn the steam release valve to sealing.

Press the manual button and adjust the time to 35 minutes.

Once the pressure cooker has finished cooking and the time has counted to zero, allow the pressure to naturally release for 10 minutes.

After 10 minutes, carefully release any remaining steam.

Take the lid off and remove the pan, using two towels to lift the trivet.

Remove the foil and paper towel.

Allow the pie to cool completely.

Place in the refrigerator (if desired) to further cool.

Slice and serve with freshly whipped cream.
Whipped Cream
Chill a bowl and the beaters for the mixer in the freezer for 10 minutes.

Combine the whipping cream and powdered sugar in the chilled bowl with an electric mixer on low speed until thickened slightly.

Turn the speed up to high and continue to mix until thickened to stiff peaks.

Keep refrigerated until ready to serve.
Notes
Yes, you can use canned pure pumpkin in place of the squash. (not pumpkin pie filling) Be sure to check the label.
2 pounds of cut up winter squash will make about 2-½ cups of cooked puree.
You can use blue hubbard squash, butternut squash or pumpkin in place of the cushaw, if you like. Some squash has a higher water content and you may need to strain any excess off before proceeding with your recipe.
To bake the squash, cut it into manageable sized chunks. Lay on a baking sheet in a 400 degree F. oven until a knife glides in. Remove the peel after it has cooled.
To pressure cook the squash, cut it into 2 - 3 inch chunks and slice the skin off. Place in a oven proof steamer basket
. Pour 1 cup of water into the bottom of the pressure cooker. Lower the squash into the pressure cooker. Cook on high for 3 minutes and use a quick steam release when done.
The squash puree should have no visible water laying on top of it. It should be smooth, like baby food fruits.
If desired, you can replace the cinnamon, cloves, nutmeg and fresh grated ginger with 1 1/2 teaspoons of pumpkin pie spice.
To freeze your pureed squash, measure the amount you'll need for each pie (1 1/2 cups) and place in a zip top baggie. Mark the outside with appropriate info for when you thaw it to use.
To thaw frozen squash for use, simply set it out at room temp until soft. You may need to drain excess water before using.
The whipped cream will keep for a couple days in the fridge, so you can make it ahead.
Recipe by: Connie Murray @Happybellyfoodie.com
Pin It: