Roasted Corn on the Cob
Are you as CRAZY about corn as I am?
Get that water boilin'! It's time to pluck the corn! Let's head on down to the river and visit one of my favorite farms, McGlasson's!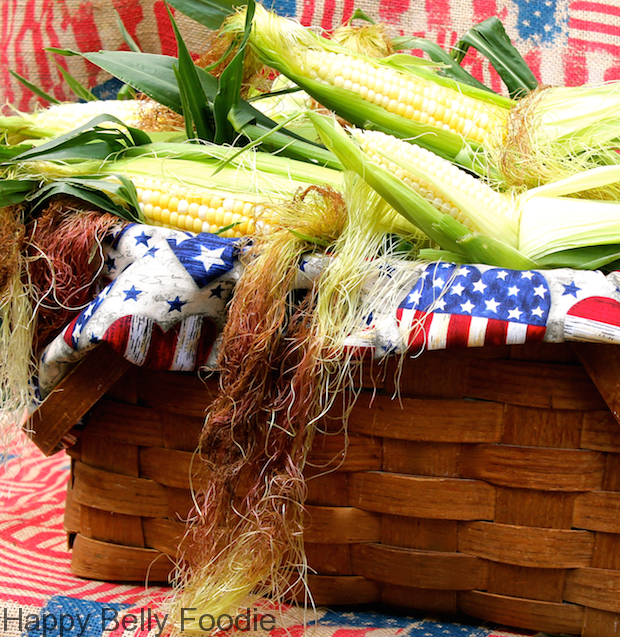 Down by the river, in good ol' Hebron Kentucky there's farm stand that I've been visiting for years. McGlasson Farms. I love that place! They're just getting into the swing of things and it looks like it's gonna be a fantastic year.
I missed seeing them on their grand opening during the Boone County Farm tour but you can bet your booty, I couldn't wait to get down there and see what was in their roadside stand.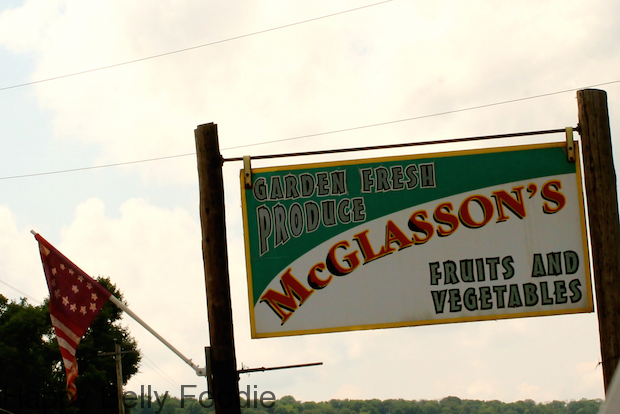 McGlasson's is a six generation farm that's been serving the Cincy tri-state area since the 1800's and they're still going strong. They've got tons of apple trees through out the hills of their land off of the Ohio river. They've also got peach trees abound, huge fields of corn, maters, green beans, squash, taters (all kinds), peppers, pumpkins for the fall and much more.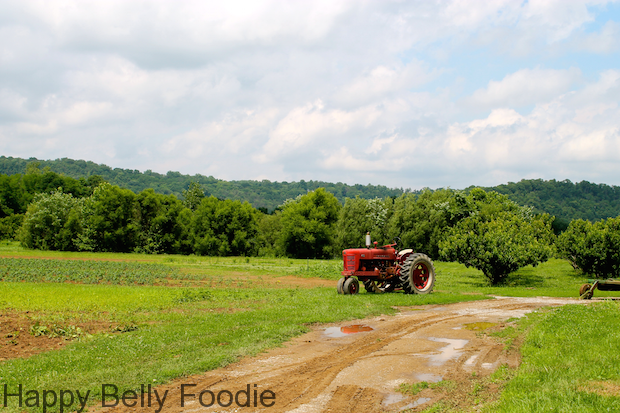 All the hard working, friendly staff works together to offer a display in the stand that is irresistible. No, really. I want to buy everything they have when I go there. 🙂
I did get me some of those apples right there and plan to make something delicious with them. Those are Lodi apples and they're the first ones to come on the trees.
Lon, the owner, told me that you basically wanna slice them up and fry them because they'll turn to mush if you try to make an apple pie with them. He said they're not real sweet and the old timers make applesauce with them and add lots of sugar.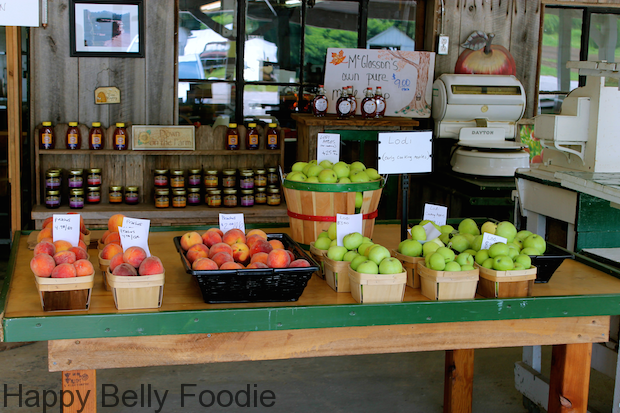 They've got a produce cooling unit that keeps the peppers, cucumbers, green beans and other veg fresh and cold.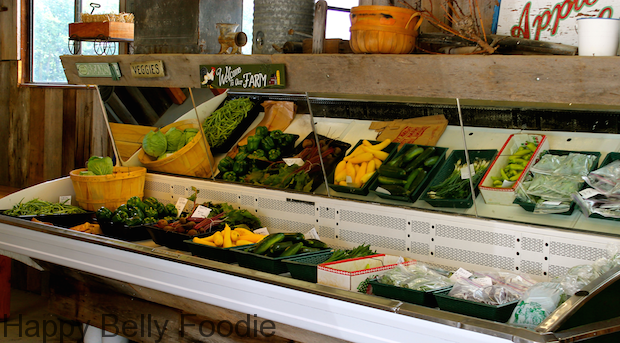 McGlasson's has their very own cider house where they produce lots of deliciously sweet apple cider. I did get some of last year's batch from the freezer while I was there. I think I might make some kind of sauce for those Lodi apples. That is, if I don't drink it all gone first. Good stuff!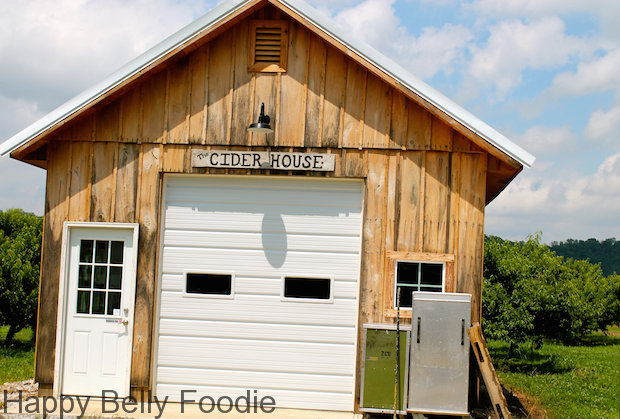 They also have a tubing system, a sap pre-heater and an evaporator for producing maple syrup. Around about February, they tap into the many maples there in the hills and collect the liquid gold from the trees. You'll find all kinds of pretty bottles of their finished product sitting around the stand.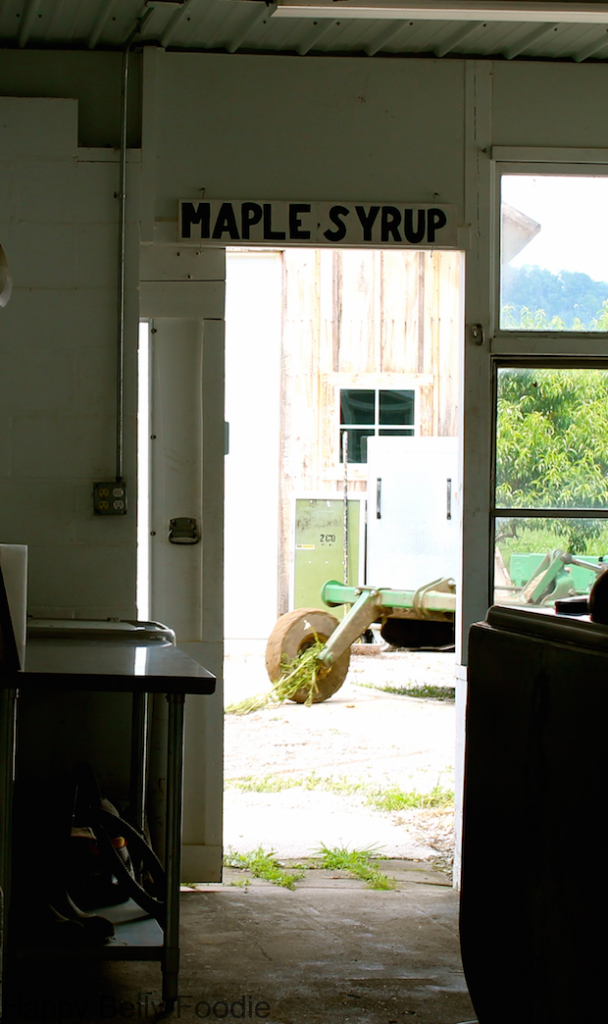 This here's Lon, the main man on the land and he's one hard workin' farmer! Super nice feller, too!
Yesterday morning, I pulled up while Lon and his crew were out pickin the first batch of corn for the season. YUM! Sweet, bi-colored corn.
I was half tempted to go out there and help, just cause I was so excited about FINALLY getting one of my favorite summer time treats.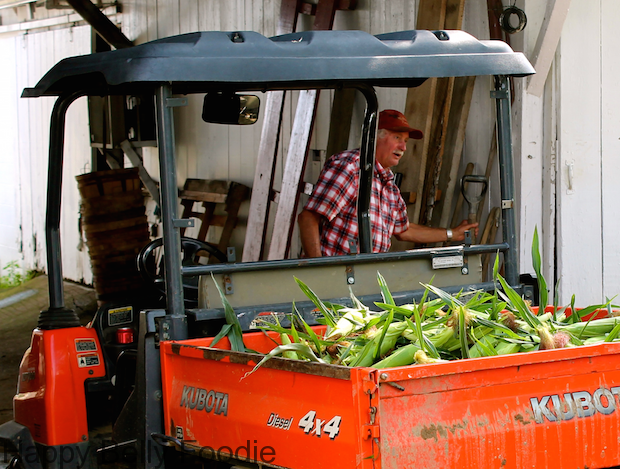 I almost wish I could go and work there for a bit, just to learn more about farming. Plus, the staff is super friendly!
They did let me help em fill the corn baskets and Annie, (I think I remember her name right) took a picture for me.
This pretty fitting for me, don't ya think? If you knew how much I actually love corn, you'd give a resounding YES. Haha!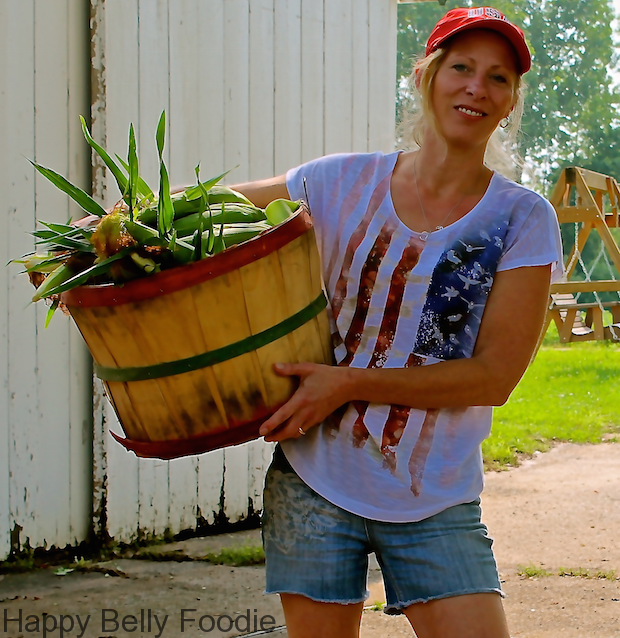 When I was a kid, I always asked for corn. When my Mom would serve it with our meals, I would tell her, "Mom, this is the best corn EVER!" every time we had it.
One year, she let me plant a small garden of corn in the back yard. Well, I did good. A little too good but hey, I don't think the neighbors minded having corn in their back yards too. LOL! Yes, there was corn EVERYWHERE! Hence, my childhood nick-name, Connie Sue Crow. Yeah, it stuck but I don't mind one bit. I like crows, too.
Look at that corn silk. Corn doesn't get any fresher than just picked from the field. I mean, seriously! Btw, have you ever passed by a produce stand in the grocery and seen the silks all shriveled and black? Ick! That's really old corn!
I was talking to Julie, (sweet gal, that one!) one of the staff members about the old saying, "You don't pick the corn till the water's boilin." and she said, "Yep, that's right because after it's picked, it's old."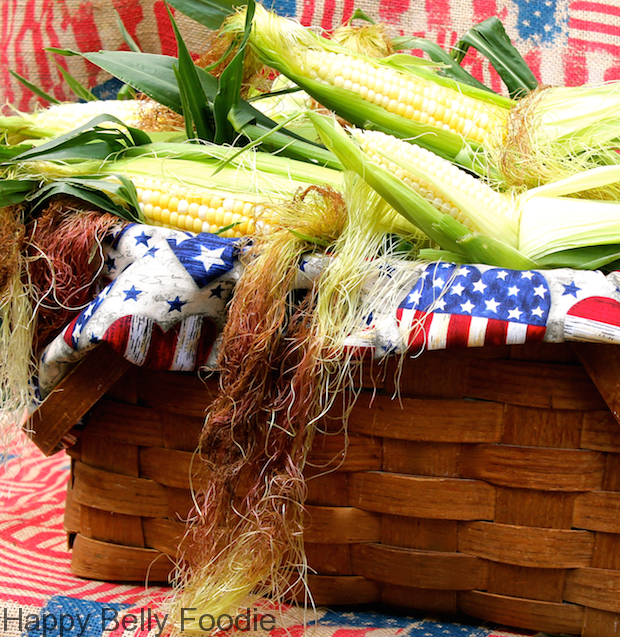 Alright, let's get to cookin'!
My favorite way to cook corn is on the grill. Roasted corn! Ahhh, I had two big ol' ears of it last night with dinner and I'm kinda hungry for some more this morning. I could eat that for breakfast.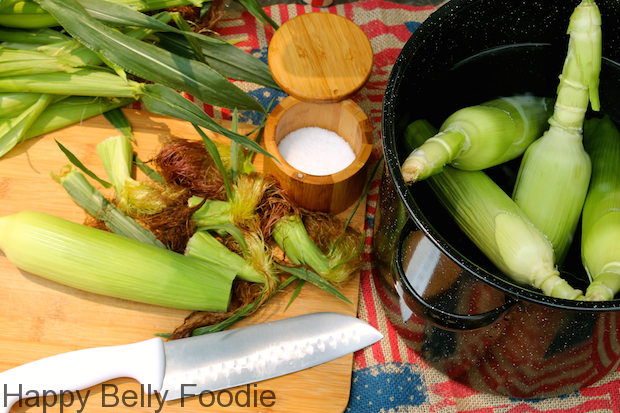 Just kidding. So, to roast corn, to me, means basically steaming it on the grill in the husks. No shucking! Yep, that's right. Well, except for pulling off the outer layers and chopping off the top.
You soak it in a pot
of salted water for about an hour or so and then take it out of the water and let it drain for 30 minutes. While it's draining, heat your grill up good and hot.
Lay them babies on the grill grate and turn em a quarter turn about every 5 – 6 minutes.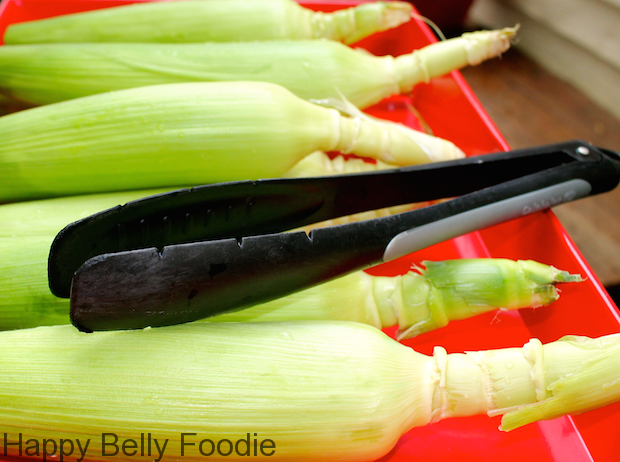 I like my corn roasted until it's super soft and near caramelized with little burnt parts here and there but honestly, if I'm the one cooking it, I can never wait long enough for that to happen.
I have patience with lots of the things I cook but corn? Gimme a bite of that right now! Funny, I did eat a few kernels when I was trimming them up. Hey, when it's this doggone fresh, it tastes good uncooked, too! YUM!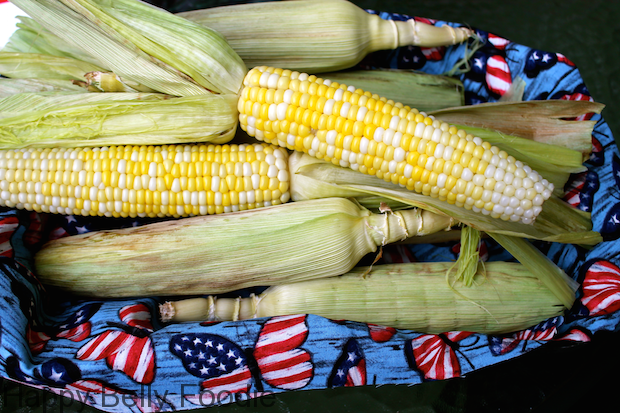 While I was visiting the farm, I picked up some of their fresh green beans, red taters and onions.
Those lil red taters that have the dirt on them are from my tiny onion and tater garden. Cute, no?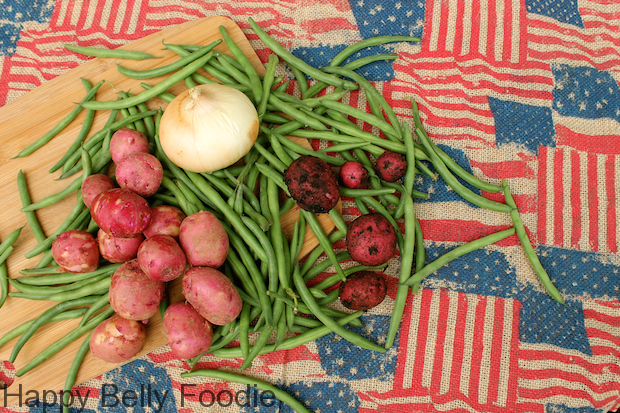 While you're out on the porch trimming up your corn and green beans (because everybody does that on the porch, lol) have you a nice refreshing drink 🙂
This is just a little cranberry juice, some blue Gatorade and clear lime soda. The different levels of sugar in each one, when poured in a glass of ice (in that order and poured slowly) keep the drink separated by color. Fancy-schmancy 4th of July drinks, huh?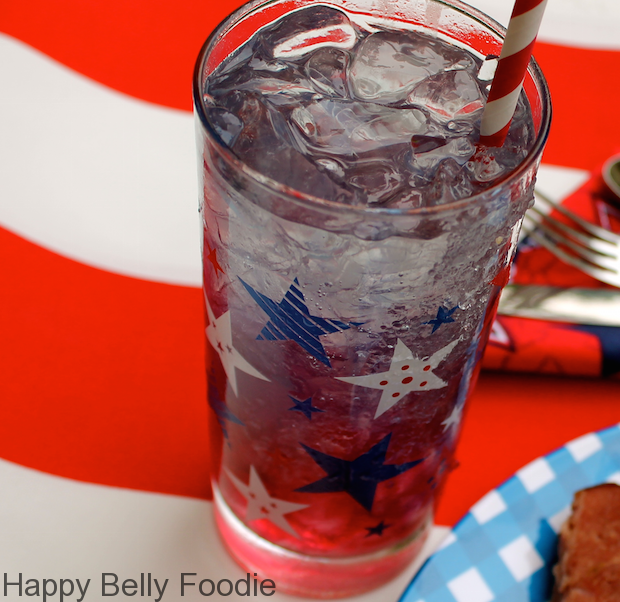 Before I started trimming the corn, I put my green beans, taters and onion in a big pot of salted water along with a couple garlic cloves, a ham bone and a few chunks of ham. I don't really measure that recipe but when you get a hold of that combination of farm fresh veg, it's a MUST HAVE meal. I just let it come to a boil and simmer for two and a half to three hours.
I don't serve a lot of meat when I have corn on the cob because we PIG out on the corn and I usually have too much meat left over.
I'm really getting hungry looking at that plate again. 😛 Are you?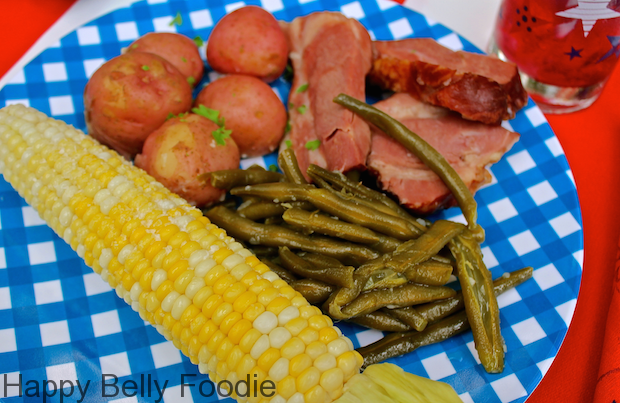 If you are, you're in luck because McGlassons is open seven days a week, clear through to November. You can visit their website, www.mcglassonfarms.com for hours and location info. They've got a Harvest Calendar on the home page to show you what's in season and when. Also, keep an eye out for their live band events, craft sales and fall festivities because they sure know how to have fun while they're workin'.
That's a wrap folks. I hope you'll try roasting you a bunch of corn on the grill for your fellow foodie friends and relatives this weekend. It's a great addition to anything you plan on serving up for your 4th of July party or really, any other time, too.
Thank you McGlasson's, for all your friendly help and delicious produce. Keep up the great work y'all! We foodies love supporting you hard workin folks!
Make it a great day and as always, keep it delicious!
Till next time ~ much love, Connie
Roasted Corn on the Cob
Ingredients
1

dozen fresh ears of corn on the cob

1

large pot of cold water

1/4

cup

salt

Butter and salt for topping
Instructions
Whisk the salt into the pot of water

Trim the loose, outer part of the husks off of each ear of corn, leaving the inner layers in tact. Cut the tips off and soak them in the water for one hour.

Drain the water and put the corn on a rack with the cut parts down for thirty minutes or so. (I just use my dish strainer)

Heat the grill on high (about 350 degrees F.)

Place the corn on the hot grate and turn them a quarter turn every 5-6 minutes.

When the corn is done, the husks will be dry and papery and the kernels will be hot and juicy inside.

Peel back the husks and pull off the silk. Use the husk as a holder.

Serve hot, topped with butter and a sprinkle of salt.
Notes
Recipe by: Connie Murray @Happybellyfoodie.com