Simple Irish Stew
Sometimes simple is all you need. This traditional Irish Stew is just that, elegantly simple.
Some beautiful lamb meat from my favorite farm, Brookhill inspired this dish. I bought a neck roast last time I was at the market and since the nights are getting cooler, I'm all in "comfort food" mode. There's not a darn thing wrong with that. 🙂
Just like a beef stew, you'll need to have the meat cut into chunks a little bigger than bite size.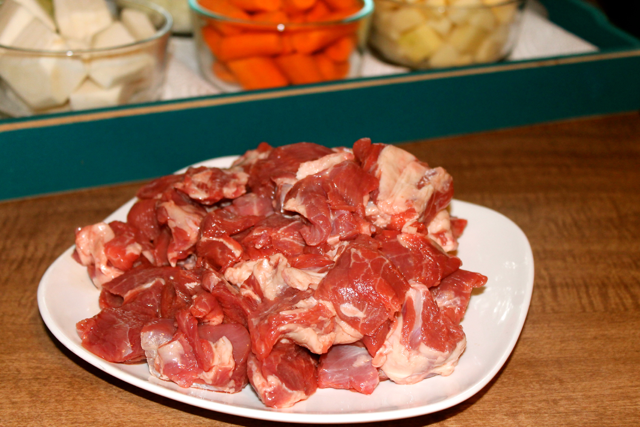 The veggies for Irish Stew aren't too far off from a regular ol' beef stew. There's the addition of leeks and a turnip. To be quite honest, when I went searching recipes for "Traditional Irish Stew" I found variances between the veggies, so I went with what I thought sounded good. I figure, as long as you've got a good quality meat and some rich homemade stock like the Mixed Bone Stock Health Elixir we've been using all week, the veggies aren't going to change the overall outcome of the dish.
Here, we've got celery, onion, leeks, potatoes, carrots and turnips.
For our seasonings, we've got salt, pepper, that beautiful stock, thyme, garlic and fresh parsley.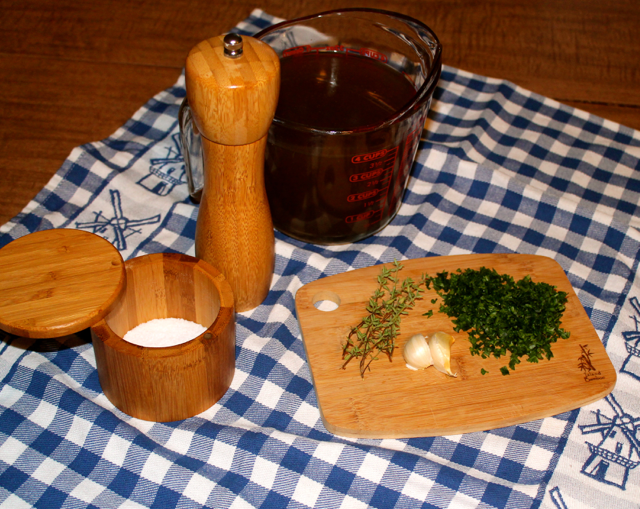 Just like a beef stew, you'll want to brown the meat in a little oil first to seal the good flavor and juices into it. Make sure you do it in batches, too. That way you don't crowd the pan and cook the meat too much.
I like using a Dutch oven for stews like this because the heat is maintained very well with the cast iron make of the dish. So, you can cook this in the oven at a very low temp and it'll get everything nice and tender without making your meat tough.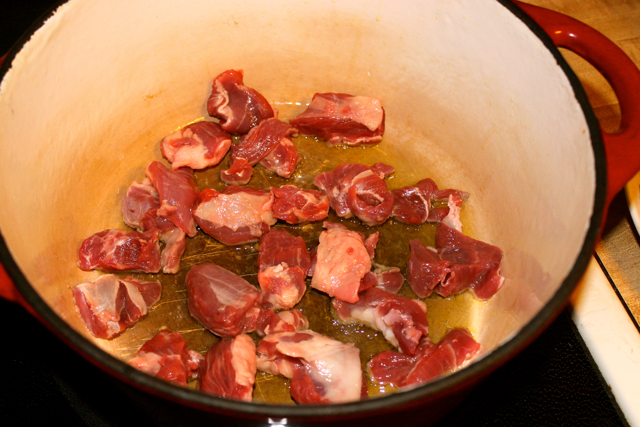 After the meat is browned, remove it and set aside. Add the veggies (except the potatoes) to the pot and saute for a few minutes.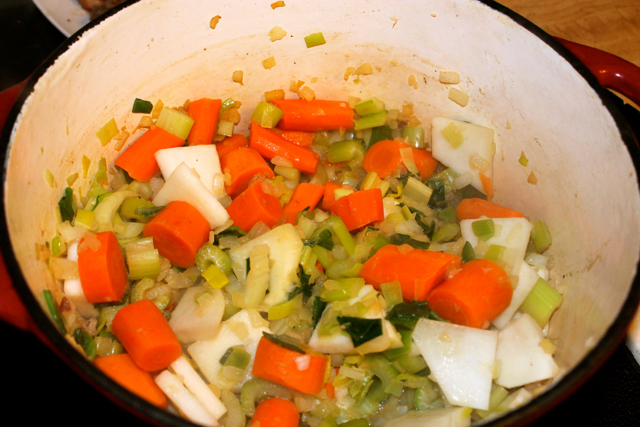 Put the meat back into the pot.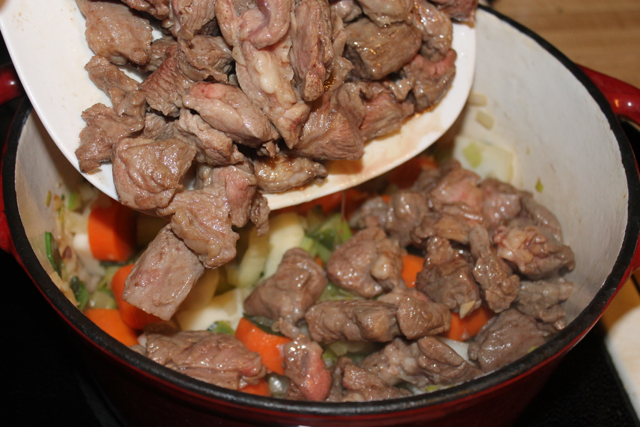 Add the potatoes.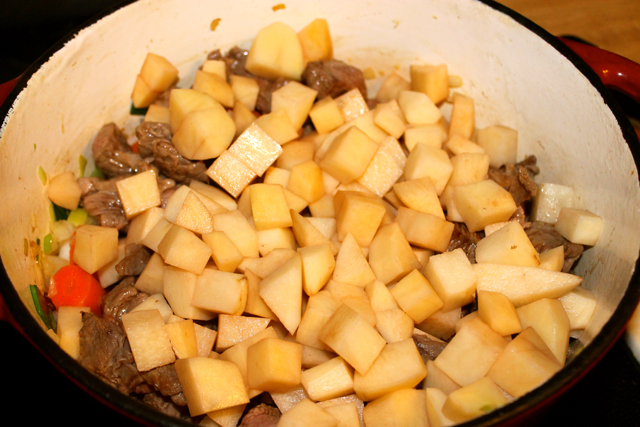 Add your stock, herbs, garlic and salt and pepper. Cover with the lid and place in the oven at 325 degree F. Overall time in the oven is an hour and a half. Some recipes will say to cook it longer but the meat in my final dish was perfectly tender and delicious, just like stew meat should be.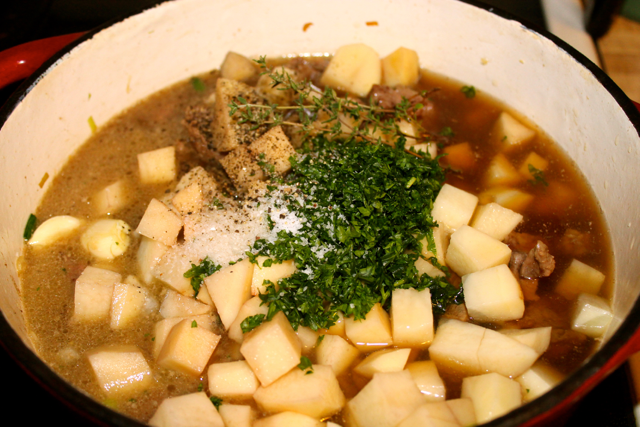 By the time you ladle your stew into the bowls, your home is going to have that down right comfy, delicious smell wafting through every room.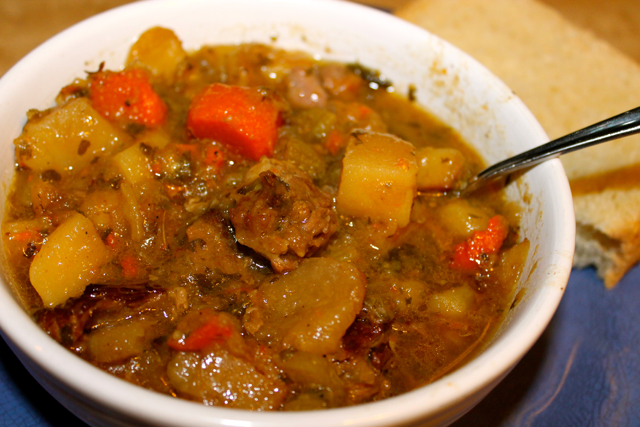 If Captain America really were here or Van Morrison for the matter, I think they'd approve. Don't you? Did you know they were both Irish? I didn't until I was researching and writing this post. See? We learn something new everyday 😉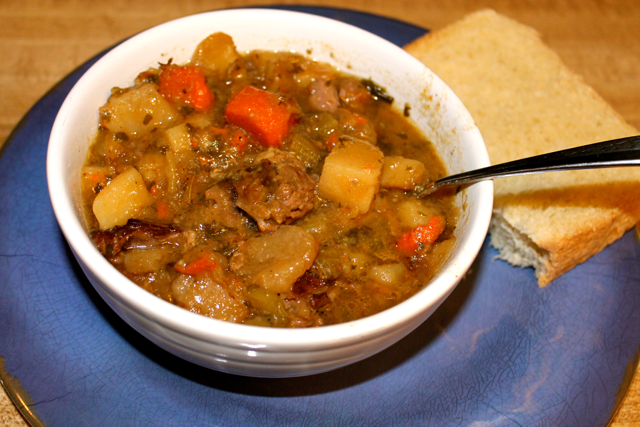 That'll do it for today foodie friends. I do hope you'll give this beautiful Irish Stew a try. It's just what you need on a cozy night.
Make it a great day and as always, keep it delicious!
Till next time ~ much love, Connie
Simple Irish Stew
Ingredients
2

tbsp

extra virgin olive oil

2

lbs

lamb meat

cut into chunks

1

lg onion

diced

3

lg celery stalks

diced

2

lg carrots

sliced

1

turnip

sliced

1

leek

chopped

2

medium potatoes

diced

4

C

beef stock

3

sprigs thyme

3

tbsp

fresh parsley

chopped

2

garlic cloves

minced

salt and freshly ground black pepper to taste
Instructions
Preheat oven to 325 degrees F.

Place a Dutch oven over medium heat. Add the olive oil and brown the meat to sear, working in batches without crowding the pan. Set the meat aside.

Add all the veggies except the potatoes to the pot and saute for about five minutes.

Add the meat back to the pot and add the potatoes.

Add the stock, herbs, garlic and salt and pepper. Stir well.

Cover the pot with a lid and place in oven for one and a half hours, stirring occasionally.

Serve hot with your favorite bread.
Notes
Recipe by: Connie Murray @Happybellyfoodie.com