Electric Pressure Cooker Recipes
So you got a brand-spankin'-new electric pressure cooker. Now what?
Please note: I'm using the Power Pressure Cooker XL but keep in mind, all the recipes included in this post work the same for other brand models. Simply consult your manual for the technical details, i.e.. which buttons to push 😉
When it comes to pressure cooking, the first thing that comes to mind are those old pressure cookers Mom and Grandma used to use. You know the ones. They'd put a big hunk of meat in the pot, throw in an onion, screw on the lid and stick it on the burner.
When it would begin to heat up, that toggle on top sounded like little Johnny choo choo was the train that wished he could. By the time the thing was in full function, you weren't allowed to walk too hard through the kitchen because the hope was we'd have dinner and NOT be blown to kingdom come.
Well friends, long gone are those days. Pressure cookers now have safety features built into them to prevent such a scary chance of events. As long as you follow the manufacturer's instructions, keep your unit clean and the valve free of built up debris, you're good to go. Most modern models, such as the one pictured above (the Power Pressure Cooker XL
) have interlocking lids. That prevents the user from opening the unit until the pressure is completely released, safely.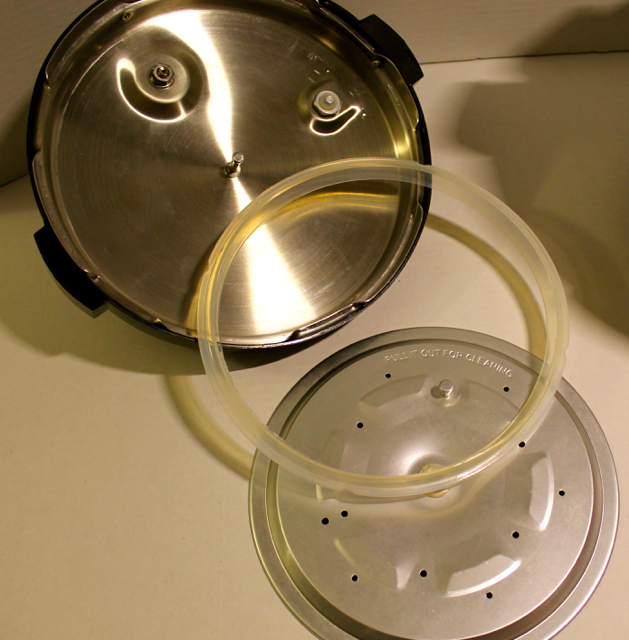 So, now that you've got your brand new, fancy-schmancy gadget you're gonna need some recipes. Right?
You've come to the right place because as I have fun trying my favorite recipes in my handy dandy pressure cooker, I'm sharing them with you.
So far, I've made soups, chili, rice, beef, pork and chicken recipes and they're all fantastically delicious. To get you started and on your way to enjoying some great meals, I've placed the tried and Happy Belly Foodie approved links right here. Just click on the pictures below for detailed instructions and ingredients.
For an overview of the model I'm using, check out this delicious potato soup recipe.
And there you have it folks, 10 great recipes for your pressure cooker.
But wait! What about canning in an electric pressure cooker? Yes! Yes, you can can in an electric pressure cooker. Check out these posts.. Canning in an electric pressure cooker.
Pressure cooking today is a convenient way to serve up a delicious meal fast. I do hope you'll give these recipes a try and let me know how you loved them. Be on the lookout for more to come because I'll be sharing all my favorites right here.
Have a fantastic day and as always, keep it delicious!
Till next time ~ much love, Connie