Smoked Vanilla Gelato
Smokin'!!
If you happened to see yesterday's post, Grilled Honey Lime Angel Food Cake, you know I've taken to setting my dessert on fire. Well, sorta.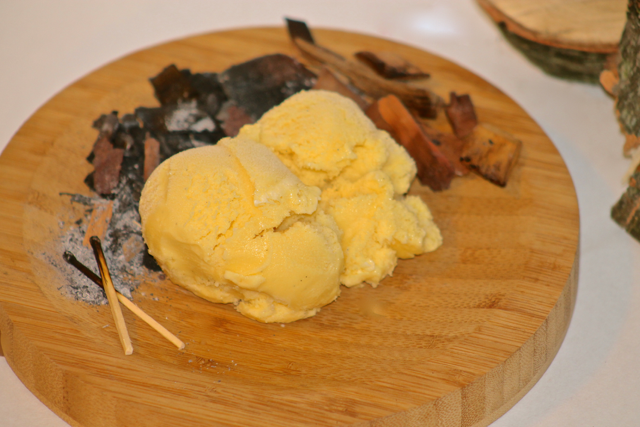 Inspired by Michael Pollan's book, "Cooked
" I absolutely couldn't resist doing this. I'm already a fan of smoked meats, smoked beans and smoked whatever-I-can-get-my-hands-on. So why not?
Of course, the Spanish chef that Pollan describes in the last bit of his section on fire has techniques as well as a madness about smoke that lil ol' Happy Belly Foodie couldn't compare to but that doesn't mean the idea of smoking the cream for my frozen delight can't be attempted.
After consulting one of my favorite blogs, Old Fat Guy, for smoking foods, I found that David has a technique for smoking cheese similar to that of what I was trying to achieve with my cream. It's a cold smoke. Putting the cream on ice and maintaining a temperature that wouldn't cook it but would infuse the smoke seemed like the way to go.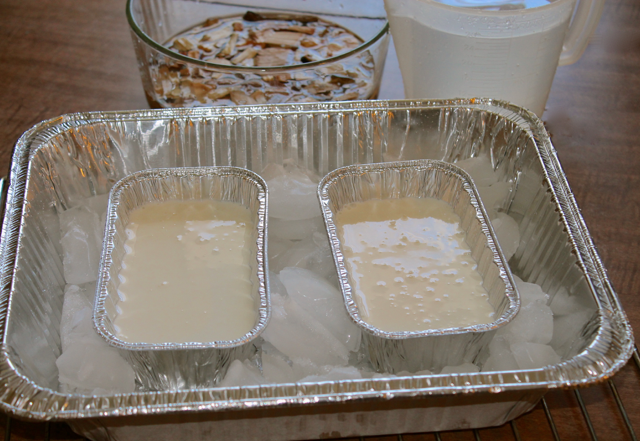 I have an electric smoker, a Masterbuilt. It's a simple plug in unit with an electronic panel that controls temperature, timing and such. The wood chips go in the bottom where they sit over a heating coil. In order for the wood chips to begin smoking, you have to set the temperature at about 200 degrees F. That doesn't make keeping the cream cool an easy task.
I heated my unit up to 200 degrees F. and put the wood chips in. To allow them to smoke longer, as they'll burn up after 20 minutes, I soaked them in water for about an hour beforehand. The temperature was then turned down to 150 degrees before putting the cream in, which was kept in an ice bath that I closely monitored. I checked the cream temperature every 15 minutes, dumped the water out and added more ice and water to the holding pan as needed. The temperature of the cream never exceeded 50 degrees F.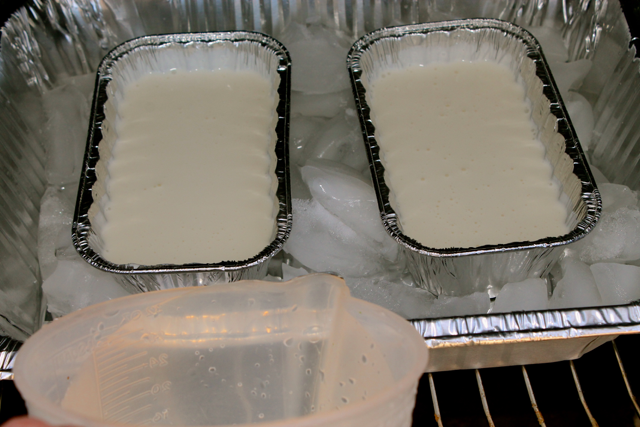 After about an hour and a half, I removed the cream from the smoker. A taste test revealed a flavor of smoked cream that pleased me. It wasn't over powering yet had just enough smoky flavor that, with adding sugar and the richness of egg yolks would promise a delicious gelato.
The thing I love about gelato versus ice cream is that it has less fat, less sugar and less calories. There's less fat because more milk than cream is used in the recipe. That's perfect here because too much of the smoked cream may give the final product a funky taste rather than a richly smoke infused creaminess.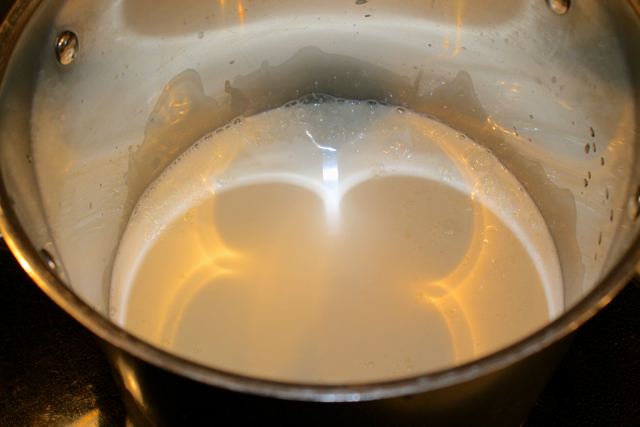 The hardest part about ice cream, gelato or any frozen dessert is waiting on temperatures. Proper temperature equals you need to be patient in every step of the way. In total, between smoking the cream, heating the milk and cream to 180 degrees F., tempering the egg yolks, reheating the entire mixture to 180 degrees F. again and chilling everything back down to 40 degrees F., the process takes at least a day before you can churn.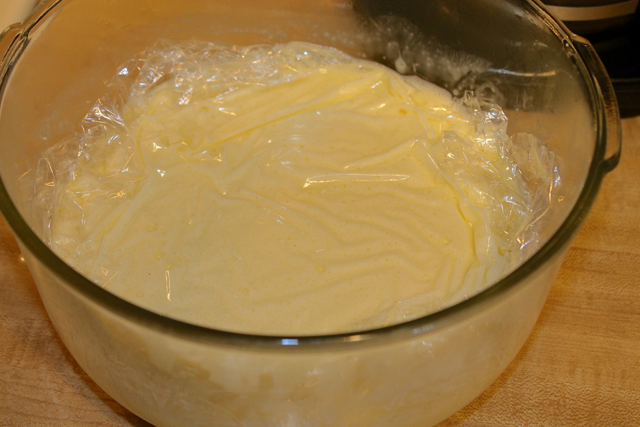 I can see why a smoked, frozen dessert is more of an obsession than anything.
The beneficial factor of having smoked that cream is the fact that you can make so many other recipes with it. I mean, I'm not just going to make gelato here. I've got smoked butter on the brain, smoked homemade sour cream and a few other creamy smoked ideas swimming around.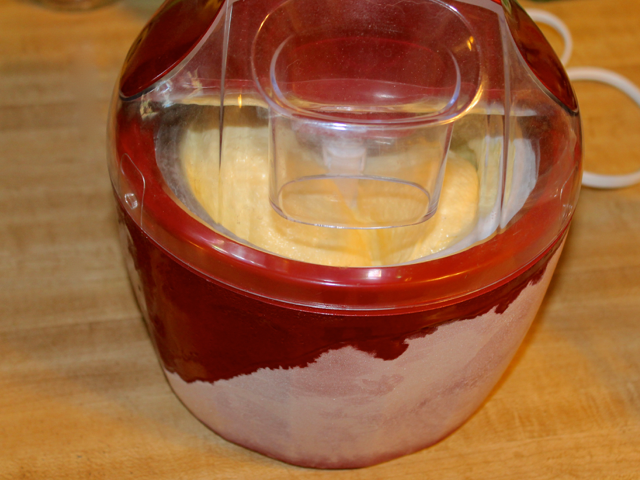 Yeah, I'd call it an obsession. If you're into smoking foods, you already know that it's an addictive way of cooking. But just like any cook's toys, exploration into new ways of creating edibles that delight are a must.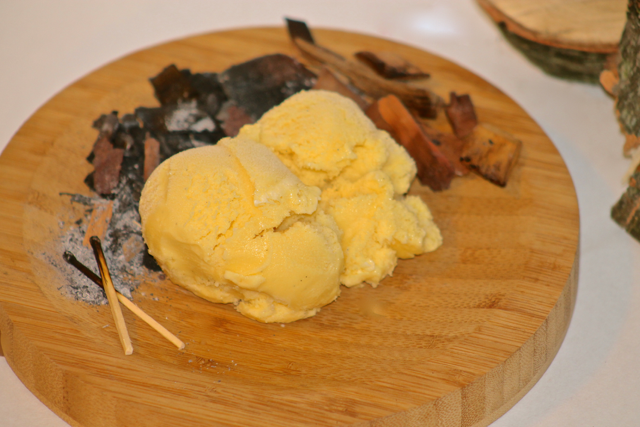 I gotta say, for me, spending an entire day waiting to get into a bite of this smoky vanilla gelato was totally worth it. The crew here didn't mind either because it truly was fantastic.
I hope you're inspired as well. Perhaps an enlightened view, like the one Michael Pollan gives in his book, "Cooked" is what you'll take to your next cooking adventure.
Have fabulous day friends and as always, keep it delicious!
Till next time ~ much love, Connie
Smoked Vanilla Gelato
Ingredients
1/2

C

heavy whipping cream

more if needed for other recipes

Ice and water for keeping the cream cool

1

C

wood chips for the smoker

7

egg yolks

2/3

C

granulated sugar

2 1/2

C

whole milk

1

tbsp

vanilla extract

1/2

tsp

salt

1

vanilla bean

split with seeds scraped out
Instructions
To smoke the cream

Preheat smoker to 200 degrees F.

Place the wood chips in a bowl of water to soak for at least 30 minutes.

Put half of the wood chips into the chip loader and dispense for smoking.

You'll need to add the rest of the wood chips about half way through smoking.

Once the chips begin smoking, reduce the heat to 150 degrees F.

Place the cream in a small foil pan.

Place the small foil pan in a larger foil pan.

Fill the larger pan with ice and water, avoiding getting any into the small pan.

Place both pans in the smoker on the middle rack.

Monitor the temperature of the cream and the ice level of the larger pan every 15 minutes to ensure the cream does not exceed 50 degrees F.

Dump the water and add more ice and cold water as needed.

Smoking the cream for 1 1/2 to 2 hours will impart enough smoke into the cream.

Place the smoked cream in the refrigerator until you're ready to make the gelato.

To make gelato

In a large bowl, combine the egg yolks and sugar. Whisk until the eggs are creamy yellow.

In a large pot, combine the milk and 1/2 cup cream and heat over medium until the mixture is just about to simmer. (180 degrees F.) Do not allow to boil.

Turn the heat off and use a ladle to gradually add the warm milk mixture to the egg mixture. Whisk each addition in to temper the eggs (keep them from becoming cooked).

After about half the warm milk is added to the eggs, add the mixture to the pot with the remaining milk and stir.

Turn the heat back on to medium and cook to thicken. The temp should reach 180 degrees F but never boil.

Using a fine wire mesh sieve, strain the hot liquid into a large bowl.

Add the vanilla extract, salt and vanilla bean seeds.

Stir well and cover with plastic wrap. Make sure the wrap is actually laying directly on top of the mixture so that a skin does not form.

Refrigerate overnight.

Place the mixture in your ice cream maker and process according to manufacturers instructions.

Transfer the gelato to a storage container. Cover with a lid and allow to harden in freezer for about 2 hours.
Notes
Recipe by: Connie Murray@Happybellyfoodie.com