Corned Beef from Scratch ~ A Classic Reuben

Oh, this has been a long time comin'. I love a Reuben Sandwich!
Just like all the delicious foods I love, I had to make this one from scratch and I'm so glad I did.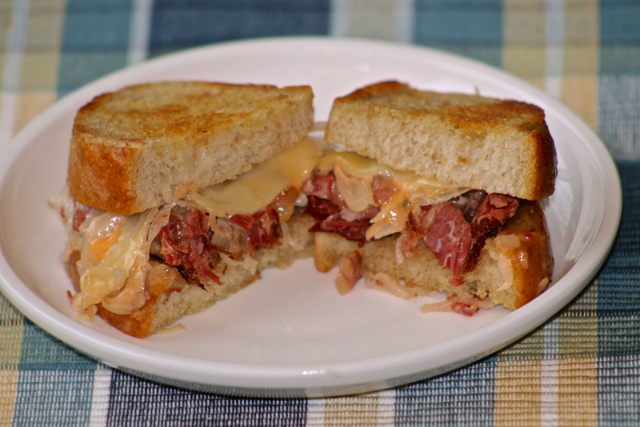 It's so easy to overlook the complexity of a favorite dish. Not that it has to be difficult to prepare but the consideration of time as a flavor factor isn't something most people think about in our hustle and bustle society. I mean, I can drive 10 minutes from my house and pick up a classic reuben sandwich any time I wish. I can go to the grocery store and buy a corned beef package that's ready to cook, throw it in the oven and have it ready by dinner time.
Why not take the time to marinate it in my choice of spices, watch over it for a period of time and appreciate the fact that I don't have to worry about unwanted ingredients in my food or possible contamination from behind the scenes restaurant handling? I can't think of a reason I wouldn't want to. Aside from all that, learning the process of curing meat is fascinating.
Corned beef is basically a very tough piece of meat, a brisket in fact.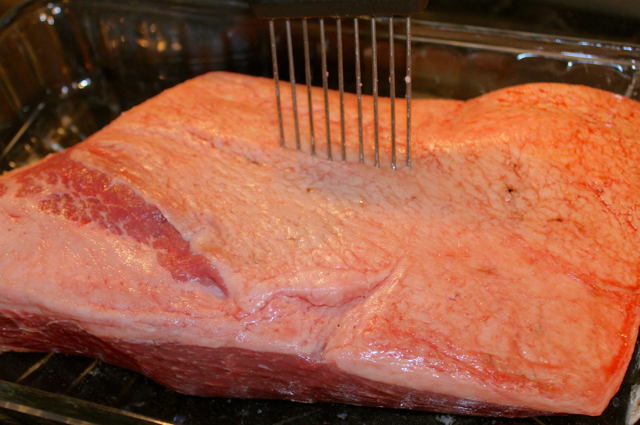 The brisket is soaked in a brine mixture of salt, sugar and spices for a long period of time. 7 days up to 1 month of marinating in either the dry spice mixture, where the liquid is drained off daily or soaked in a brine bath of water with the spices tenderize and cure the meat and flavor it intensely all the way through.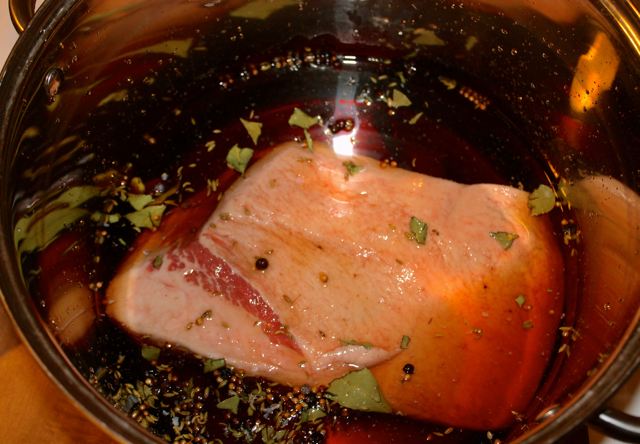 I soaked my 8 pound brisket in a liquid bath for 11 days and had it weighted down with a heavy plate. To prepare it for baking, I rinsed all the spices off and placed it in a dish with some fresh water, onion and garlic cloves and covered it with foil.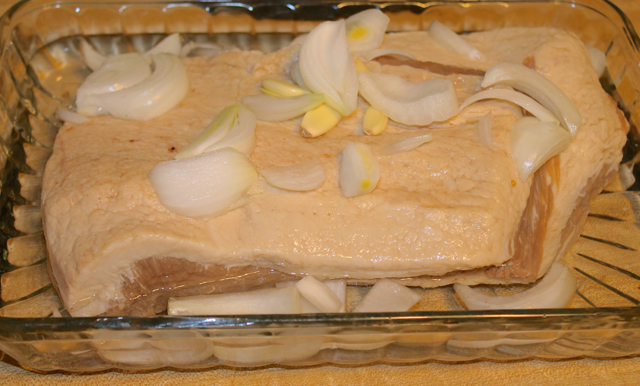 In a 350 degree F. oven, I baked it for 4 hours. Low and slow. I had to taste a smidgen after it was done cooking. Yum!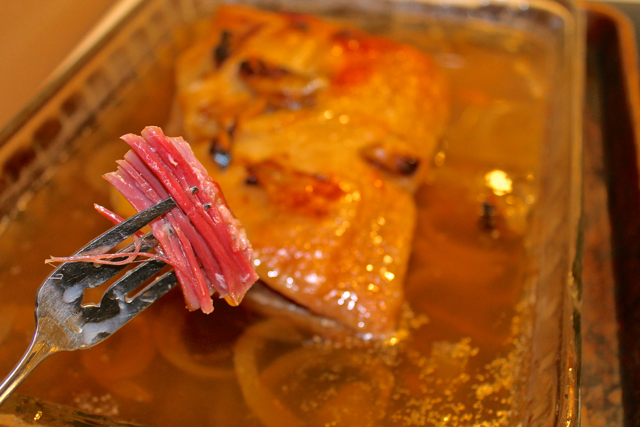 Of course I had to bake some fresh rye bread for the sandwiches.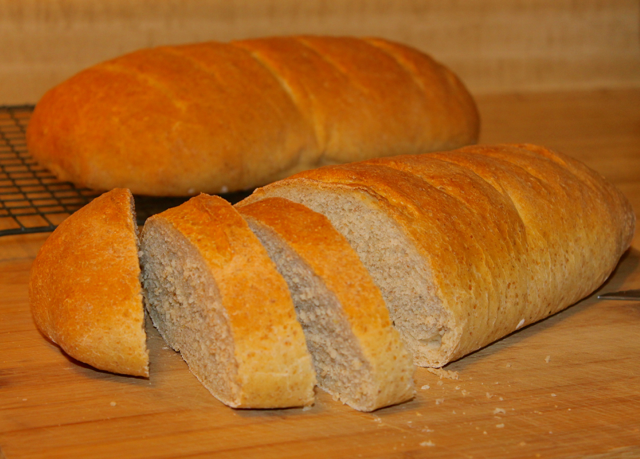 A little butter and a toast in the skillet to get the edges all nice and crispy.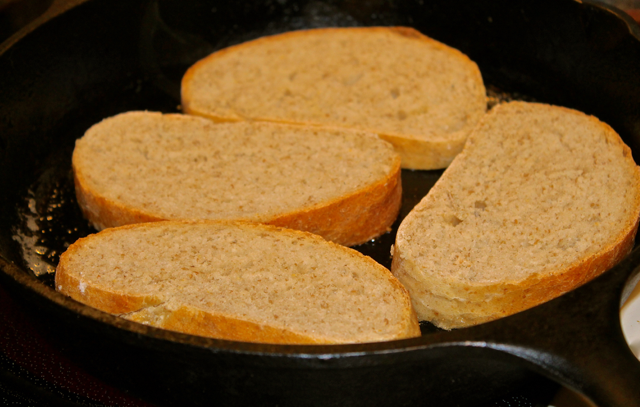 Fry up a good portion of the corned beef to get all that scrumptious fat incorporated. Like butter!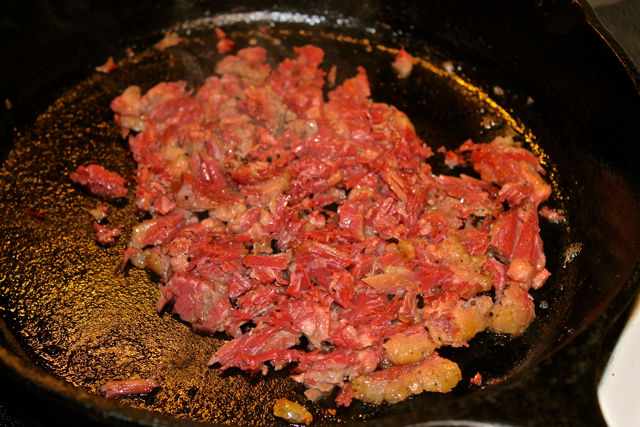 Add some fresh sauerkraut, a little thousand island dressing and a slice of Swiss cheese. By the way, thousand island dressing is easy to whip up. It's just mayonnaise, ketchup and sweet relish mixed with a touch of salt.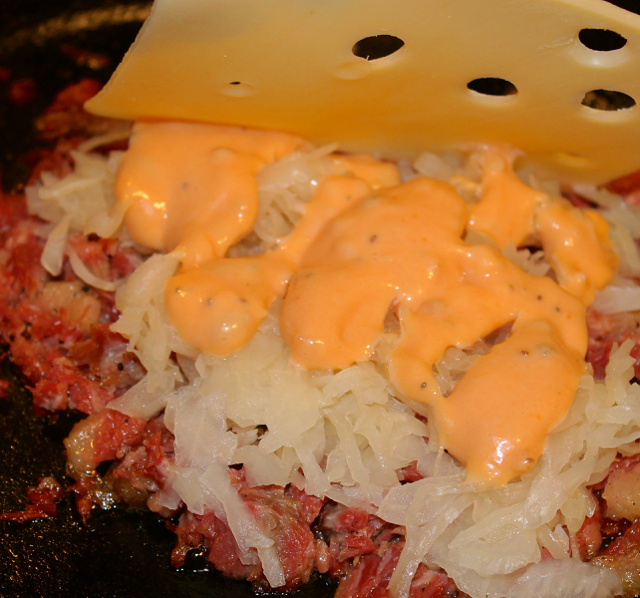 Once everything is heated through and all melty, ooey gooey it's time to plate up.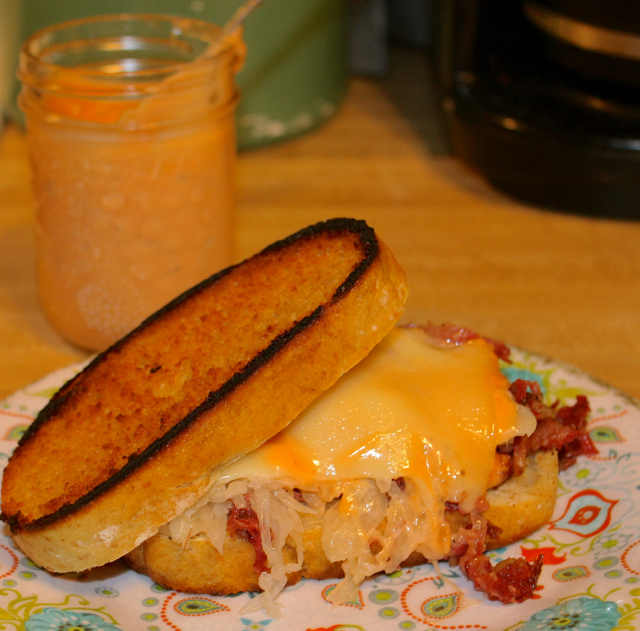 By no means is a Reuben a prim and proper sandwich to eat. It's dig in and devour!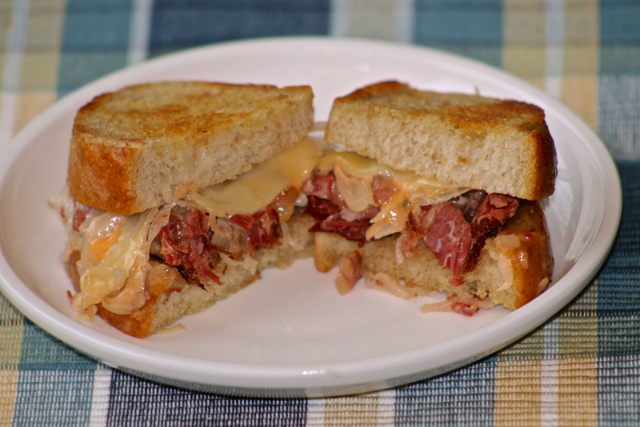 This, my friends is exactly the kind of thing that I was after when I started Happy Belly Foodie. Honest to goodness home cooked food that's fresh, from scratch and full of intentional flavor. Don't get me wrong, I love my quick and easy recipes, too but there's just something so amazing about long awaited dishes like this. There's a savoring here that I believe everyone deserves and slowing down occasionally is so delicious!
Have a beautiful day and as always, keep it delicious!
Till next time ~ much love, Connie
Corned Beef from Scratch
Ingredients
Corned Beef

1 8

lb

beef brisket with fat cap left in tact

at least 5 pounds

2

quarts

cold fresh water

1/2

C

kosher salt

1

C

brown sugar

1 1/2

tsp

pink curing salt ***

1

cinnamon stick

broken into pieces

1

tbsp

mustard seed

1

tbsp

black pepper corns

cracked

1

tbsp

juniper berries

5-6

whole cloves

1

tbsp

corriander

1

tsp

allspice berries

1

inch

fresh ginger

peeled and left whole

3

crushed bay leaves

4-5

whole garlic cloves

2

quarts

ice

*** make sure you use 1 level teaspoon of pink curing salt per each 5 lbs of meat to ensure food safety. No more and no less. This ingredient can be found at a spice shop or online. Research on it's use is highly recommended.

for cooking the corned beef

4-5

garlic cloves

1

large onion

quartered

1

quart

of cold

fresh water

Reuben Sandwiches

butter

rye bread

sliced

cooked corned beef

fresh sauerkraut

thousand Island dressing

Swiss cheese slices
Instructions
Corned Beef

In a large stock pot, combine the cold water with the salts, brown sugar and the rest of the seasonings.

Bring to a boil over high heat.

Remove from heat and stir in the ice.

Allow the mixture to cool to 40 degrees F.

Use a skewer to poke holes through both sides of the brisket all over.

Place the brisket in, fat side up.

Place a bowl or plate over the brisket to weight it down.

Cover and refrigerate for 10 to 14 days

Remove the brisket from the brine and rinse with cold water.

Preheat oven to 350 degrees F.

Place the brisket in a large casserole dish and cover with 1 quart of cold, fresh water.

Add 4-5 fresh garlic cloves and the quartered onion.

Cover with foil tightly and bake in the oven for 4 hours.

Remove from oven and allow the meat to rest, covered for 45 minutes.

Slice against the grain to serve.

Reuben Sandwiches

Heat a skillet over med/high

Melt a half tbsp butter for each sandwich.

Toast the rye bread slices in the butter and set aside.

Place some of the meat on one side of the hot skillet and break up with a spatula.

Heat some of the sauerkraut on the other side of the skillet.

Place the hot sauerkraut on top of the meat.

Spoon some thousand island dressing over the sauerkraut and top with a slice of Swiss cheese.

Place the hot mixture on the toasted rye bread slices and serve.
Notes
Recipe by: Connie Murray @Happybellyfoodie.com