Facial Rescue ~ Cleanse and Renew

So your face needs a refresher? I've got just the thing!
I don' know about you but when I've got that run down, blah-I-feel-like-my-face-is-gonna-fall-off feeling, I need a pick me up. What better way to revive than to bring out the ol' bag of tricks for that sunshiny glow you're dying for? Bring it on!
This recipe for your face is a one, two, three at home spa treatment that I thoroughly enjoy treating myself to and today, I'm gonna share it with you fine friends.
To start off, you'll cleanse your face gently and then apply a nice steam to get the pores open and ready for rescue. This facial steamer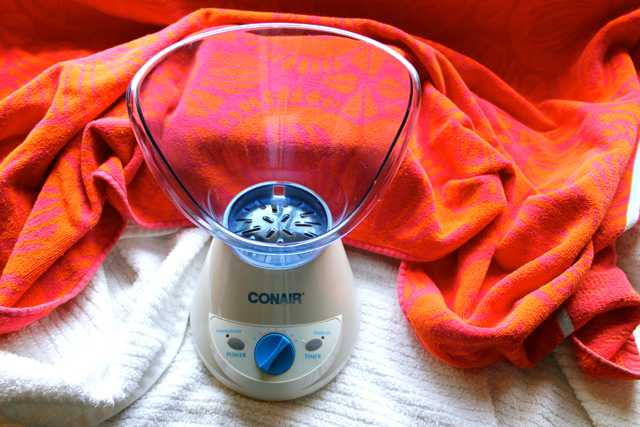 I like a combination of water, Dead Sea Salt and an essential oil for the steam mixture. You can use regular salt and any scented essential oil you like. Lemongrass is one of my favorites because it's not too strong and it's uplifting lemony scent makes me feel all sunshiny. Lavender is good for relaxing and Eucalyptus is good for congestion. Really, you just need to explore the wide variety of scents available to find your favorites.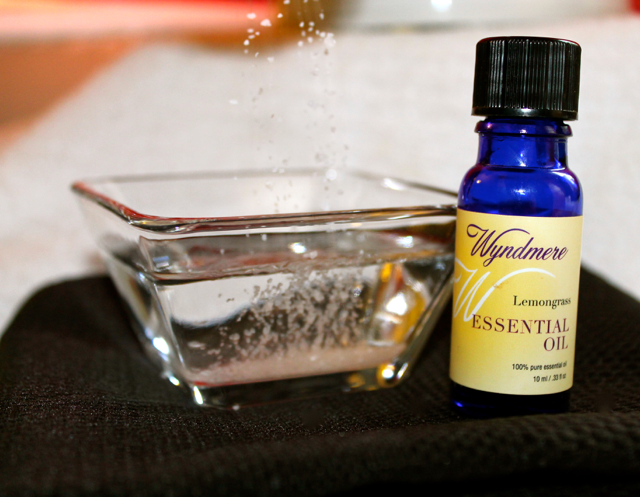 My little face steamer is pretty simple to set up. You just mix the water with a bit of salt to get the steam going and add a drop or two of your favorite scent. Put the face guard in place, wait for the steam to start rolling, drape a towel over your head and just relax while the steam covers your face.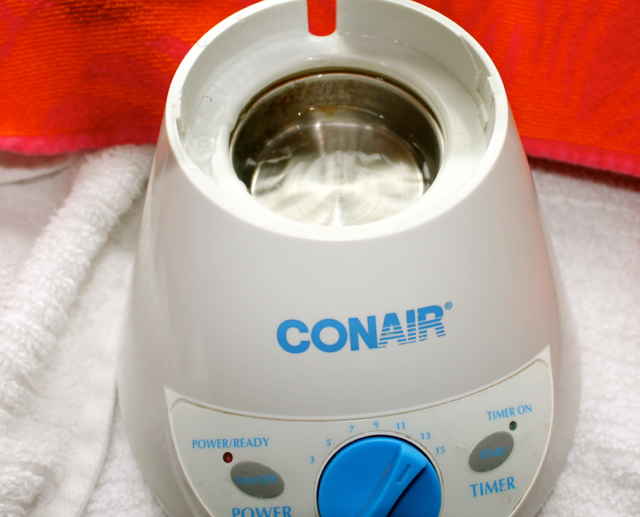 After you finish giving your face a nice cleansing steam, your pores will open up. That's when you'll break out the deep cleansing combo.
Here is the combination I personally like to use. I've got oily skin and this helps get in there deep to get all the gook out. After many different face mask trials over the years, I've found that pure bentonite clay powder is the best detoxing mask to use. It gets deep into the pores and pulls dirt and oil out. I mix a little vitamin C powder and a little Matcha green tea powder with it to help wake the skin up.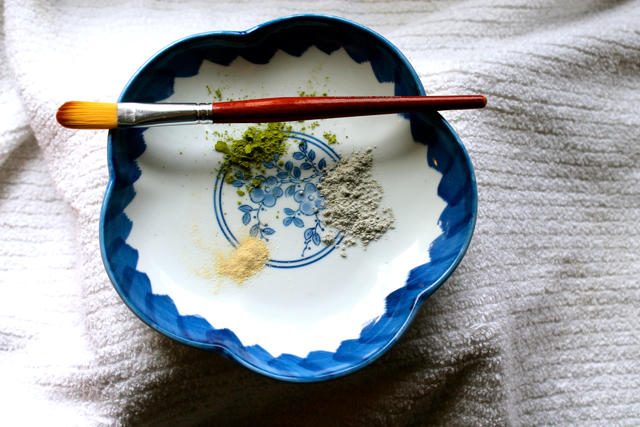 You don't need much because the mixture will go a long way. Just mix the powders and add a little water until you get a thick pasty consistency. You don't want it too thick because it won't spread easily. (Think Elmer's glue) I use a soft, wide paint brush to apply the mask.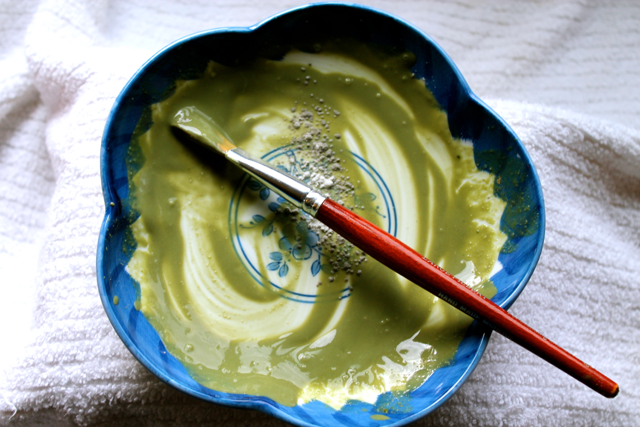 LOL! Obviously I'm not brave enough to plant a picture of myself with the face mask on here but you get the picture.
Say hello to my little friend. Hahaha! I think I'll call her Chick Itta. Get it? Chiquita.. oh never mind 🙂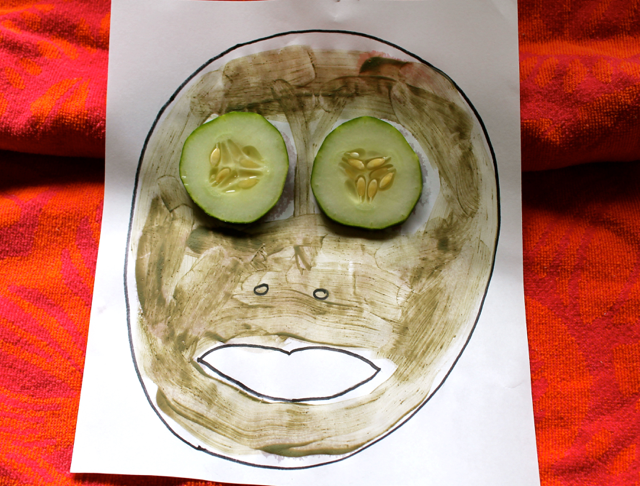 After you apply the clay mask and it dries completely, (about 20 minutes) your skin is gonna feel tight and warm. I used to just apply moisturizer and be done with the facial at this point but the more I used it, the more I felt like I needed a second mask to replenish moisture a little deeper.
I came up with this combo and I absolutely love it. It's cooling and refreshing.
I grow Aloe in my home for lots of things like sun burn, scratches and cuts. I use it in this mask also along with a little honey, some coconut milk cream and magnesium gel.
All of these ingredients are very good for the skin and those cucumbers make your eyes feel cool and bright after you place them over the lids for a while. Just mix them together and apply to the face like the clay mask. Leave on for 15 to 20 minutes and rinse. Apply your favorite moisturizer when finished. I personally like to use coconut oil for my moisturizer. It's a nice finishing touch.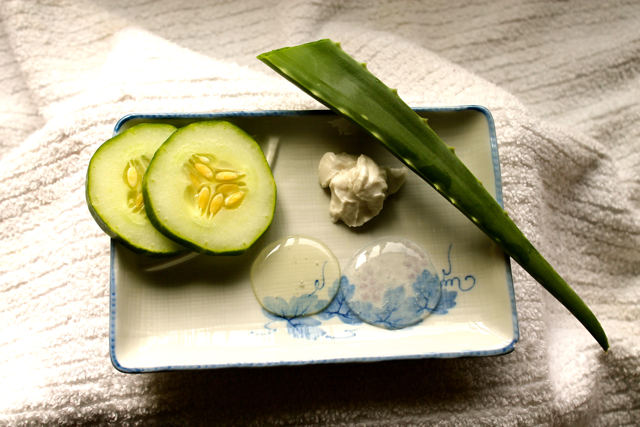 A little info about the ingredients in these face mask recipes:
Bentonite Clay: A clay that swells when in contact with water. It pulls toxins from the skin and binds them. It also releases beneficial minerals into the skin as it works.
Vitamin C: You'll want to use a buffered form of vitamin C so that it's not too acidic for the skin. This ingredient reduces wrinkles, brightens the skin and evens skin tone.
Matcha Green Tea Powder: Reduces inflammation, soothes agitation, promote even skin tone, provides protection from sun damage.
Coconut Cream: Rich in vitamins C, E, B1, B3, B5 and B6 as well as iron, selenium, calcium, iron, magnesium and phosphorus. All of these qualities are extremely beneficial to the skin.
Honey: Antiseptic and antimicrobial. Kills bacteria and fungus. Brightens skin complexion and evens out skin tone.
Magnesium Gel: Detoxifies and cleanses the skin. Promotes healthy complextion.
Aloe Vera Gel: Great cooling moisturizer and promotes firmness of the skin. Has anti-aging properties and reduces inflammation.
* All of these ingredients can be found at your local health food store or online.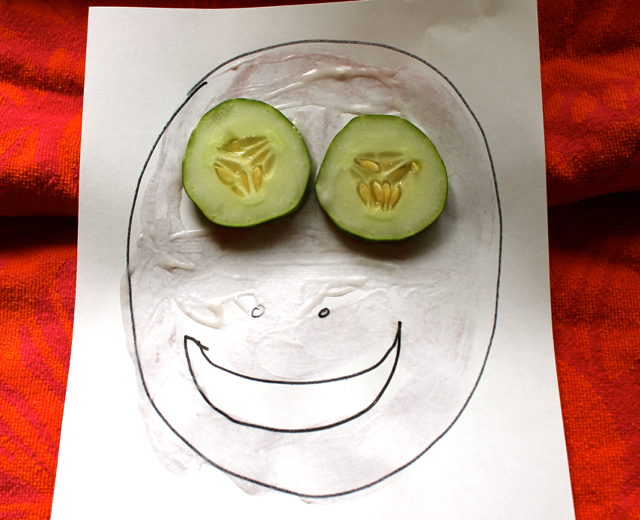 If you plan on doing a DIY facial at home, you'll want to research ingredients that are more specifically geared toward your skin type and needs. The masks I have listed in the recipes below are a good place to start if you've never made one before. You'll also want to make sure you don't have any allergies to any of the ingredients before using them.
That's it for today folks. I do hope you'll be good to yourself and put your best face forward. After all, it's the first thing you present to the world. Be good to you!
If you have any questions or want to share something with me, you know where to find me.
Make it a great day y'all!
Till next time ~ much love, Connie
Facial Rescue ~ Cleanse and Renew
Ingredients
Cleansing Face Mask:

1

tsp

pure bentonite clay powder

1/4

tsp

matcha green tea powder

1/8

tsp

vitamin C powder

can use from capsules

1 - 2

tbsp

water

Cooling Moisture Mask:

1

tsp

pure aloe vera gel

1/2

tsp

raw honey

1/2

tsp

magnesium gel

1/2

tsp

coconut cream

skimmed off the top of coconut milk
Instructions
Cleansing Face Mask:

Mix all ingredients and apply to face (avoiding the eye area) with a soft bristled brush.

Allow to dry and rinse.

Cooling Moisture Mask:

Mix all ingredients and apply to face (avoiding the eye area) with a soft bristled brush.

Leave on for 15 to 20 minutes. Rinse and apply moisturizer to face.
Notes
Recipes by: Connie Murray @Happybellyfoodie.com