Grilled Honey Lime Angel Food Cake
Dessert is on fire!
Okay, I realize this one is a bit crazy sounding. (Wait till you see what I did to my gelato, coming up next) After making a batch of gelato I had a bunch of egg whites that I wanted to use up. Of course, angel food cake is my favorite but I thought I should do something different. I mean, when you're a food blogger it kind of becomes a challenge to see what you can come up with.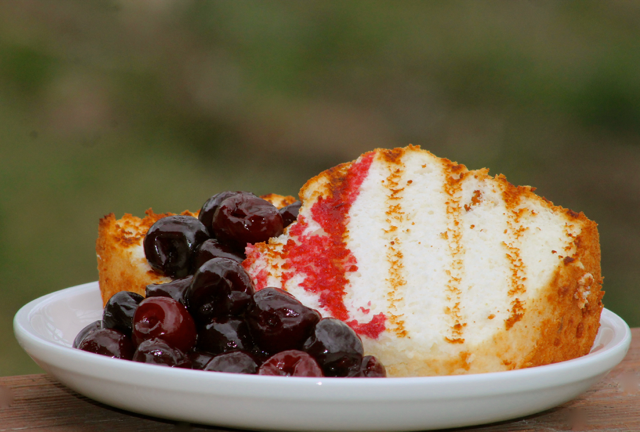 Lime infusion? I had a bunch of limes that were threatening to become a sort of funk in the produce drawer of my fridge. Though I love a great scientific experiment, I'd rather make cake. Why not make a lime flavored angel food cake?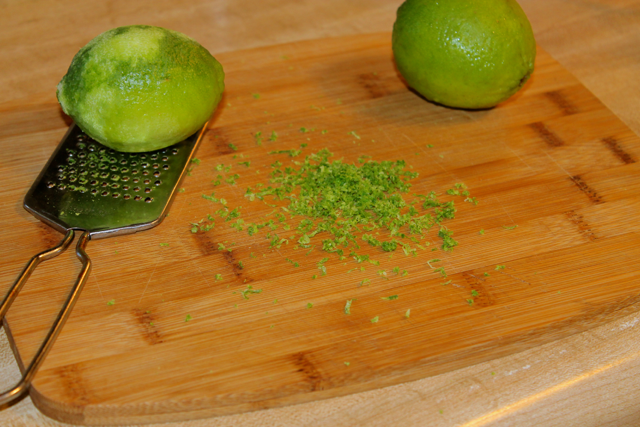 Imparting the oils and flavor of lime zest on granulated sugar makes for a delightfully refreshing fragrance.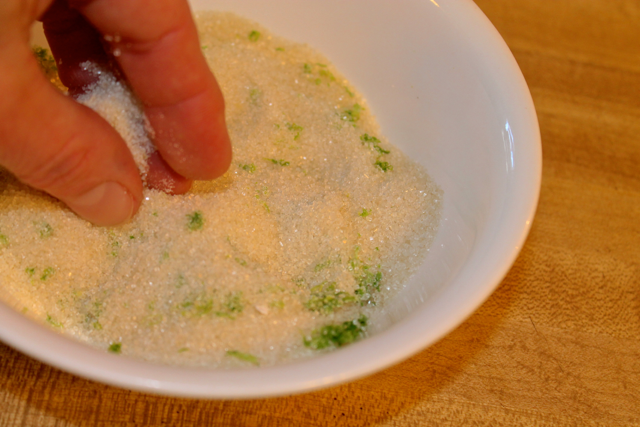 Add that to the egg whites as they're whipping up a little at a time.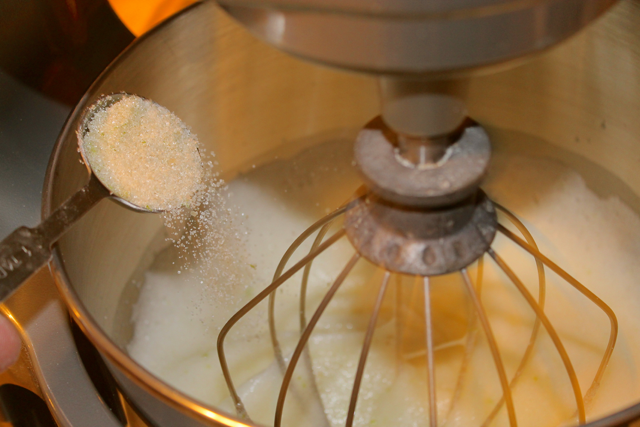 Some freshly squeezed lime juice takes the place of two egg whites (there's 12 in my original recipe). Though there was a bit of a concern about the lime juice deflating the egg whites because it's so acidic and I'm not a scientist, I found that it didn't affect the batter enough to ruin it.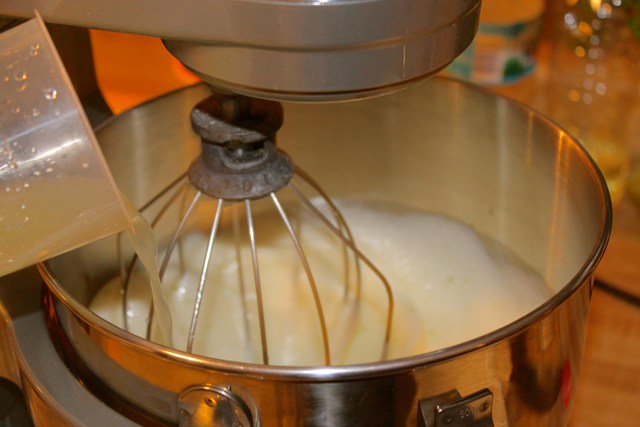 By the time you get the mixture into your tube pan, your kitchen will have a mouth watering, citrus-y aroma.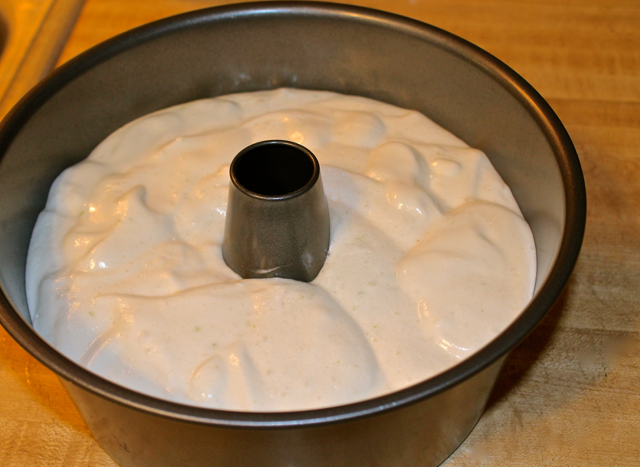 Fortunately, it only takes about 35 minutes to bake an angel food cake.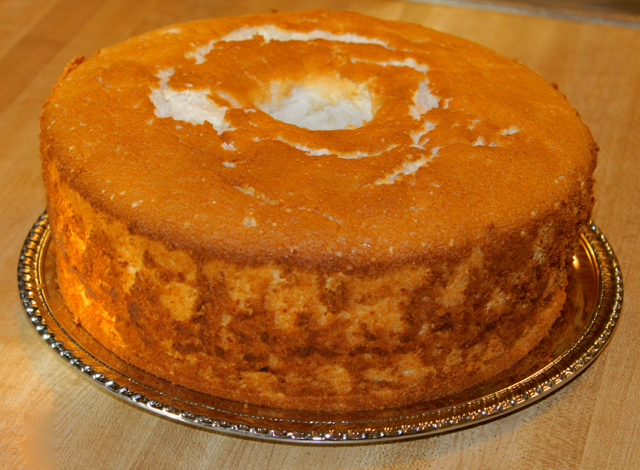 The downside is that you've gotta place the tube pan, with the cake in it upside down to cool for at least an hour before you can slice into it.
The inverting of the cake will keep it from shrinking. You'll want to use a heat-proof, sturdy bottle to hold the pan and cake in place.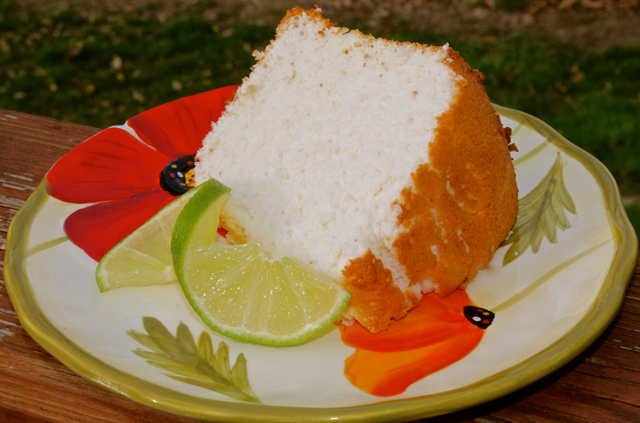 If you've got any of that cake left over the next day, you'll notice that the outer crust gets hard if you don't cover it with something. I love munching on the crusty crumbs left behind on the cake plate. I was doing just that when I thought, "hmmm, what if the entire cake had that crusty texture?"
Of course, I googled it and there it was. All kinds of people grill their angel food cake. Some turn it into French toast. (as if the entire food blogging world has fresh angel food cake just lying around waiting for somebody to do insane things with it)
The problem I have, (and I'm pretty sure it's just me personally) is that most of the recipes out there don't explain whether or not the cake will stick to the grill.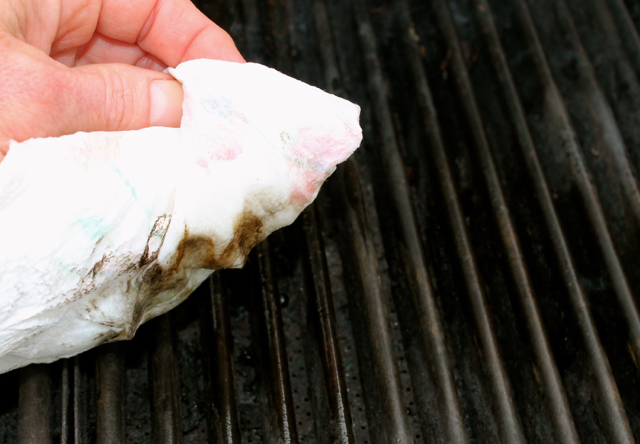 Well, it doesn't. I did rub a little oil on the grill grates before I laid the cake down, as I do for most everything I grill. Even with all the sugars caramelizing on the hot surface, the cake toasts up just like bread and lifts right off.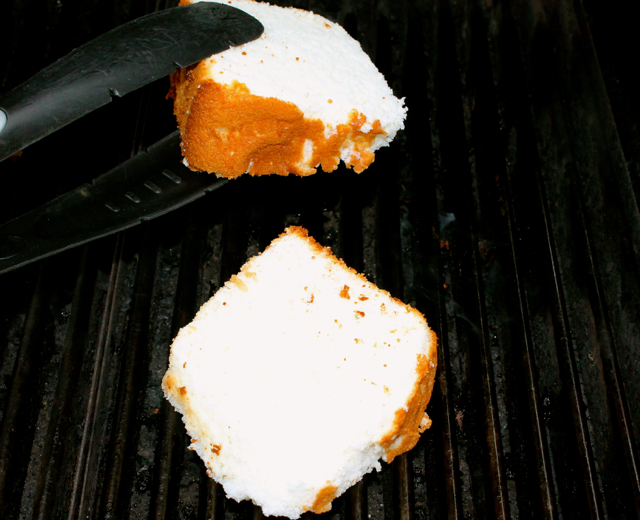 That's all there is to grilling angel food cake. Serve with a few fresh berries and perhaps drizzle a little honey on top.
Here's the thing..
Those crusty crumbs I love so much and the idea of the entire cake being surrounded in them is actually what you get. Imagine biting into angel food cake that's been jacked up on texture. I might even go a step further next time and burn it a touch.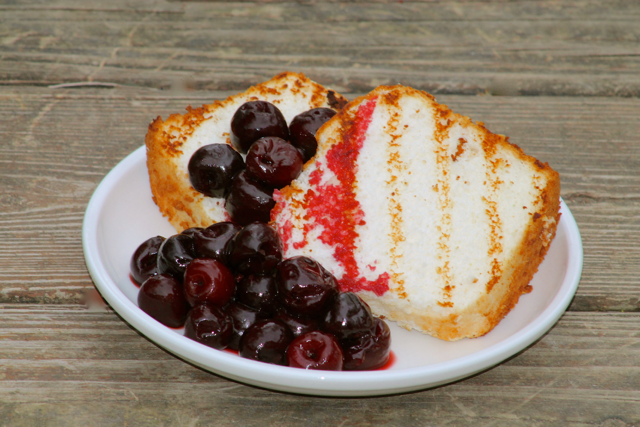 I suppose I don't need to mention that it is an absolutely fabulous way to finish an angel food cake but I did. So there. I'm actually giggling as I write this because I am such a foodie nerd.
I know, you're probably gonna grill a few pieces of angel food cake next time you make or buy one, too. Aren't you?
Let us know if you do. We'd love to hear about it!
Have a fantastic day and as always, keep it delicious!
Till next time ~ much love, Connie
Grilled Honey Lime Angel Food Cake
Ingredients
10

egg whites

(1 1/4 cups)

1 1/2

tsp

cream of tartar

1

C

granulated sugar

1

tsp

lime zest

1 1/2

C

powdered sugar

1

C

cake flour

1/4

C

fresh lime juice

1

tbsp

honey

1/4

tsp

salt

Oil for the grill
Instructions
Preheat oven to 375 F.

Sift the flour and powdered sugar together and set aside.

In a small bowl, combine the granulated sugar and lime zest, rubbing the sugar and zest to release the oils.

In a very clean mixing bowl, combine the egg whites and cream of tartar.

Beat the egg whites on medium speed until they become foamy.

Continue mixing and add 2 tbsp of the lime/granulated sugar mixture at a time, letting the sugar dissolve between each addition.

With the last addition of sugar, add in the lime juice, honey and salt.

Turn the mixer to med/hi and mix until the egg whites become shiny and hold up in stiff peaks when tested with a spoon.

Scrape the sides of the bowl down and add the flour and powdered sugar mixture 1/4 C at a time, gently folding with a spatula.

After all is incorporated, spoon the mixture into an ungreased 10 x 4 inch angel food cake pan.

Take a metal spatula and slice into the mixture to settle.

Smooth the top evenly and make peaks with the spatula.

Bake for 30 to 35 minutes or until the top cracks and is golden brown. To test the center doneness, gently press into the cake. If it springs back, it's done.

Remove the cake from the oven and place upside down onto a heat proof bottle to keep it from shrinking.

Once the cake has cooled completely, slide a knife around the outside to release the cake.

Slice into serving sizes.

Preheat a grill to med/hi heat.

Use a dampened paper towel to rub some oil on the grates.

Place the slices of cake on the grill grates and toast on both sides, leaving grill marks.

Serve with fresh berries of your choice and a drizzle of honey, if desired.
Notes
Recipe by: Connie Murray@Happybellyfoodie.com