Salt Crusted Pork Roast
One of the easiest roasts you'll ever make!
I don't know about where you are but here in Kentucky we're teetering between warm and cold. You know, because it's Spring. Testy little season! This kind of weather makes you want a warm dinner one night and burgers on the grill another.
Today's recipe is brought to you by one of those cold nights. While the wind was whipping through outside, I had the kitchen all cozy with fresh baked bread and this scrumptious little roast cookin'. That's just the kind of thing I do when I'm anxious for warmth.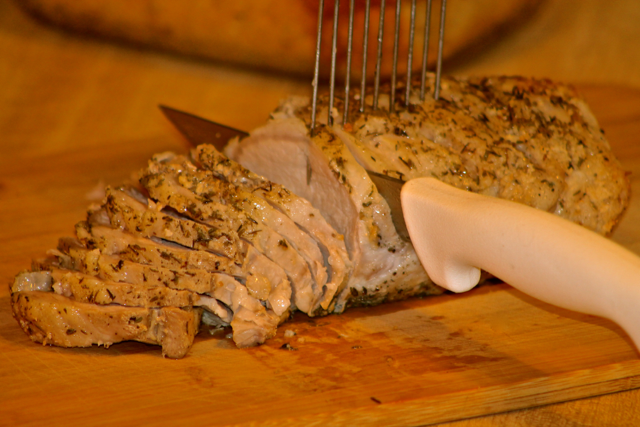 Originally, this recipe came from my Mother. Though I'm not sure where she got it from, I've been making it for as many years as she has. Having changed it several times by adding favorite herbs to suit my taste, I'm pretty sure we have two totally different recipes by now.
Of course with pork, sage and thyme are perfect aromatics to dress and flavor it for chilly evenings like the ones we've had. I like to score the fat on top of the meat to allow the flavors to penetrate.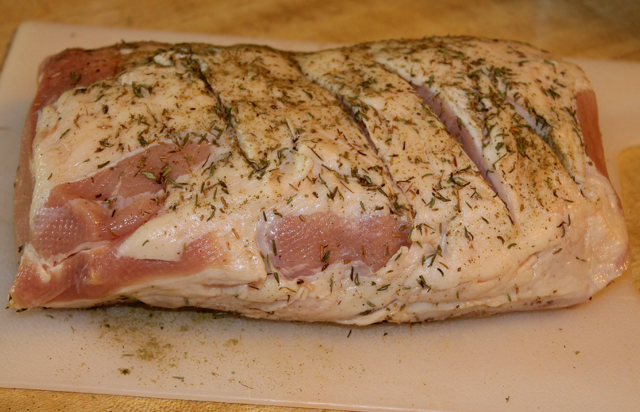 The salt needs to be the big crystallized kosher type for the crust so that, when combined with freshly ground black pepper and water, it will adhere to the roast easily.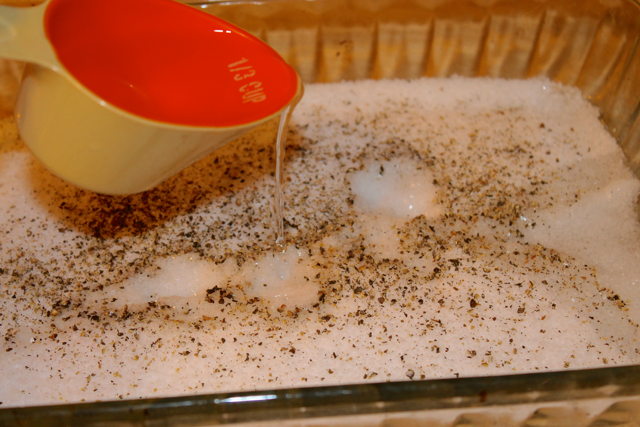 You may think that you're going to have a big salty chunk of meat by baking the roast in a salt encasement but trust me. As you'll see in the next few pictures, the salt merely flavors the outer layer of meat perfectly.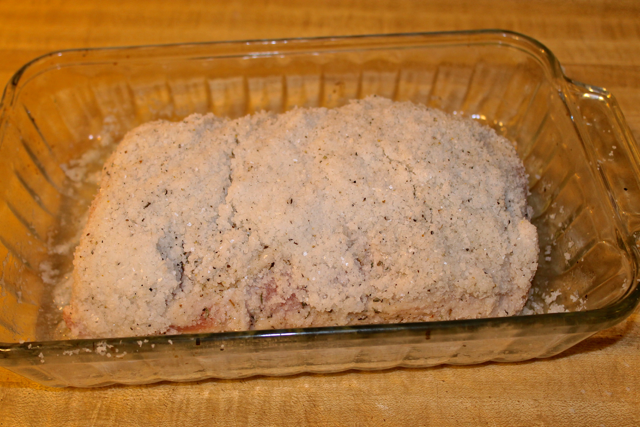 Not only does it flavor the meat just so, that crust helps keep the rendered fat and juices within the meat, making it tender and moist with each slice.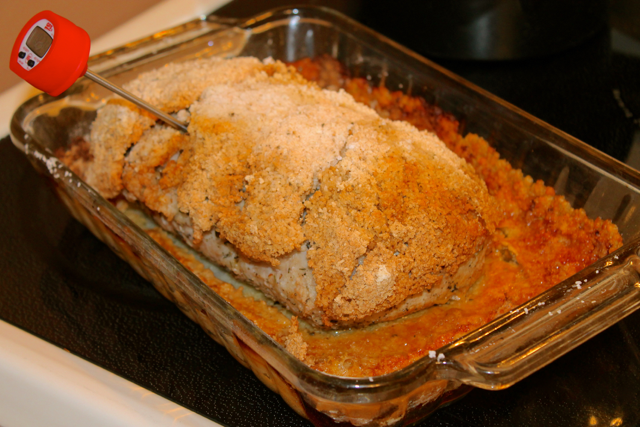 You'll most definitely, like with any roast want to give the meat time to rest before you slice. The salt crust will lift right off after it has been baked but leave it on while the meat is resting so you don't lose any moisture.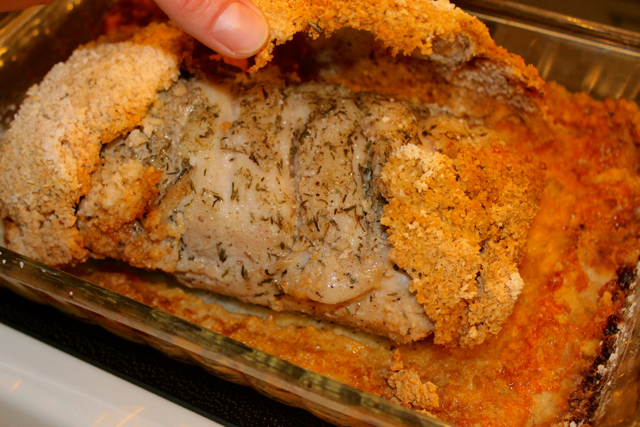 Pork is considered done at 170 degrees F. Since the meat will continue to cook after it has been removed from the oven, I take mine out at 165 degrees F. to make sure it doesn't get over cooked, keeping in mind that over cooked pork equals dry meat.
Once the meat has rested a sufficient amount of time, about 20 minutes, you can simply lift the crust off of the top and knock off any remaining bits from the sides with a fork or knife. The meat will slice easily and have a wonderful aroma and flavor in each bite.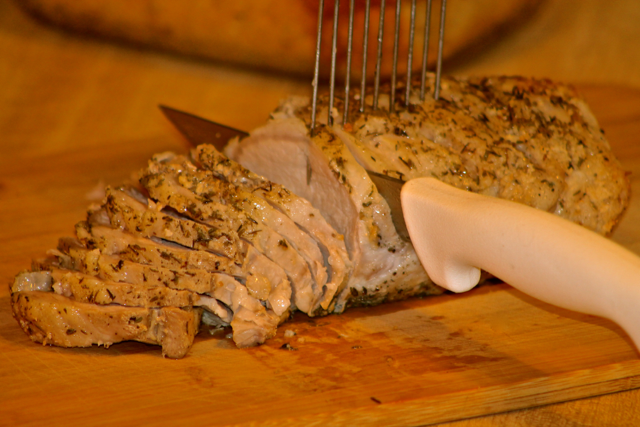 Sometimes, an uncomplicated dish like this is what dinner calls for, something tasty without much fuss to warm the kitchen. Some roasted potatoes and a few greens sit along side comfortably while we wait for Spring to do it's thing.
I hope you'll give this favorite of ours a try and let us know how it turns out. We'd love to hear from you!
Have a fantastic day and as always, keep it delicious!
Till next time ~ much love, Connie
Salt Crusted Pork Roast
Ingredients
1 2-3

lb

pork tenderloin

1 1/2

tsp

dried thyme

1

tsp

dried sage

1 1/2

C

Kosher salt

1

tsp

freshly ground black pepper

1/3

C

water
Instructions
Preheat oven to 350 degrees F.

Score the fat on the top of the pork tenderloin with a sharp knife.

Rub the thyme and sage all over the meat.

In a baking dish, combine the kosher salt and black pepper with the 1/3 cup water.

Place the tenderloin in the baking dish and pack the salt mixture all over the top and sides of the meat.

Bake in the oven for 1 to 1 1/2 hours or until the internal temp reaches 165 degrees.

Remove from oven and allow the roast to rest for at least 20 minutes.

Crack the salt crust off of the roast, slice and serve.
Notes
Recipe by: Connie Murray@Happybellyfoodie.com