Orange Soda ~ Ginger Bug
Beat the heat with a refreshing homemade orange soda!
If you've shunned soda because it's loaded with chemicals, sugar or bad for you artificial sweeteners but miss the fizzy delight of it, try this much healthier homemade version.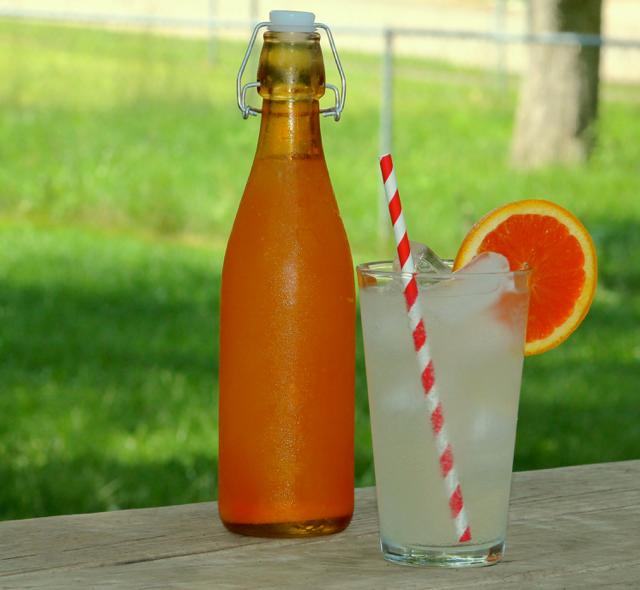 We're loving these tasty homemade sodas. Now that the warm weather is here, it's nice to have them on hand after a hard day's work or play. They're super easy to make and once you get into a routine using ginger bug to make them you'll quickly realize how convenient they really are.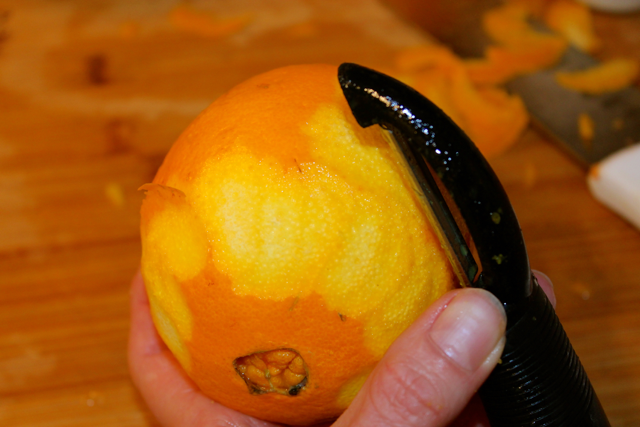 Homemade soda not only benefits you with natural probiotics and WAY less sugar than anything you'll buy in the store, it also helps cut down on consumer waste. You'll be reusing your own bottles and carrying less garbage out to the curb.
The natural yeasts and bacteria in ginger bug, the starter culture used to make homemade soda, (see how to make it HERE) consumes a good majority of the sugar and you're left with a delicious, fizzy, probiotic rich drink.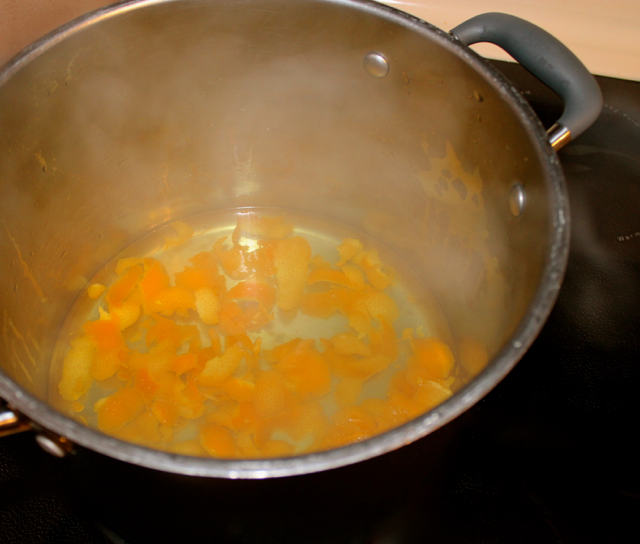 I've been making the Ginger Soda and Lemon-Lime flavor for some time now but it was time to try a something new.
Citrus flavors work very well for homemade soda. Now that oranges are coming in super sweet in the produce section, it seemed like the perfect way to go.
Just like the lemon-lime soda recipe, you'll simmer the peels of the fruit in boiling water for about 15 minutes.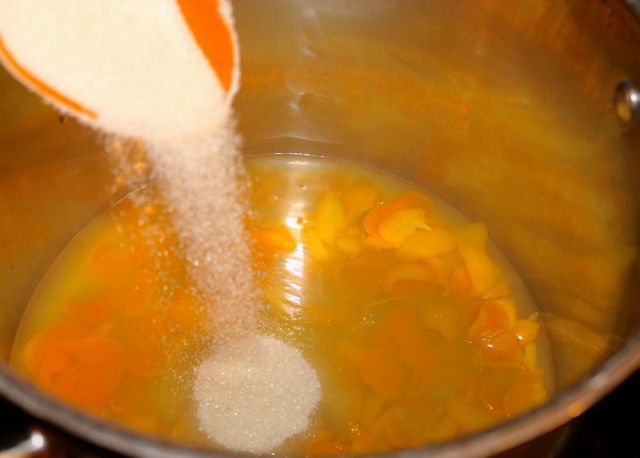 Add your sugar after the simmering is done and whisk to dissolve.
To cut down on the cooling time, only simmer the peels in 2 cups of water, rather than the full amount of the recipe. Add some ice cubes and you'll be ready to mix everything else in right away.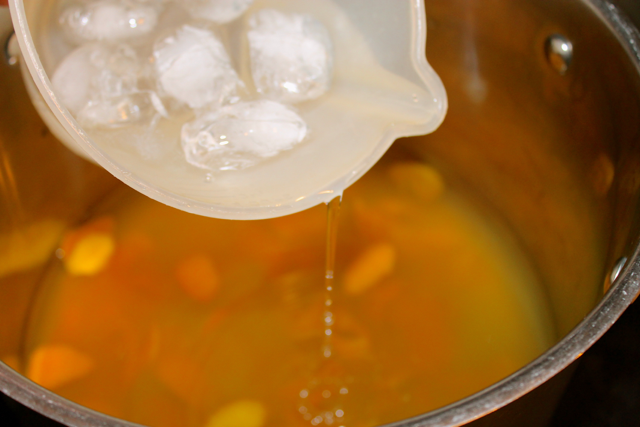 I've dedicated a corner of my kitchen to my homemade soda brews and kombucha tea because I've always got them going. I love having my own homemade beverages and the fact that I'm no longer drinking chemically laden store bought sodas. I can totally feel an improved difference in the way I feel, too!
For soda, once you get into a routine and your ginger bug is nice and strong, it only takes about a day for brewing and you're ready to bottle.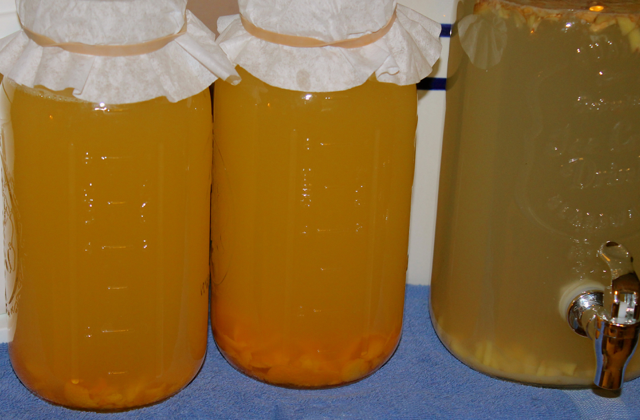 I've also found that you'll have more flavor in your brews if you leave the fruit peels and ginger pieces in the mix while they're brewing, you get a better flavor. Simply strain just before bottling.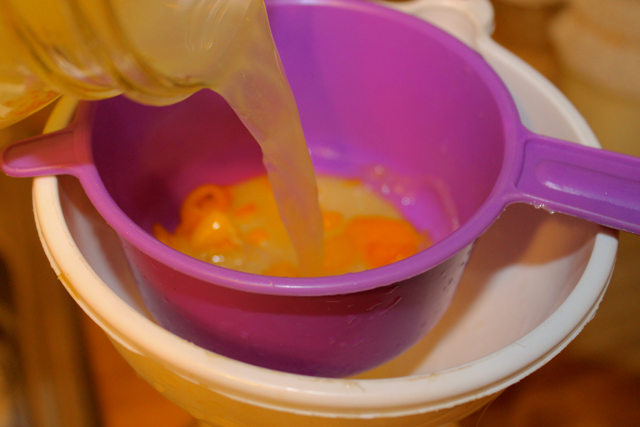 Speaking of bottling. I should mention that you really need good, sturdy bottles that will withstand carbonation build up. I had a few bottles that were not so sturdy and they exploded. The sticky mess is not so fun to clean up but the glass busting and flying everywhere is scary.
Ginger bug is some strong stuff and in warmer weather, your sodas will carbonate a lot faster than you might think. The only way to check if your sodas are done and see how much carbonation is built up is to open a bottle. I got these cute little silicone bottle stoppers
that pop out when the carbonation is done. So instead of opening bottles, I use them in one of my bottles for each brew. Once it pops out, I know it's time to refrigerate. Refrigeration slows the carbonation.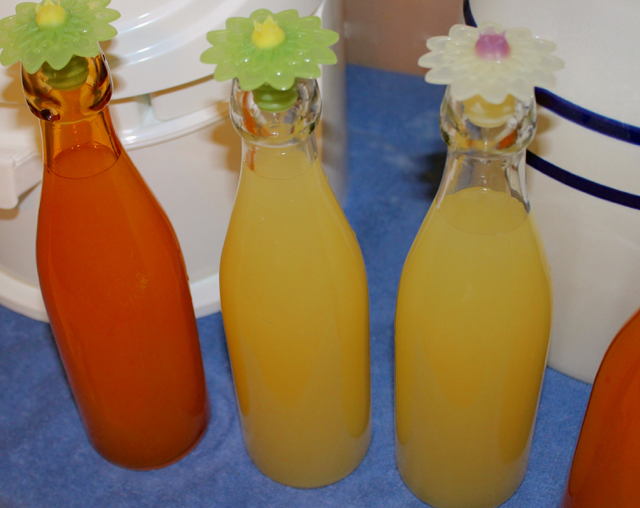 I'll be playing around with some new flavors here and there. You can bet your booty I'll share those as they come along.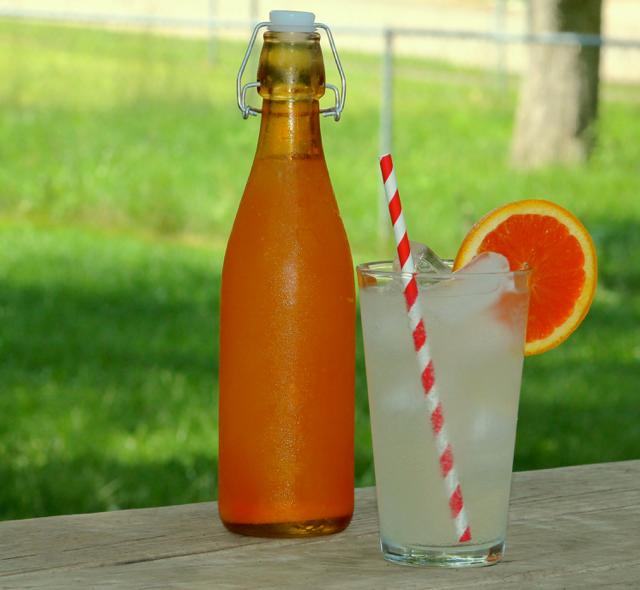 Until then, I hope you'll try your hand at making your own soda with ginger bug. Let us know how it goes. We'd love to hear from you!
I hope all you beautiful foodies out there are having a fantastic Summer so far and enjoying all the fresh foods of the season. Have a wonderful day and as always, keep it delicious!
Till next time ~ much love, Connie
Orange Soda ~ Ginger Bug
Ingredients
12

C

filtered water

1/2

C

orange peels

1 1/2

C

sugar

2

C

Ice for cooling

1 1/2

C

freshly squeezed orange juice

1/2

C

ginger bug

see ginger soda recipe for details
Instructions
In a large pot, bring two cups of water to a boil over high heat.

Reduce heat to low and add orange peels.

Cover with a lid and simmer 15 minutes.

Whisk in sugar until dissolved.

Add 2 cups of ice and 10 cups of water.

Check to make sure temperature of the mixture is cool (room temp).

Add the orange juice and ginger bug.

Stir well and pour the mixture into a one gallon or two half gallon jars.

Cover with a cloth or coffee filter and affix with a rubber band.

Allow to sit 24 hours in a warm location.

Filter and pour the mixture into bottles or jars.

Secure with tight fitting lids and allow the bottles or jars to sit 12 to 24 hours in warm location.

Check for desired carbonation level after 12 hours.

If carbonation is not ready, allow to sit another 12 hours.

Once the bottles or jars are carbonated (fizzy when opened) refrigerate and enjoy when cold.
Notes
Recipe by: Connie Murray@Happybellyfoodie.com