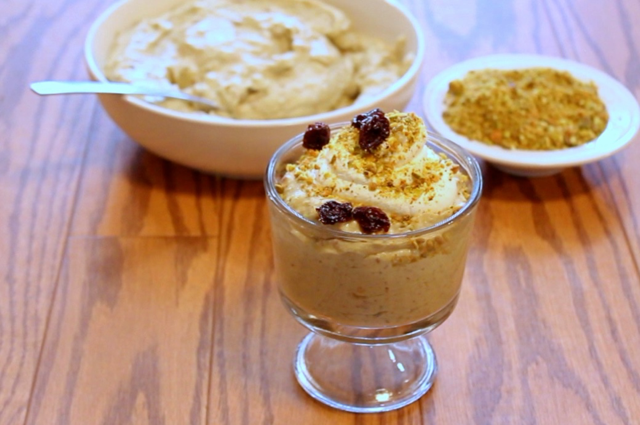 Vegan Pistachio Pudding is a slightly sweet, delightfully light dessert made with avocados, tofu and coconut cream. A few dried cherries and fresh roasted pistachios give the smooth mix a wonderful texture and taste.
On occasion, I like to have dishes that are completely vegetarian. If I'm feeling heavy or sluggish, I'll retreat to vegan versions of my favorite foods. That way, I'm satisfying my hunger and I'm getting great nutritional benefits that'll boost my energy.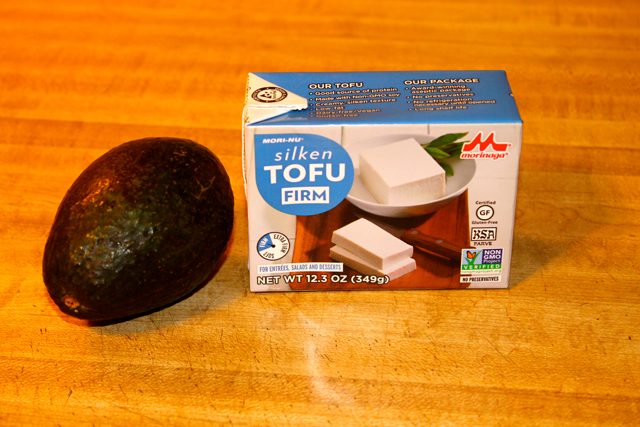 A few foodie friends of mine follow a Vegan diet and I like to share recipes like this one here on Happy Belly Foodie for them as well as keep the files for my own reference. If you've never tried a pudding made with raw, veggie based ingredients, you'll be pleasantly surprised when you do. It really does taste just like pistachio pudding.
What I like most about this is the wide variety of flexibility it offers. Vegan options like this fit perfectly into my menu of deliciousness.
Take a look at how you can turn these few simple ingredients into a decadent dessert…
I'm thrilled with the way the pudding tastes and smells. The vanilla extract and that touch of almond extract really bring out the best of all the other ingredients. It's the perfect alternative for when you're taking a break from heavy foods or if you decide you want to try a simple vegan dish. Best of all, there's no food coloring or artificial junk in it, just natural goodness.
I hope you'll give it a try. Let me know about it. I'd love to hear from you!
Have a fantastic day and as always, keep it delicious!
Till next time ~ much love, Connie
Vegan Pistachio Pudding
Ingredients
For the Pudding:
1

ripe avocado

1 12.3

oz

pkg firm tofu

2

tbsp

agave syrup

2

tbsp

pure maple syrup

1

tsp

vanilla extract

1/8

tsp

almond extract

2

tbsp

freshly squeezed lemon juice

1

can coconut milk

refrigerated over night

1/2

C

ground pistachios

plus a little more for garnishing

1/4

C

dried cherries

chopped
Whipped coconut cream topping:
1

can coconut milk

refrigerated overnight

2

tbsp

agave syrup

1/2

tsp

vanilla powder

or extract
Instructions
Pistachio pudding:
Place the tofu in cheese cloth and squeeze out excess water as much as possible.

Place the avocado and tofu in a food processor and blend until smooth, scraping down the sides as needed.

Add the agave, maple syrup, vanilla, lemon juice, almond extract and blend.

Drain the watery part of the coconut milk off and use only the cream. Blend the cream in with the mixture until smooth.

Fold in the pistachios and cherries. Place mixture in a bowl and chill in the refrigerator until ready to eat. (at least 30 minutes)
Whipped coconut cream topping:
Drain the watery part off of the coconut milk.

Place in a bowl with the agave and vanilla.

Blend with an electric mixer until smooth.

Serve on top of the pudding and garnish with more ground pistachios.
Notes
Recipe by: Connie Murray @Happybellyfoodie.com
Pin It: