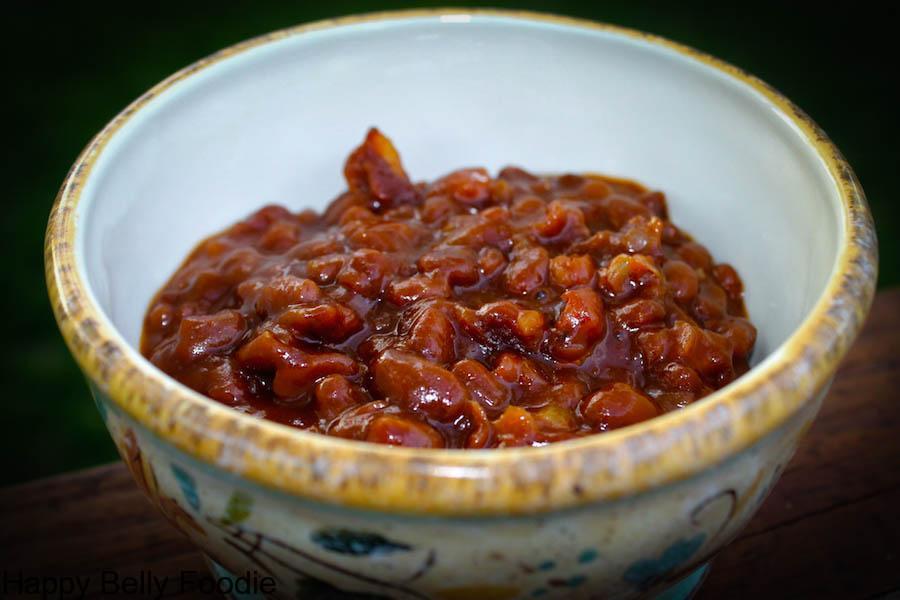 Smokey Baked Beans ~ Turning "Meh" sides into Wowzers is a terrific twist on a favorite side dish. Using smoke to flavor the beans brings a whole new element to deliciousness.
I've been playing with this recipe for a few years now. Regardless of what I change up with the seasonings, the number one ingredient that turns it into WOW is smoke.
Smoke and slow cooking, that is..
I've tried all kinds of things with beans. The goal is to get the perfect consistency in the sauce, have the beans be soft and tender but not mushy and have a great flavor.
Trying to make recipe completely from scratch just hasn't worked for me, yet. I've soaked dry beans overnight and cooked them for a long time. I've tried the unflavored beans that come in jars. Not even close! There's always either something missing or the beans just won't give into the softness I want. (Maybe it's how fresh the beans are?)
Alas, I gave in and reverted back to the beans that come in cans, already seasoned. Only this time I went with Organic Baked Beans
that are very lightly seasoned so that I could create a satisfying dish, without all the ingredients I can't pronounce. I'll keep working on it but for now, this side dish works and it really is delicious.
Next time you're heading out for a potluck or a BBQ with family, give this recipe a try. Smokey baked beans are a true delight that'll WOW em all!
And if you've found out what the secret is to getting the perfect baked beans, completely from scratch and are willing to share, please let me know. I'd love to hear from you! Happy Saturday and Happy Grilling ~ much love, Connie
Smokey Baked Beans
Ingredients
2

slices

bacon

cut into small pieces

1

small onion

diced

2 15

oz

cans organic baked beans in sauce

undrained

1

tbsp

brown sugar

1

tbsp

honey

Pinch

of ground cayenne pepper

1/8

tsp

molasses

1

tbsp

tomato paste

1/2

tbsp

bourbon

optional

1/4

C

beef broth or more if needed to thin

Salt to taste
Instructions
Note: This recipe works well in a smoker at 190 degrees F for approximately 2 hours.

Prepare your charcoal grill for a medium/hi heat. Add a few chunks of wood to the coals.

Heat skillet on med/hi. Add the bacon and cook until browned but not crisp. Add the onion and cook until soft.

In a fire-proof pan, combine the rest of the ingredients.

Place the pan on the grill grate, close the lid and allow the beans to cook for about 1 hour.

Season with salt and thin with more beef broth if needed.
Notes
Recipe by: Connie Murray @happybellyfoodie.com