Spicy Shrimp Lo Mein
You can't go wrong with a quick, weeknight stir fry. A little spice to kick it up and dinner is served!
I love a good stir fry. I love that it's pretty much a one pan deal, other than boiling a few noodles or rice in a small pot. That means you're in and out of the kitchen in a flash because there's less clean up.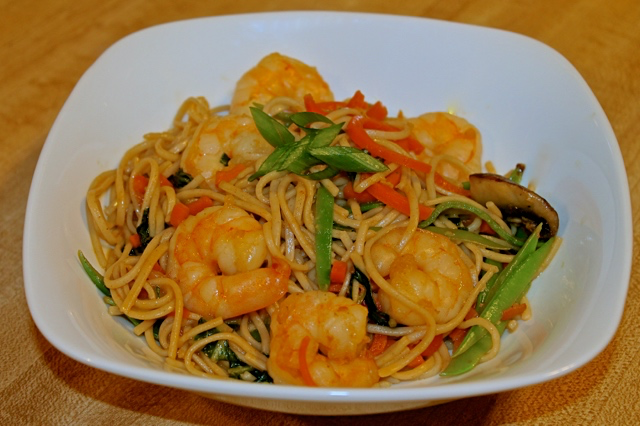 The other thing I love about a stir fry is practicing knife skills. I'm a foodie, so I watch tons of cooking shows and competitions. The judges on those competitions are always harping on knife skills!
I'd say mine are getting more consistent… eh, maybe I could use more practice.
Oh, right. The recipe.. 🙂
To get going, you'll want to have some noodles cooked up, drained and set aside. They'll be the last thing that goes in the pan.
You can use just about any fresh veggie you want in a stir fry. It's all about balance with texture and flavor. Since everything happens super fast in the hot wok, uniformity in the chopped veggies is key.
For my crunch factor, I've got some fresh bok choy, carrots and snow peas. Mushrooms add another great texture and the big red chili, green onion and garlic will add terrific flavor. I'll also add some freshly grated ginger to the dish for another flavor component.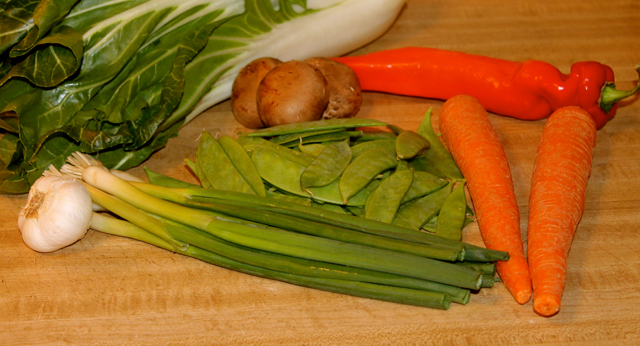 After I've got my veggies chopped and the seasonings I'm planning on using ready, it's time to heat up the wok.
I personally like to cook any meat that I'm using in a stir fry first. Since this dish has shrimp, I'll have them all cleaned, dried and ready to go.
Note: It's important to dry your shrimp as much as possible before cooking them. Otherwise, you'll just be steaming them and they'll become rubbery by the time they hit your plate.
To begin cooking, get the wok (or large shallow skillet) good and hot on high heat. Add your cooking oil to the pan to coat it. For a nice Asian flavor, sesame oil is perfect.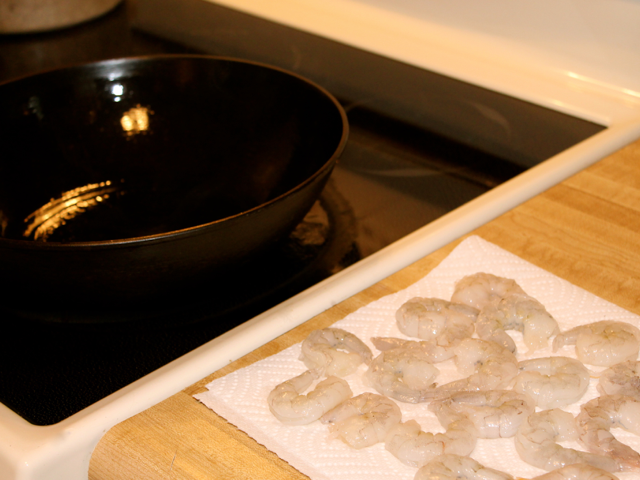 Add the shrimp to the wok and cook for about a minute one each side. Take care not to crowd the pan and work in batches if needed. Once the shrimp are opaque, take them out and set them aside.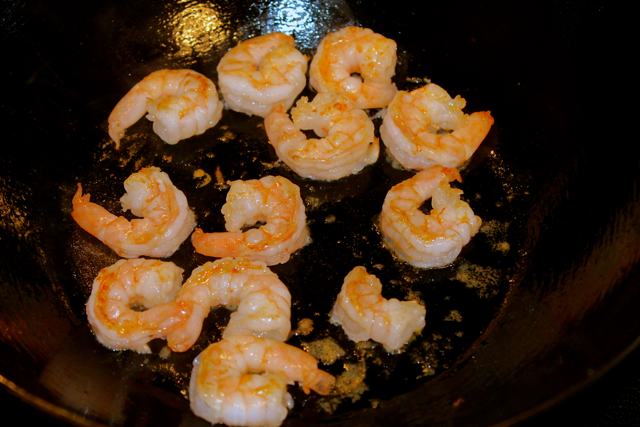 Add a little more oil to the pan and toss in your chives, garlic and freshly ground ginger to the pan. Saute for one minute.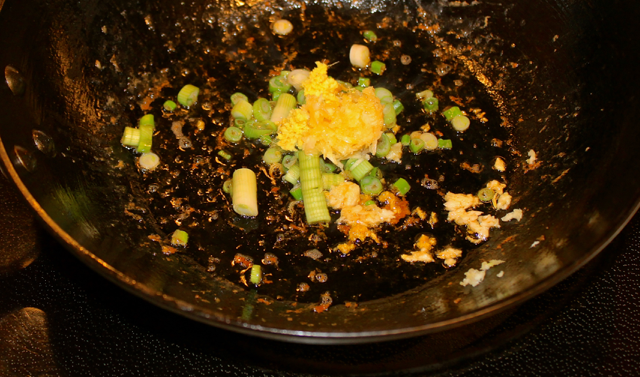 Add all your chopped veggies and saute them for about three minutes.
When you see the bok choy start to wilt a bit, your veggies are almost done and it's time to add the rest of the seasonings.
To go with that fragrant ginger and garlic, add a touch of cooking sherry, some soy sauce for saltiness and a hearty teaspoon of hot chili paste
for a little heat. (More if you like it hot!)
Finally, you'll add the shrimp back to the pan and toss in your noodles. I like soba noodles but any thin noodle will work with this dish. Give everything a good mix and heat through.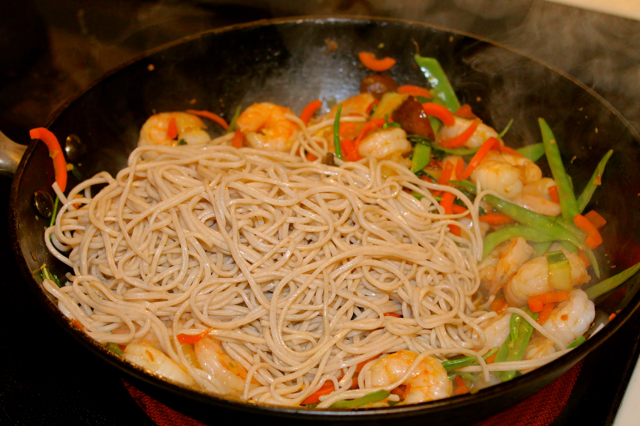 Wha-La! Plate the dishes up and garnish with a few freshly chopped chives.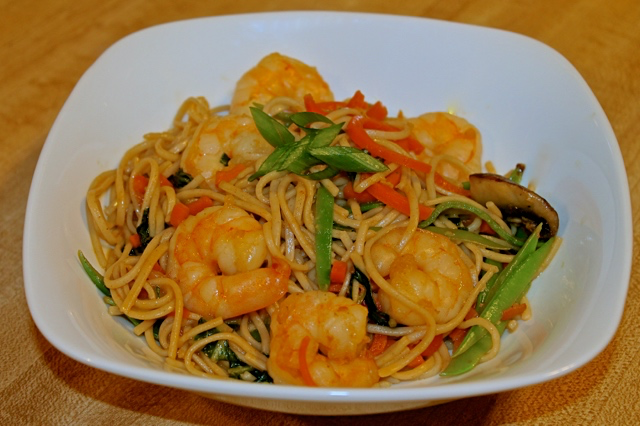 What makes this work so well are those combinations of seasonings and lovely textures. You've got the juicy shrimp with the balance of garlic, ginger, onion and sherry. The sesame oil really brings everything together nicely as well. And then there's that tiny kick of heat from the chili paste. Just delish!
Stir fry's with rice or lo mein noodles are some of my favorite go to dishes for a quick healthy dinner. I'm pretty sure you're gonna love this spicy shrimp lo mein version.
Give it a try and let us know how we're doing in the Happy Belly Foodie Kitchen. We'd love to hear from you!
Make it a fantastic day and as always, keep it delicious!
Spicy Shrimp Lo Mein
Ingredients
6

oz

soba noodles

weight before cooking, cooked and drained

sesame oil for sauteing

1

pound

medium sized shrimp

31/40, peeled, deveined and dried very well

3

green onions

(chopped plus more for garnish)

3

garlic cloves

minced

1/2

tbsp

freshly ground ginger

2

C

bok choy

sliced

2

lg carrots

julienne

4-5

baby portobello mushrooms

cut in quarters

1

lg sweet chili pepper

chopped

1

C

snow peas

julienne

1/2

C

soy sauce

1

tbsp

cooking sherry

1

tsp

hot chili paste or sauce

more if desired
Instructions
Heat a large wok or shallow skillet on high.

Add 1 tbsp of the sesame oil and coat the pan.

Add the shrimp and cook about one minute on each side.

Take care not to crowd the pan and work in batches if needed.

Remove the shrimp and set aside.

Add the green onion, garlic and ginger.

Saute one minute.

Add the rest of the veggies and saute until the bok choy starts to wilt and shrink.

Add the soy sauce, sherry and hot chili paste.

Add the shrimp back to the wok along with the noodles.

Heat through and adjust seasonings if needed.

Serve with freshly chopped green onion for garnish.
Notes
Recipe by: Connie Murray @Happybellyfoodie.com