Copy Cat Applebee's Cheese Sticks
Get that same great taste in the comfort of your own home!
I don't know about you but I have a weakness for these guys. They're scrumptious in every way!
With this easy recipe, you can make up a batch, have a little snack and freeze the rest for later. I call that winning!
To get started, you'll need some string cheese sticks. You can find them in the dairy section of your grocer.
The secret to great flavor for cheese sticks is in the bread crumbs. Seasoning and texture make a BIG difference. For that great crunchy outer coating, panko bread crumbs are the way to go. To get the flavor maxed out, add some oregano, thyme and garlic powder to the bread crumbs.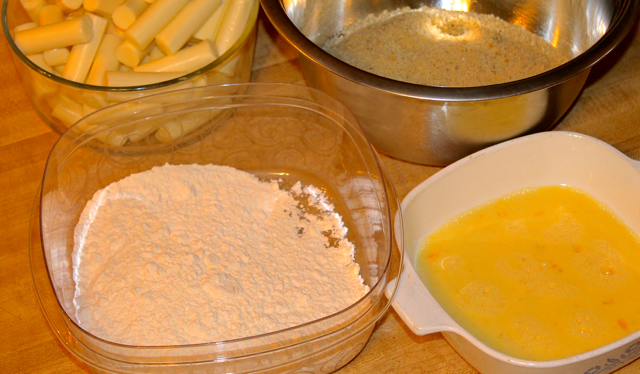 Getting all that crunchy goodness to stick to the cheese may seem like a tricky endeavor but it's really a matter of coating them right. Since panko bread crumbs are a little loose, grind them up in a food processor with your seasonings before you start.
Coating the cheese sticks with flour first helps everything hang on. Going for a dip in an egg and milk mixture is next. Then, roll the cheese sticks in the seasoned panko. Repeat the egg dip and the panko coating for extreme crunchy goodness.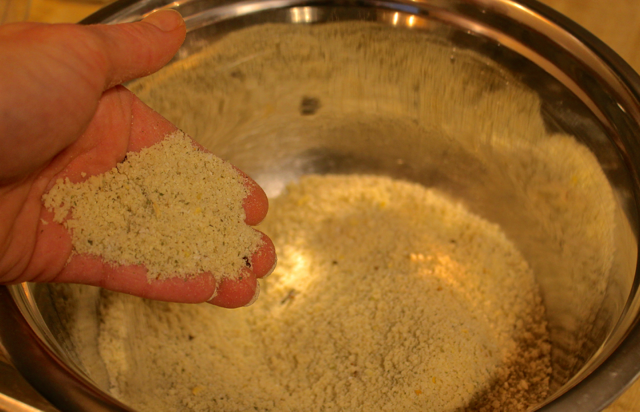 I tripled this batch because I wanted to have plenty of cheese sticks on hand for the big game day. They freeze great! Just put them on a tray in the freezer to get the egg mix hardened and then toss them in a zip top baggy for storing.
Speaking of freezing, I recommend freezing the cheese sticks after you coat them for about an hour before you cook them up. That way they won't melt in the middle before the crunchy outside gets nice and golden brown.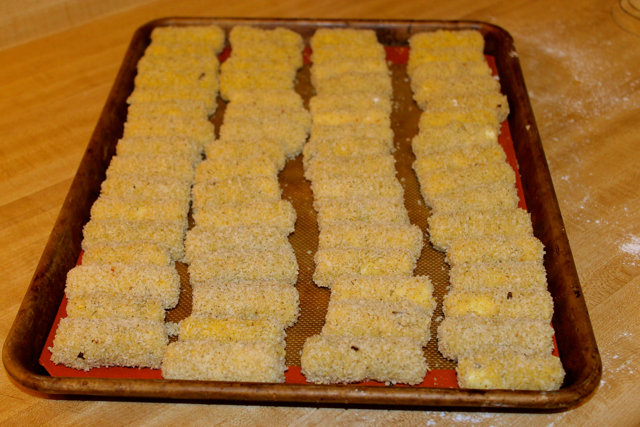 You can bake these in a 450 degree F. oven for about ten minutes.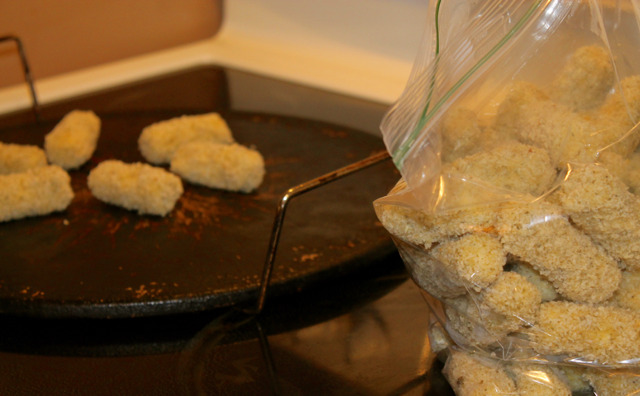 Or, you can fry them up in some oil for two to three minutes.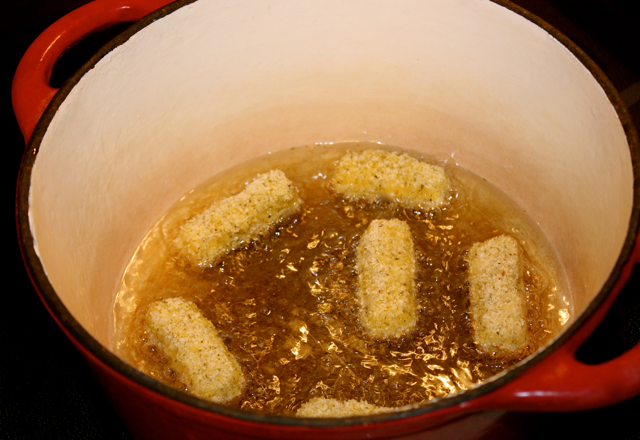 Either way you cook them, they're fantastic!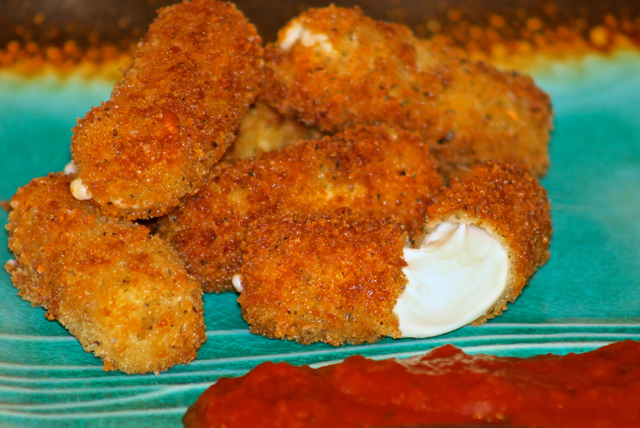 While you're waiting on the cheese sticks to firm up in the freezer, whip up a batch of fresh marinara. My Easy Marinara Sauce recipe is perfect for cheese sticks and it's ready in about 30 minutes.
Another great thing about making your own cheese sticks is that you can alter the ingredients to suit your needs. If you're gluten intolerant you can substitute with gluten free flour and gluten free panko bread crumbs
. Making your own means everybody wins!
I hope you'll give these a try and let us know how we did in the Happy Belly Foodie kitchen. We love 'em!
Make it a fantastic day and as always, keep it delicious!
Till next time ~ much love, Connie
Copy Cat Applebee's Cheese Sticks
Ingredients
20

mozzarella sticks

cut in half

2

C

panko bread crumbs

1

tbsp

dried oregano

1

tbsp

dried thyme

1

tsp

garlic powder

1

tsp

salt

1

C

flour

2

eggs

1/4

C

milk

Oil for frying
Instructions
Combine the panko bread crumbs in a food processor with the oregano, thyme, garlic powder and salt.

Pulse until the crumbs are finely ground.

Place the eggs and milk in a medium bowl and whisk.

Set up a station with the flour in one bowl, the egg mixture in another and the panko mix in another.

Dredge the cheese sticks in the flour and shake off the excess.

Coat with the egg mixture and then the panko bread crumb mix.

Repeat the egg and the panko bread crumb coating.

Place on a tray.

When all cheese sticks are coated, place the tray in the freezer for one hour.

In a large, heavy bottom pan, pour enough oil to cover 1/2 inch.

Heat on med/hi until the temperature reaches 375 degrees F.

Fry the cheese sticks until golden brown on both sides. (About 2 minutes)

Serve with your favorite marinara sauce.
Notes
Recipe by: Connie Murray @Happybellyfoodie.com