Not every healthy, from-scratch dish needs to be complicated. Try a simple winter slaw for a vitamin boost.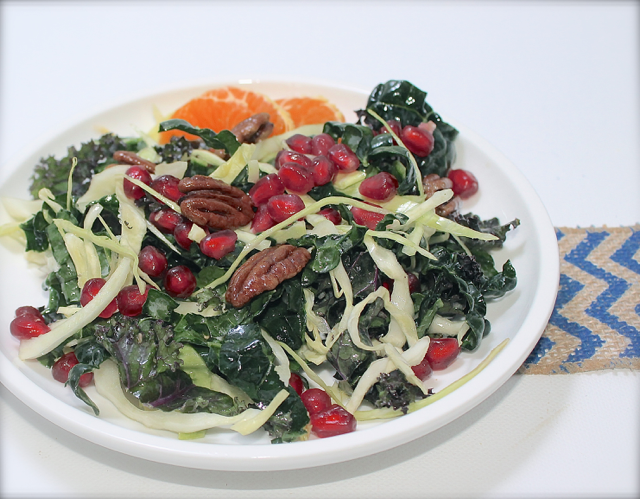 Here in Kentucky, winter can bring a sort of bluesy gray over the shoulders of a foodie like me. The local farmer's markets are in a hush, my garden is asleep and visions of sunlit summer days are out of reach. So what's a veggie lover to do?
Take a cruise through the produce section, that's what. Checking out the seasonal veg in your local mart can be an instant refresher for the winter weary foodie. Right now, there are some absolutely gorgeous leafy greens available.
Ah, kale and cabbage. It's what's in season. I love kale and it's SO good for you. You can do lots of things with it, too. Check out my post, Post to Post Links II error: No post found with slug "greens-those-complimentary-veggies-plus-bonus-sauteed-mushrooms" for a bacon lover's version of sauteed kale. You can also make kale chips in the oven, which are a fantastic snack. Cabbage is really versatile, too. Check out my Thai Peanut Slaw with Crunchy Fried Noodles post for another great slaw recipe.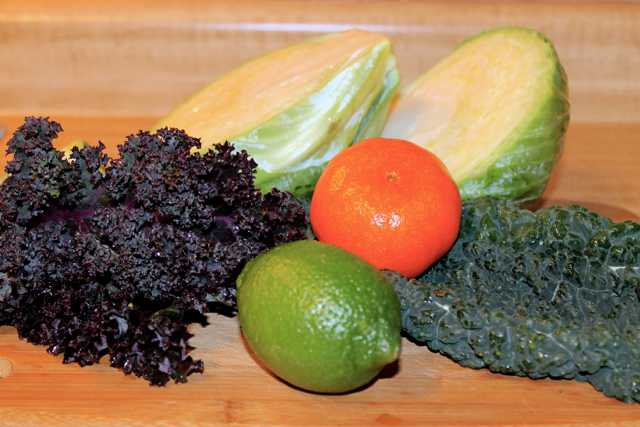 Today's recipe is a simple slaw made with an easy citrus and pecan dressing. A mix of avocado oil with orange and lime juice are the base for the dressing. Add some agave syrup, maple syrup, a dash of celery salt, dijon mustard and some pecans and give it all a shake in a jar. The lightly sweet/tart flavors make for a sunshiny burst to pour over the shredded greens.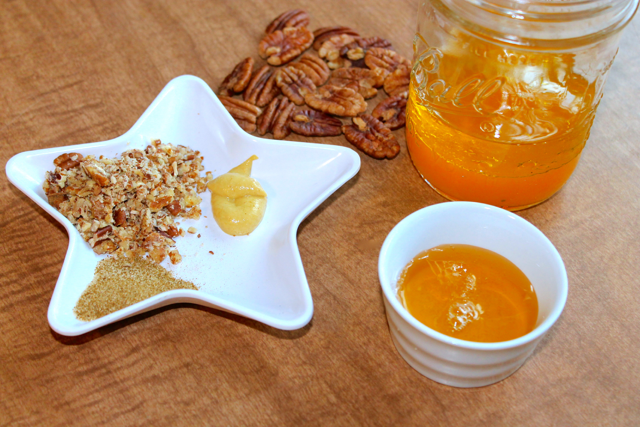 The last of the seasonal pomegranates are a great topper for the dish. And really a slaw is whatever you want to make of it.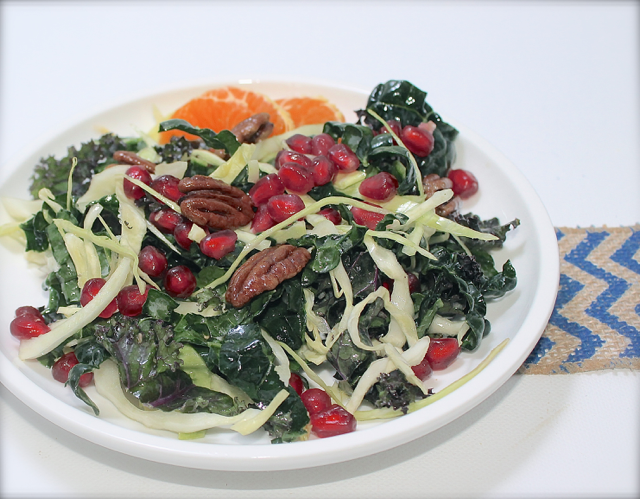 All it takes is a little imagination and a cruise through the fresh veg section of your local grocer and you can have a fabulous pick-me-up winter slaw or salad for your meal. Color my plate up, I say! Winter doesn't have to be blase'.
Have a fabulous day friends and as always, keep it delicious!
Till next time ~ much love, Connie
Winter Slaw ~ Orange Pecan Vinaigrette
Ingredients
3

C

shredded slaw mix

kale, collard, cabbage

1/2

plus one tbsp C avocado oil

1/2

C

freshly squeezed orange juice

1

tbsp

freshly squeezed lime juice

1

tsp

celery salt

1

tsp

dijon mustard

1

tbsp

agave nectar

1

tbsp

maple syrup

2

tbsp

pecans

crushed

pecans for garnish

orange slices for garnish

pomegranate seeds for garnish
Instructions
Combine the oil, juices, celery salt, mustard, agave, maple syrup and pecans in a jar and shake vigorously.

Dress the slaw mix with the dressing and garnish with pecans, orange slices and pomegranate seeds.
Notes
Recipe by: Connie Murray @Happybellyfoodie.com